*** Click here for our 2015 Christmas party info - Christmas parties at Shottle Hall ***

Christmas comes early for all the staff at Shottle Hall. Here Shannon West explains why it is never to early to be thinking of Christmas...
We all do it, we say next year we will be more organised, yet year on year we find ourselves running around doing all of our Christmas preparations the week before Christmas.
Yes believe it or not I did say Christmas and I know you must all be thinking what an earth is she doing mentioning Christmas in June when the sun is shining, but for those who like to be organised, or have been the designated Christmas party organiser, it is definitely something you need to start thinking about.
Here at Shottle Hall summer means that the busy Wedding season is in full swing, but June is also when we get all of our Christmas packages together. We already have all of our promotional material printed and have set a date for our fabulous annual Christmas Market, which will be on Sunday 30th November so don't forget to pop that date in your diary!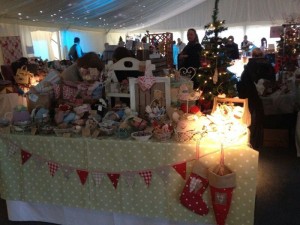 We have started looking into our staff Christmas party already and really suggest that you do too! Poor Emma Salt has drawn the short straw and is the designated Christmas Party organiser for us. Emma knows all too well how overwhelming it is when you start searching the internet for ideas but here at Shottle Hall we have the answer to all of your Christmas Party needs. Whether you are looking for a traditional Christmas meal or a fun filled night we have just what you are looking for right here..
Christmas in Vegas - £25.95 per person
We transform or Coach House Marquee so that guests can celebrate Las Vegas style as we whisk them off on a fun filled night of festivities. So dress to impress and get into the Las Vegas spirit with a cocktail reception on arrival. Sit back and enjoy the glitz, glamour and vocal talents of "Hannah Cotterill" before trying your luck at the Casino tables we have on offer. A delicious Premium American style BBQ menu will be served on the night to ensure that no one goes away hungry and a fully licensed bar with festive drinks promotions will be available too. To finish off the evening you can dance the night away to all of your favourite tunes with our resident DJ.
Friday 5th, Saturday 13th & Friday 19th December
Christmas with a Twist - £35.95 per person
You will be welcomed on arrival with a glass if mulled wine next to the crackling log fires & spectacularly dressed Christmas tree. The piano music and starlit ceiling of the Orangery Restaurant will set the scene for a delicious 3 course Christmas meal with coffee. If you are looking to continue the night you can join in the fun in Las Vegas over in the Coach House Marquee.
Friday 5th, Saturday 13th & Friday 19th December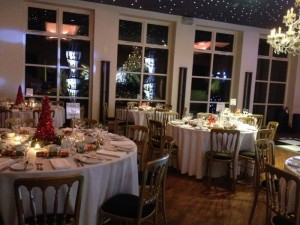 Booking is essential and we have already taken some deposits, so avoid disappointment and contact us soon to reserve your places on our Christmas Party nights soon.
For more information please contact us on info@shottlehall.co.uk or telephone 01773 550577