A couple who first kissed when they were teenagers at school have tied the knot 15 years later.
Fern Osbaldeston (27) and Glen Gent (28) met when they were pupils at Mortimer Wilson School, in Alfreton.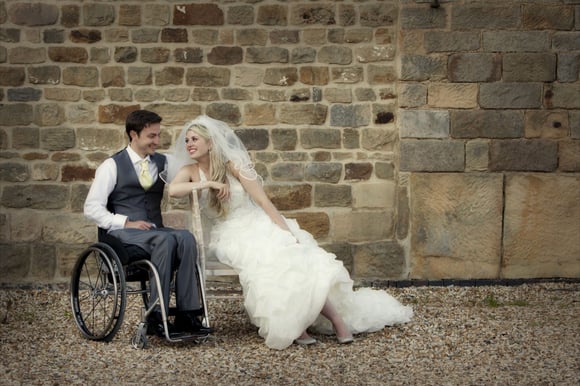 They didn't see each other again until they met in a Ripley nightclub and six years later - to the very day – the couple said their vows in front of family and friends.
Glen, who lost the use of his legs in a motorbike accident when he was 17 years old, now teaches wheelchair tennis at Nottingham Tennis Centre. Fern, is a police officer in Chaddesden.
Proposal: We went to our favourite restaurant and I had an idea that Glen was going to propose. I was so sure that I'd even told all my friends and I even went through his pockets before we left to see if I could feel a ring! But as the night went on and we finished our meal he still hadn't done it and so I was getting in a right mood! Glen said something about finishing my champagne and I really snapped at him with "why, it's not like we've got anything to celebrate is it?" At that point – much to my horror - he put his hand down his trousers! But it turned out he knew what I was like and so had hidden the ring in his boxer shorts! I took a photograph of my ring and texted it to all friends! He must have been sure I'd say yes as he had already booked an engagement party for in two weeks time!
Rings: Glen picked my engagement ring and I adore it. It's perfect. It's a platinum band with a 1.5 carat diamond solitaire, with lots of little diamonds around it. He got it from the jewellery quarter in Birmingham. But about three months before the wedding I chipped the diamond – I am a bit heavy-handed – and so I had to have it replaced! I wasn't sure I'd get it back in time for the wedding, but fortunately I did.
Our wedding rings were from Chapelle, at the McarthurGlen Outlet.
Shottle Hall: We looked at Chatsworth House originally, but I wasn't that struck with their restrictions. So I looked for places that were in the area and came across Shottle Hall. As soon as we came to see Shottle I fell in love, it's so beautiful but not over the top. I also loved that we could have it to ourselves and not share it with anyone else.
Dress: We got engaged in October and I went to New York in December with my step mum. I fell in love with a dress in Macy's but when I rang my mum to tell her, I could tell that she was disappointed not to have been there with me. So I decided not to get it, but I couldn't get it out of my mind. Eventually my friend tracked it down for me and she found one in Kent. Unfortunately it was too sizes too small – but I decided to slim down into it. By the time I went for my last dress fitting I'd lost two stone in total and it was too big - I'd lost too much weight. I had to have it taken in which was a bit of a nightmare as all the crystals had to be taken off.
I also had an evening dress – I told Glenn I needed two because the first one hurt my neck as it was a halterneck! I had a 50s-style tea-dress length gown from Brides and Gowns in The Strand in Derby. I wore it with converse trainers and it was brilliant for dancing in at night. My first dress was a sample dress, so it was half the price I should have paid. So I felt I could justify buying the other one!!
Bridesmaids: I had 10 bridesmaids, two flowergirls and a pageboy. The bridesmaids were Jade Osbaldeston, Helen Chapman, Christina Skull, Laura Pearson, Rebecca Jones, Natalie Soar, Eleanor Atkins, Beatrice Horridge, Imogen Horridge and Stacie Leighton.
The flowergirls, Storie Williams-Jenkinson and Ava Pearson, were daughters of the bridesmaids. The bridesmaids dresses, which were just lovely, were handmade by Aislinn, at Boo Boo Kitty Couture in Nottingham. They use vintage and couture sewing techniques and made me lemon satin 50s-style prom dresses with pink underskirts. They also wore pink satin shoes and I crystallised the heels so they were ultra sparkly. The pageboy was Issac Beau Gent and he looked lovely!
Groomsmen: The best man was Peter Holmes and the groomsmen were Stephen Osbaldeston (father of the bride), Roger Hare (stepfather of the bride), Ben Osbaldeston (brother of the bride), Shaun Gent (brother of the groom) and Pierre Verdure (friend).
All the men had smart grey suits from Next with matching waistcoats. The lady who made my bridesmaid's dresses also made matching cravats and hankies for the men too.
Hair and make-up: My bridesmaid Stacey did everyone's hair as she is a hairdresser. And I had Suzie from Senses Skincare at Alfreton to do everyone's make-up. They did all 10 bridesmaids, mine and my mum's – we were like an army. We got ready at my house and it was a bit of a conveyor belt!
Flowers: Jackie from Wild Flowers, in Selston, did my flowers which were open pink roses tied with lemon ribbon, fastened with a diamante broach. My bridesmaid's bouquets were the same and I used them as centrepieces on the tables. I bought some ice cream sundae dishes off eBay and sat them in those, they looked really pretty and matched my vintage theme.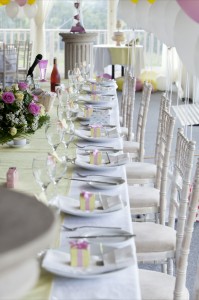 Theme: I wanted a vintage/retro theme along the lines of a 1950s tea dance. I bought and made loads of the accessories myself – for example I bought a vintage suitcase off eBay and made that into a card box and decorated it with ribbon and crystal. I made the table plan myself and decorated it with butterflies.
Transport: I hired a beautiful vintage bus from Yorkshire Heritage Buses to transport all the girls from my house to Shottle. It was cream and I decorated it with lemon balloons and pink roses. My dad's friend owns a vintage Rolls-Royce and so we were lucky enough to be able to use that to get to Shottle. The registration is Hub1 and apparently Victoria Beckham has tried to buy it – but he won't sell!
Ceremony: We got married in the house and my dad walked me down the aisle to A Million Love Songs by Take That. Dad was very emotional and did nothing but cry all day! Some of the bridesmaids did readings and two of the younger ones read A Lovely Love Story by Edward Monkton – which was about two dinosaurs, but quite sweet.
I sat next to Glenn during the service and we were both quite tearful at times. But there were some laughs too – the registrar couldn't pronounce my surname, which is Osbaldeston so a bit tricky, and that had everyone in stitches.
Reception: After the service we went into the Orangery where we had a magician and a candyfloss maker for the children. We had cupcakes and Pimms and it was very relaxed. There were two weeks in June where it hammered down with rain every single day and our wedding was in the middle of it. It rained all morning, but fortunately the afternoon was beautiful, so we could go outside. We then had afternoon tea in the marquee and ate sandwiches, scones, chocolate buns, strawberries – it was lovely. We had Michael Wall as a toastmaster and Yesteryear barbershop singers performed too and they were amazing. Tillyboo Events provided the jars I had on the sweetie table and the lanterns outside which were really pretty in the evening. Events Covered did my chair covers and Cards and Balloons 4 U provided all my lovely pink and yellow balloons.
Favours: We had lemon and pink butterflies perched on glasses with people's names on them. Then we had lemon coloured favour boxes with pink ribbons and pink chocolate hearts in them. As well as cancer badges for Glenn's dad who died two years ago.
I also did everyone an individual photoframe with a picture of them in it, with a pink and yellow ribbon. They were nice talking points, as everyone was reminiscing about where their photo was taken.
Evening: We had about 120 guests during the day and 200 at night. We found a band called the Mighty Persuaders on the internet and they were absolutely brilliant. Our first dance was to You Give Me Something by James Morrison and I sat on Glen's knee. Everyone was crying and stood in a circle around us, it was a special moment. We also had a display from Fireworks International which was spectacular.
Cake: A family friend made my cake which was absolutely delicious and so pretty. It was four tiers – two were pink and two were lemon. The top tier was a little bird cage with a tiny bird on it, it was a work of art and too nice to eat really.
Photographer: We had Dave Nunn Wedding Photography and he was very good. I'd seen him at a wedding fair and I thought his pictures were exactly the sort of style we were looking for. He didn't let us down – we are thrilled with his pictures. We also had Steve Horsley as our evening photographer who set up our fun photo booth – the pictures from that were amazing.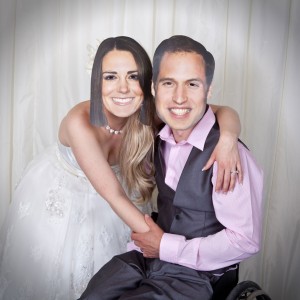 Honeymoon: We had a mini-moon immediately after the wedding and went our dog and family to stay in my dad's house in France for four days. It was very relaxed.
Later on we went to New York for two nights and then on a Caribbean cruise for 10 nights. My dad treated us to first class on the airplane which was so lush and made up for the fact that on the cruise we had a 150-mile diversion to avoid a hurricane.