When Matthew Smith & Clare Scholes decide to get Married the Wednesday before Easter they couldn't have picked a better day. With the sun shining on a beautiful spring morning, the old Irish proverb could not have been more appropriate for the happy couple- "Marry in April when you can, Joy for Maiden and for Man" Clare tells us how a chance meeting in 2011, and their matchmaking friend led to the perfect springtime Wedding day on April 16th 2014:
Where & when did you first meet? We met in September 2011 at Leicester City Vineyard Church. I was on the host stand welcoming people to the church and Matt had come to visit and look around. We started chatting and discovered we had mutual friends. One of the friends played match maker and decided to make it his mission to get us to go on a date. Neither of us needed much persuasion Tell us about the proposal We went to Beacon Hill Country Park for a nice, quiet walk. Matt made me sit down on a wet log on the floor and when I turned around he was on one knee. I cried through most of the proposal. Matt handed me the ring in the box and he had no idea what hand or finger it went on! With some subtle hints he managed to find the right finger. Why was Shottle Hall the perfect venue for your big day? We wanted somewhere big enough for all our guests but not too big it felt overwhelming. We are very much country people so the beautiful secluded location appealed to us. We took our family round for an open day in the January after we got engaged and we all fell in love and decided it was just perfect for us. We had a preliminary date in mind but when we went to book it we found out that it was already booked. Our family all told us off and said "why didn't you book the day before then", to which we did.
Clare & Matthew wanted to make their special day as personal as possible and below they share some of the homemade touches that made the day perfect for them: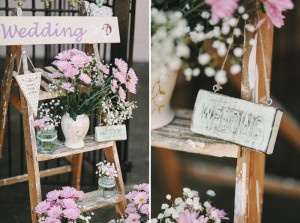 The theme - We went for the shabby chic/vintage theme. We both love those styles of decorations and we knew people would recognise the wedding as ours from the theme. Your ceremony - We had our ceremony at St Martin's Methodist church in Allenton, Derby. The church meant so much to us both. Matt had grown up in it and both his mum and dad, and sister and brother in law had gotten married there. It was lovely to see his sisters marriage certificate on the page next to ours. We had a traditional church service, although I did walk down the aisle to Beyonce!
Decorative details - Our wedding was very much homemade and we have both said if we did it again we would not change a thing. I made the invites and orders of service. My grandpa couldn't make it to the wedding as he is in a home but we used his old school books as centrepieces for the tables. We also decorated his old trunk for our seating plan and used his old tea set and made tea cup candles. The lace sashes and broaches on the chairs were provided by Cakey Wakey and the flowers were by Blossom Tree both tied in with the vintage theme. Our wedding was extremely personal to us and the setting of Shottle Hall complemented everything perfectly. I just remember feeling incredibly relaxed on the morning of the wedding and part of that was down to the fantastic organisation of the Shottle team. I had left everything in safe hands.
The dress - It was from the Wedding House in derby. I felt like Kate Winslet in it when I looked in the mirror and all I could think about was Matt's reaction as I walked down the aisle. I didn't have a set idea of the dress I wanted but knew as soon as I put it on that it was the one for me. Who wouldn't want to feel like Kate Winslet?!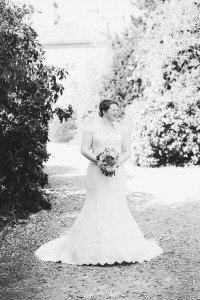 Bestman, Bridesmaids & Ushers - I had 3 bridesmaids. My maid of honor was my best friend Hannah, I had my close friend Meg and matt's sister. I had been Hannah and Meg's bridesmaid the previous summer so I knew they were experts in the wedding department! Matt's best friend Simon was his best man who he has known for about 5 years. We had my 2 brothers and Matt's brother in law to make up our main bridal party but we also had some of Matt's best friends as extra ushers – basically, we wanted the closest people around us on the most important day of our lives.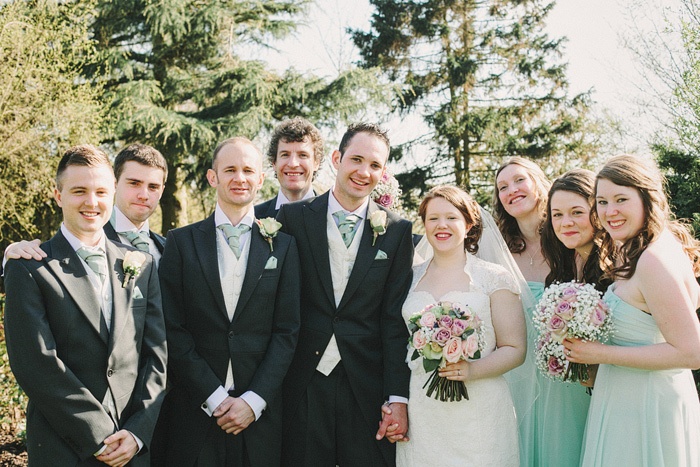 Photographer - We had Bonbon Photography to take our photos. Quite a few friends of ours had had them for their wedding so we knew we liked their style of photos. We both had photos taken whilst getting ready and they were great at relaxing us both. They took us off for photographs during the drinks reception and it was our little bit of haven – a time for me and Matt to catch up with each other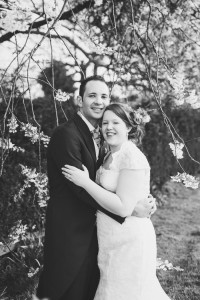 Cake - We wanted a cake that fitted in with our shabby chic/vintage wedding theme. Cakey Wakey made our cake. We had 3 layers, the top tier was fruit which we have saved, we had lemon and chocolate orange for the other 2. It was mint green, light pink and white with stripe, flower and lace decorations. It looked perfect.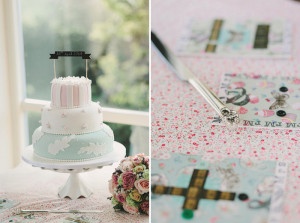 Evening Reception - We know a band from our church who are just starting up so we had them play an acoustic set for part of the reception. They got everybody on the dance floor! Matt's friend is a DJ so he played music for the rest of the evening. We had a cheese board for our food and we set up a sweetie stall where we asked some guests to bring in some of their choice. We were so overwhelmed by the effort everybody went to, it was a great end to a perfect day. Honeymoon - We had a "Mini-moon" to York over Easter weekend straight after the wedding. We are going to Sri Lanka in the summer holidays for our main honeymoon – Elephant trekking, tea plantations and a bit of luxury. We cannot wait! What would be your best advice to pass on to another couple? Do a really detailed plan of what needs to happen the night before and the day of the wedding – then pass the plan onto immediate family and the bridal party and let them do all the hard work.
If you have been married at Shottle Hall and would like your Wedding featured as one of our Real Weddings then please contact us on info@shottlehall.co.uk or call 01773 550577 for more details.