Getting the menu for your big day right is extremely important. No matter how much time and money you spend on choosing the perfect centrepieces or ensuring the icing on your cake is the exact match to the colour of the bridesmaids' sash the only thing your guests really will remember is the quantity and quality of the food & drink on offer.
That is why here at Shottle Hall we strive to ensure our menus offer a wide choice of flavours, styles and variety for all tastes and palates. Wherever possible local produce is sourced to ensure the highest quality ingredients are used. We like to keep the menus fresh & inspiring which is why we make the annual changes, but also keep the traditional favourites too.
Because we don't have a set menu and all of our dishes are individually priced it allows greater flexibility when choosing the wedding food & drink for your special day. Our chefs are also happy to discuss tailor made menus and costings if couples wish to add their own personal stamp to the menu by adding their favourite dishes or altering the sauce. Choice and flexibility are the key things that we strive to offer all our Brides & Grooms to be, and we make sure that children, vegetarians and any other dietary requirements are catered for the best we can with our extensive menu.
As we are now already half way through the year we have begun to think about our 2015 menu and what we would like to change. This year's new dishes, the Leeks & Stilton Tartlet, Grilled Portobello Mushrooms, Salmon Fillet Papiotte and the Belgium Waffle have proven to be really popular so it is important to us to add new things and swap dishes around in order for you to have something a little different for your big day.
Having had a meeting with our chefs a couple of weeks ago we have lots of changes planned for the new menu and I can exclusively reveal some of the different dishes we can't wait to try in 2015.
We are also altering the evening food menu by adding an 'around the world' buffet and offering a premium light bite option and a Dessert table option for those with a sweet tooth. Of course the ever popular BBQ, Hog roast & finger buffet are still on offer too.
This year we introduced the opportunity for our couples to offer their guests a choice of dishes for each course of the wedding breakfast, which is proving very popular. So far 1 in 5 couples for 2014 have decided to offer this choice to their guests, so it will definitely be something that we will continue for 2015. It may be a bit more work having to organise the pre orders for all the guests but, but it is a great way to please most people and offer even more flexibility.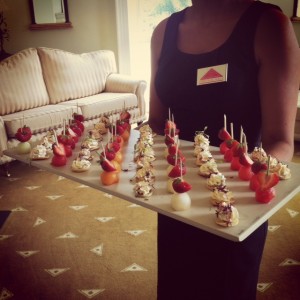 Talking of trying to please everyone, it may not come as a surprise to you to read that the most popular wedding breakfast choices are Tomato Soup, Roast Breast of Chicken and Profiteroles. From meeting with Brides & Grooms it seems apparent that these are the choices which the majority of your guests will enjoy, however when guests have been offered a choice it is actually the Melon, Entrecote of Beef Forestiere and Cheesecake which have proven to be the most popular.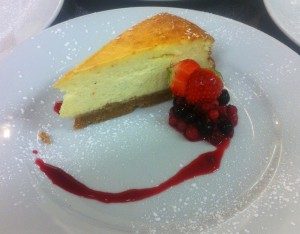 Whatever you decide to have for your wedding breakfast our menu tasting sessions are a great way to try different dishes and choose a menu that is perfect for you. Once our 2015 menu is released we will be arranging taster nights & lunches in October & November for couples to come along and sample our fantastic food & House wines. If you would like any help or advice on choosing your Wedding menu here at Shottle Hall both myself & the other Wedding coordinators will be glad to assist. It is a perk of the job for us to try the dishes too so we can offer you our expert opinion!!