Shottle Hall wedding coordinator and columnist Sarah Davis explains how brides can take inspiration from the seasons when planning their big day.
When planning a wedding you have control over the guest list, the menu, the location and almost every other detail. But there is one thing even we can't help you with: the weather.
As we have seen in recent weeks, you simply can't predict the weather, no matter which season you choose. Few of our March brides were expecting it to be snowy underfoot – yet the unseasonally icy weather actually made for some wonderful photographs and created a talking point among guests.
We almost always advise brides not to spend time worrying about the weather, it's a waste of energy when you're not Michael Fish – and look where his expert knowledge got him!
It's a much better plan to embrace the season and use its flowers and fruits while they are in the greatest abundance. Organising your big day around the seasons will simplify planning and create a timeless look to your wedding.
Spring marks the beginning of wedding season and is among the most popular times of the year for weddings. The weather is often warm, but certainly not too hot, and flowers and trees are starting to bloom.
After a long winter, everyone is in good spirits and ready to celebrate! It's a time for new beginnings, which is perfect for a new start in life.
It's popular to incorporate an Easter theme around a spring wedding – we can organise Easter Egg hunts in the grounds to keep small children amused and chocolate is always a popular wedding favour.
It's also a nice idea to incorporate some green into your spring décor, such as leaf green, which represent the rebirth of nature. Seasonal flowers such as daffodils, lily of the valley and tulips look stunning and you can replicate the pastel colours in your bridesmaid's dresses and accessories.
The marquee traditionally goes back up in March and so weddings tend to start moving back outside at this time of year.
Towards the end of spring the blossom starts to come out here at Shottle Hall and the grounds are bathed in lilacs, pinks and baby blues. It really is a pastel paradise!
A word of warning for brides getting married in church: some vicars will not allow flowers until Easter Sunday, so do bear that in mind when setting a date.
Of course, the traditional wedding season is during the summer months – although, this doesn't always mean the great British climate will cooperate. It might still be a good idea to invest in some white umbrellas – you may only need them to shield from the sun – and some cheeky white converse trainers, for walking on the grass.
One of the most popular themes at this time of year is a summer garden party with games on the lawn, bunting and balloons in the marquee and a light menu of Pimms, salads and strawberries. Candles are wasted in the summer because the nights stay light, so consider table crystals and extra flowers – they are in abundance at this time of year anyway.
Autumn is the season of scarlet berries, golden fields, and tree trunks darkened by the first heavy rains – it's a fabulous colour palette to incorporate into your day. The trees in our gardens lay on a spectacle in autumn, with leaves turning vivid shades of copper, yellow and red.
It's a nice touch to add branches to your centerpieces, to bring the outside in. And pumpkins look effective– either filled with blooms and carried by flowergirls, or as unusual table decorations. As the nights start to draw in again candles and tealights create a romantic autumnal ambiance.
Remember there may be a chill in the air, so pashminas work well for bridesmaid's shoulders. Food should be warming; mulled cider, parsnip and pumpkin soup, roast beef and spiced apples are all dishes which will give your guests a warm glow.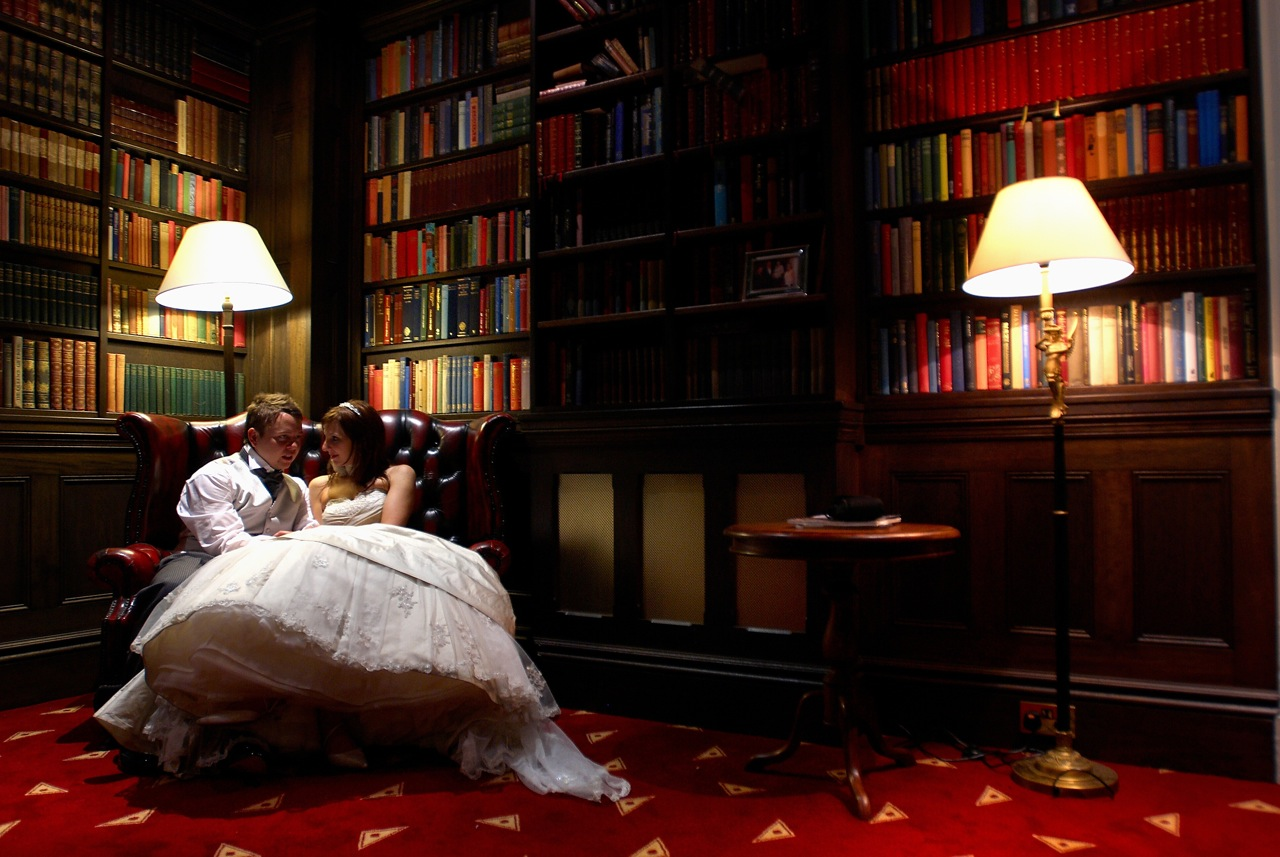 Winter weddings are becoming as popular as summer ones and with our roaring log fires, comfortable armchairs and twinkling ceiling Shottle Hall looks as pretty as a picture from November onwards.
Colours tend to be festive at this time of year – traditional reds, golds and greens or some brides opt for teal, blues and icy colours which work just as well. Baubles, fur cones, holly and ivy can all be used to great effect in your table decorations and candles, glitter and fairylights look really effective at this time of year.
Winter Pimms, mulled wine and hot canapes help ward off the cold, as will fur stoles for the bridesmaids and a wintery white cape for the bride. Sparklers and noise-free fireworks can round off a winter wedding, making the most of the dark nights.
I think every season has its own redeeming features: I love the freshness of spring and the hope it represents of new life and new beginnings. Summer brings long, warm, evenings and in winter you can't beat the twinkly lights and glittery accessories.
But if I was planning my own wedding I would have to opt for Autumn. Not because it's my favourite season, but because after all my hard work planning other people's weddings I could relax and enjoy my own big day.
And steal any good ideas from earlier in the season!!