When & where did you first meet?
We met at secondary school in 2004/5, Danielle is the sister of my best friend, however we didn't start 'dating' until 2010.
Tell us about the proposal. How long were you engaged for?
I asked Danielle to marry me during a weekend away in Whitby, we were walking up the famous 199 steps.
At the top I was heavily out of breath, she was laughing as she thought I was unfit, however it was nerves, luckily she said yes.
Why was Shottle Hall the perfect venue for your big day?
Shottle provided everything we were looking for in a wedding venue, beautiful buildings, stunning house and marque and gorgeous gardens which were the perfect backdrop to our wedding photos.
Your ceremony?
We had our ceremony at our village church, St Leonards in Shirland, Alfreton.
Your dress?
Danielle's dress was from Finesse Brides in Clay cross.
Who was your Florist ?
No8 Studio florist
Centrepieces, did you make your own or use a venue dresser?
Our centrepieces were made by our florist.
Any other venue styling you want to mention?
Gemma white from Gemma White Weddings & Events decorated the venue and she did a fantastic job.
Who made your wedding cake? What flavour did you have?
Sarah at Sugared Rose did an amazing job with the cake and it was salted caramel.
We also had a cake topper made separately by 'Lucy's Cake Toppers' Lucy Elsom
This was styled on our wedding day attire and also our 2 dogs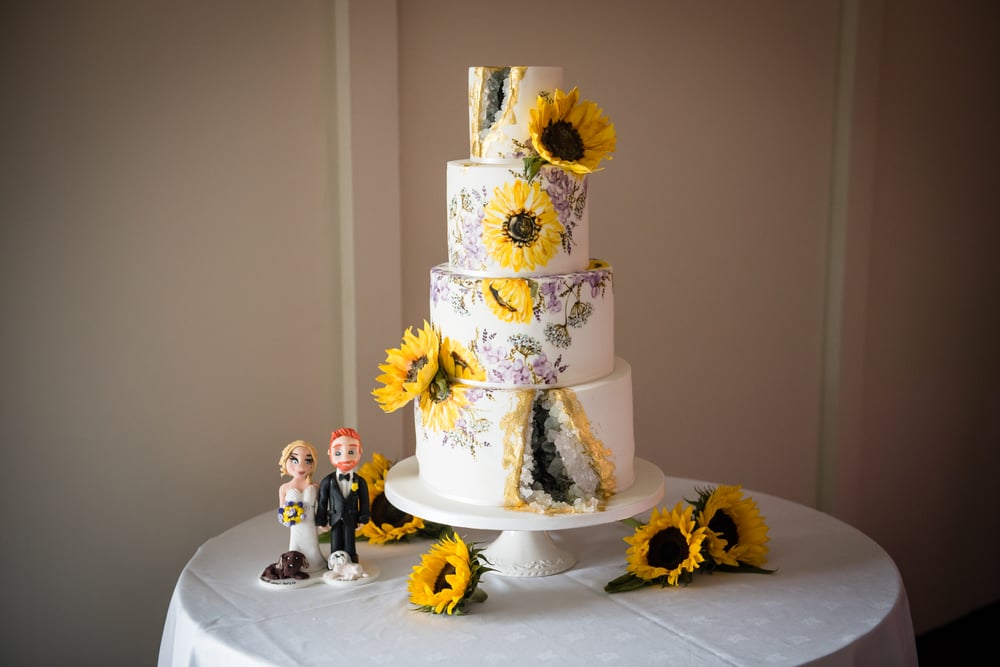 Who was your photographer?
Lois Photography – Lois Rowlands was our photographer and she took some amazing pictures and we are really happy with them :)
Tell us what menu you choose for the wedding breakfast ?
Sweet potato soup or Red pepper and tomato soup
Chicken with wilted greens or Shottle sausage and mash
Profiteroles or Whiskey bread and butter pudding
All of which was beautiful!
What entertainment in the evening did you choose ?
Chris at Enjoy Disco, Chris did a fantastic job!
What were the most memorable moments?
Apart from us both having an amazing day celebrating and sharing our love, it made us both smile seeing everyone having such a great time.
Can you sum up your day in one sentence?
The day went perfect, from start to finish we couldn't of planned or asked for anything to go any better, from the people we shared our special day with to the venue and the love we will share forever with one another.
What is your best piece of advice to pass onto other couples who are planning a wedding at Shottle Hall?
From our experience planning a wedding at Shottle was it being hassle free, with Amy, nothing was too much effort and everything went to plan. The staff were great also, so our advise would be book it if you want a stress free wedding as you won't need to worry.