Rachel & Matthew tied the knot at Shottle Hall, Derbyshire's finest wedding venue on Saturday the 15th of June 2019.
Where & when did you first meet?
Well, what Matt doesn't remember is we actually went to college when we were 16 at the same time, my Dad even used to teach him, but he failed to notice me at this point...A few years later, after University, we met properly at Bramall Lane Stadium when we both started working for Sheffield United Football Club. We were introduced as we were working together as team leaders on a residential programme for 16-17 year olds. Matt ended up saving me when I was stuck on the climbing wall; it was love from then on!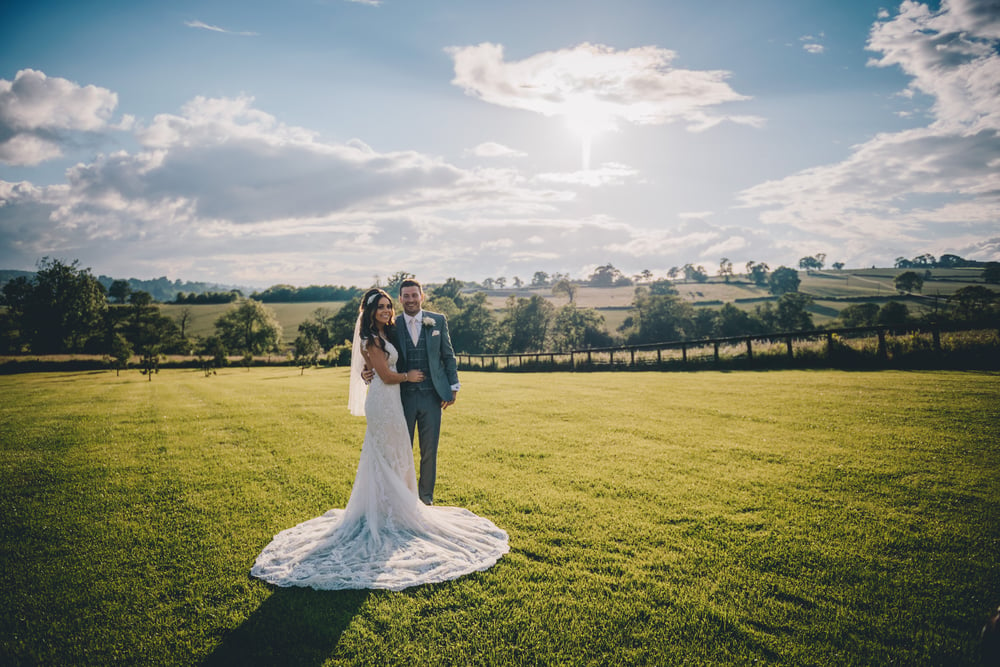 Tell us about the proposal. How long were you engaged?
The proposal was just perfect; we went to New York for a long weekend in the wintry month of November. After arriving late on a Friday night, we woke up early the following day and decided to go up the Empire State Building. We later headed to Central Park for a walk around and whilst enjoying some Prosecco in The Loeb Boathouse, Matt had eyed up the boating lake. Even though I have a strong dislike of boats, Matt dragged me onto the rowing boats with the compromise that I was in charge of the oars.
After a row around, Matt asked me to turn the boat around so he could take my photo (little did I know it was actually so bystanders couldn't see as he had stage fright). He then went onto explain the 'good news' and the 'bad news'. The bad news was he couldn't get down on one knee as there was muddy water in the bottom of the rowing boat, and the good news was that he wanted to marry me....! I can't repeat my initial response...but obviously I said YES!
After departing the boat, we walked over to the fountains where a family were singing 'John Legend, All of me', which was our favourite song at the time – it was such a perfect coincidence. We were then engaged for just over 18 months before we tied the knot & had 'All of me' for our first dance!
Why was Shottle Hall the perfect venue for your big day?
We were pretty much convinced Shottle Hall was the perfect venue for our big day as soon as we drove into the grounds. The location, gardens and setting of the Hall was just stunning. It was the orangery that first caught our eye originally and then when we were showed around the hall we fell in love with all of it, including The Coach House Marquee – which resulting in us having the inability to resist the Estate Package! This package allowed us to have the whole venue to ourselves which is what we wanted as well as somewhere with bedrooms onsite for close family to stay and have breakfast together in the morning.
Please tell us a little bit about…
Your Ceremony;
We had our ceremony in the orangery – it was stunning. We had a singer, Sam Scherdel, who played the piano and sang during the ceremony. We wanted to make the most of the ceremony so we had 3 close friends give readings.
The Dress;
I first saw THE dress on Emily Bridalwears' social media & straight away booked an appointment. It was the first dress I tried on and even after trying around 7 or 8 more, I knew it was the one! The designer was Martina Liana – I wish I could wear it again!
Centrepieces, did you do your own or use a venue dresser?
Our centrepieces were created by our florist. We had tall martini vases with flowers for half of the tables and then used the bridesmaid's bouquets for the rest of the centrepieces.
Did you have chair covers or any other decorations?
We used Gemma White Weddings & Events for our wedding Decor. We had chair sashes, table runners and clear pedestals to put the flowers on during the ceremony.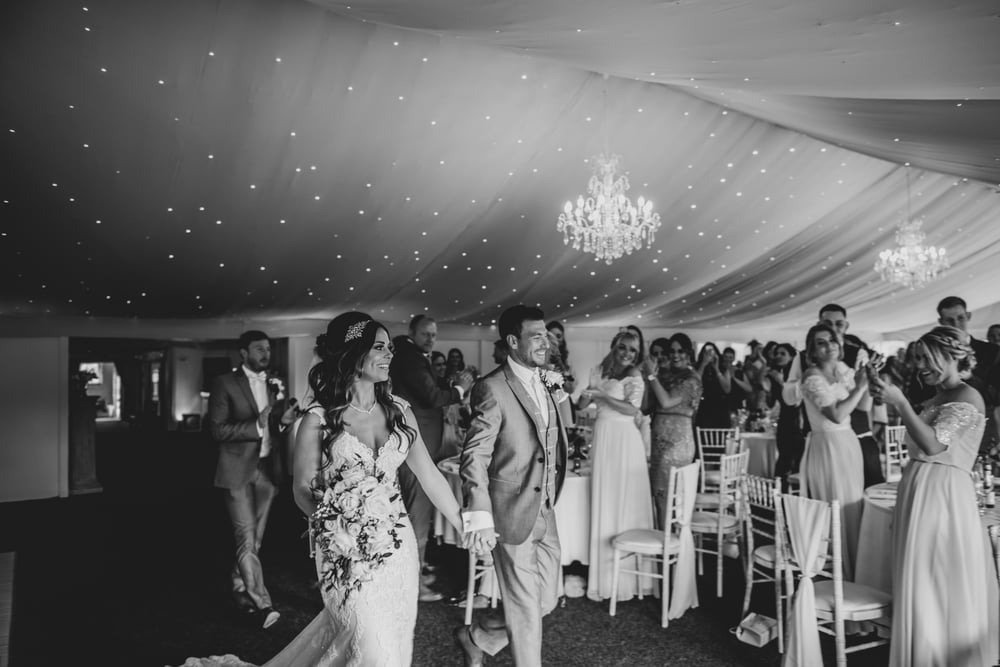 Who was your photographer?
Our photographer was the talented Eve Hopkinson, she is amazing and so lovely. She made us feel so comfortable on the day; a friend even commented that it felt like she was a guest! We have recently received our photo's and they are literally amazing!
Who made your Wedding Cake? What flavour did you have?
SJ Cakes made our cake and our florist provided flowers to decorate it with. It was beautiful and tasted amazing! We went for a chocolate base, raspberry & white chocolate and red velvet.
Who was your florist and what flowers did you choose?
Our flowers were from Cottage Garden Florist. We went for neutral colours, soft pale pink to match our bridesmaid dresses. My mum is a gardener so knows a lot more about flowers than me, so I let her have a say in the flowers used.
What entertainment did you have throughout the day & night?
For our ceremony, we felt we would be silly not to utilise the use of the piano in the orangery. So we searched for a singer who could play both the piano and the guitar for after. We were so lucky to come across Sam Scherdel, who is so talented and entertained all the guests throughout the day.
For the reception, we had Southwest band. We had seen them at a family member's wedding so already knew they were amazing. They really made the night something special, the dance floor was constantly full!
What made your day extra special?
Being surrounded by our loved ones in the most beautiful venue. Everyone seemed so happy and to be having such a good time, which is all we wanted! Massive thanks go to the Shottle staff & food for help with this.
What were the most memorable moments?
Trying not to cry walking down the aisle, taking some time away to practice our first dance & then laughing afterwards at the fact we did it wrong....then partying the night away with our much loved family & friends! Oh and breakfast the next morning.
Would you do anything differently?
Nope, which is good as we hate the feeling of regret!
Sum up your day in one sentence
Incredible, all we could have ever wished for, surrounded by our loved ones in a stunning venue!
Best piece of advice to pass onto other couples
Try and enjoy the planning process and don't get stressed out! Time absolutely flies, so enjoy every moment. Everyone is there to celebrate with you but remember it's your special day – take some time away together to take it all in.