A countryside wedding for Megan & Carlos here at Shottle Hall on the 31st of May 2019.
When & where did you first meet?
We actually met on tinder almost 6 years ago, and I honestly only agreed to a date because I was on a night out drinking when he asked! Up until then I hadn't thought of using Tinder seriously but I'm definitely glad I agreed to that date now.
Tell us about the proposal. How long were you engaged for?
Carlos took me away to York for the weekend and proposed in the gorgeous gardens of Beningbrough Hall, overlooking the countryside. It was beautiful! I actually knew it was coming as Carlos is not the best at hiding a secret.
A few weeks prior he asked my Dad if he could stop by one evening after work as he needed to drop his car into the garage at the end of road, but when I later asked what was wrong with his car he said nothing before realising and making up something random. Very suspicious!
I was sure that he was telling my Dad that he was proposing to me so before we went away I made a comment about how I wasn't going to do my nails that weekend, and he said 'I think you should!'. He's never shown so much interest in my nails before! We were engaged for 20 months and I loved every minute of the planning and excitement.
Why was Shottle Hall the perfect venue for your big day?
We knew we wanted an outdoor ceremony, a countryside setting, and a beautifully elegant, light filled room for the wedding breakfast. We searched online for months, went to lots of open days and saw some wonderful venues but none of them were perfect. When we saw Shottle Hall we knew immediately that it was the venue for us. The countryside views for miles, the beautiful outdoor ceremony space, and the range of settings across one venue from the formal hall, to the barn, to the marquee made it everything we could have ever dreamed of. We booked the whole Shottle Hall Estate and loved that we could have our closest family and friends stay the night with us and all have breakfast together the next day as well.

Please tell us a little bit about….
Your ceremony
We had a civil ceremony in the outdoor ceremony space with panoramic views of the countryside. In the run up to the wedding the weather hadn't been very good so we were sure we wouldn't be able to get married outside but we were so lucky on the day with perfect weather. My Dad walked me down the aisle to an acoustic guitar version of I can't help falling in love with you. I was so caught up in the moment and so focused on Carlos that I didn't even hear the music though!
When it came to exchanging our vows, we had decided not to write our own as it seemed like a lot of pressure, but the vows we did choose were very meaningful, although Carlos did stumble over my name when he said it which caused some amusement among our guests!
We had 3 readings, the first a monologue from the film Stardust read by my sister which has a lot of meaning in my family. Carlos' sister and my 11 year old brother also read and it was so meaningful hearing the words that we had chosen for our day from the people closest to us. During the signing of the registry we had the theme tune from Love Actually and during photos the guitarist played La Vie en Rose as a nod to Carlos' French side. For the walk back up the aisle, we had the Beatles, All you need is Love!
Your dress
In the first shop I went to I only tried on about 3 dresses before I found one that I really liked. It had thin straps, a fitted bodice and a plain flowing skirt with a very small train. I was all ready to buy it until my aunt suggested that I shouldn't buy a dress on the first day of trying them on, and I'm so glad she said that! 3 shops later, at Fairytale Brides, I put on a very big, strapless Justin Alexander dress and knew that it was the one! I'd been so against going for a big princess dress that I carried on trying others but I kept going back to that one and I'm so glad I did because I absolutely felt like a princess on the day, and if you can't feel like a princess on your wedding day, when can you?!
It was big with a train to rival Meghan Markle's but not puffy which I liked, and the detail of the lace on the bottom of the dress was exquisite and not like any other lace I'd seen before; it had an almost Spanish vibe to it. It also came with a matching veil which was even longer than the train which I didn't think was possible and it looked amazing (although it was a bit heavy!).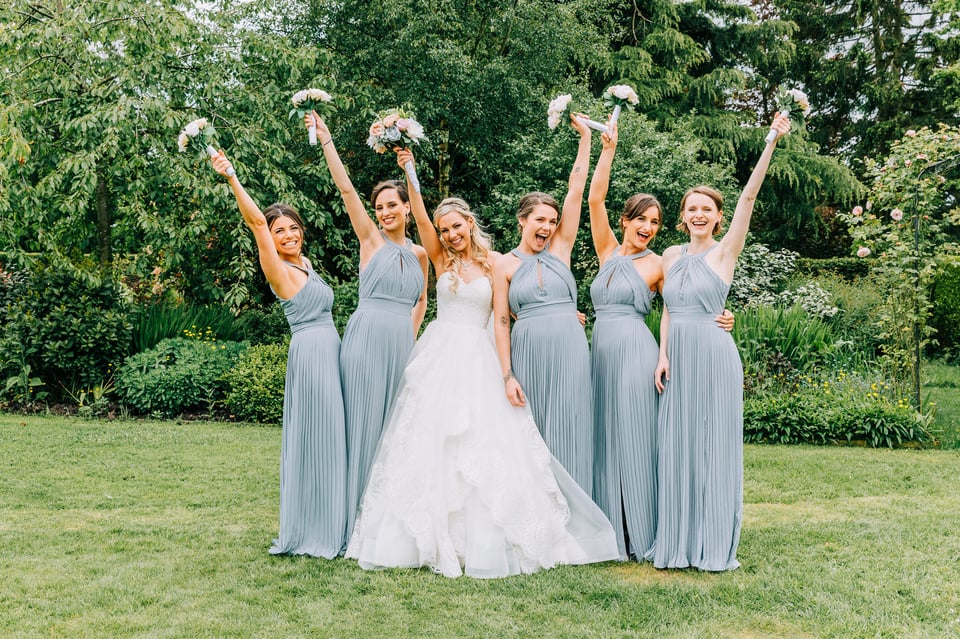 Who was your Florist ?
We actually didn't have a florist! As much as I like flowers, I was more keen to spend the money on more drinks (we had a cocktail hour in the evening) so we bought artificial flowers that my very talented aunt made into bouquets for us! The only real flowers we used were in little glass vases on our tables and so the day before the wedding we went into a local florist and picked about 20 roses, some gypsophila, some greenery and that was it! The florist was very surprised when she asked what they were for and we said it was for our wedding the next day!
Centrepieces, did you make your own or use a venue dresser?
We had a fabulous venue dresser called True Love Lights Your Way and they provided the chair sashes, table runners and pearl draped candelabra centrepieces which we then surrounded with little vases of flowers and our table numbers. It was very classic and beautiful! We also had a charity pin for each guest, a moustache from CRUK for the guys and a gold heart to support Macmillan for the girls and each guest had a mini jar of jam, made by Carlos' dad from the fruit of his own trees in Brazil! It was a wonderful touch.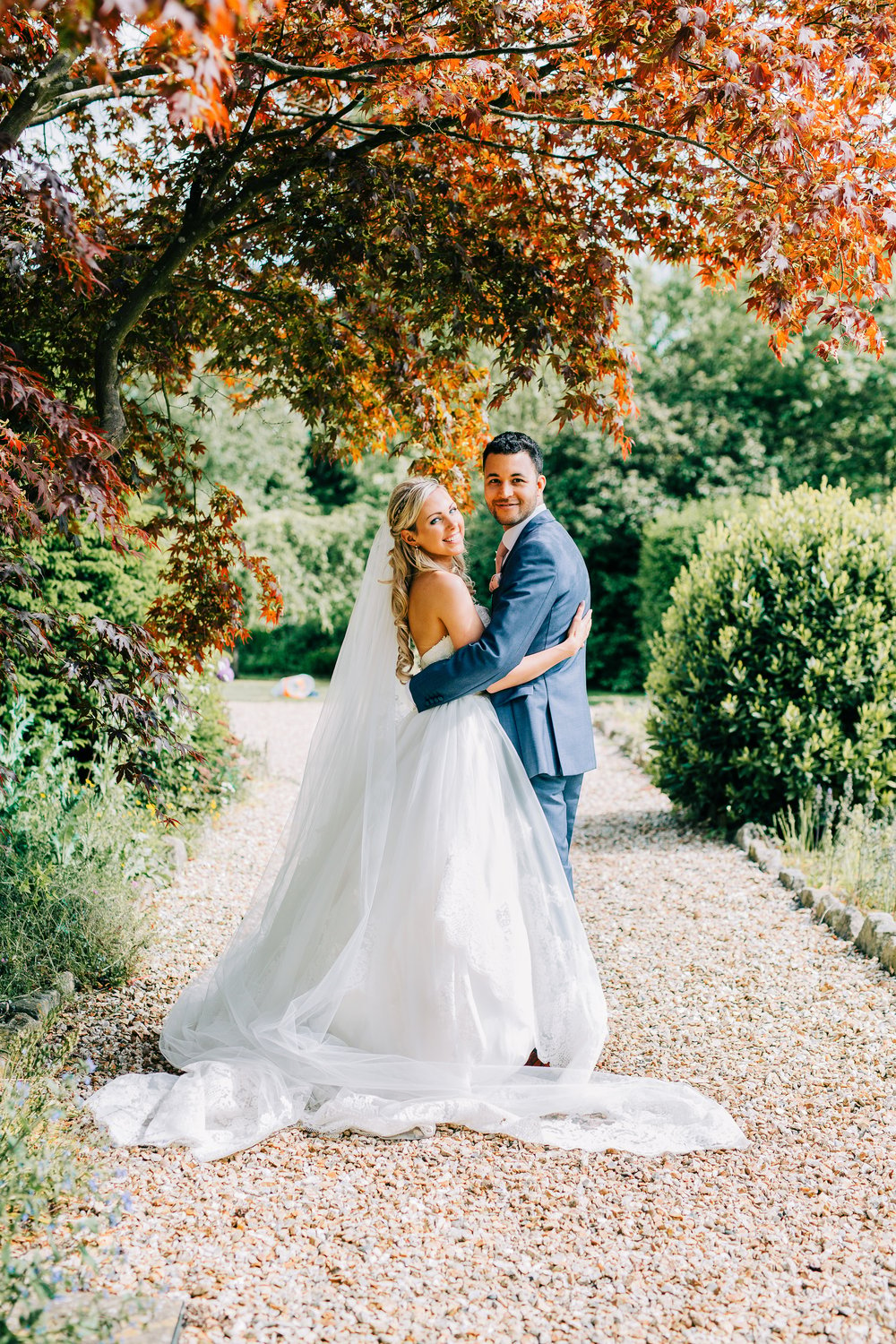 Any other venue styling you want to mention?
Our venue dresser also provided a sweet cart, blossom trees and giant LOVE letter lights for the marquee in the evening. My sister and mother-in-law also made some beautiful floral hoops which we hung up in the marque too and for our table plan I found a wooden crate panel which I spray painted rose gold and clipped individual grey table plan cards too- it worked really well!
Who made your wedding cake? What flavour did you have?
We eschewed tradition and didn't go for a traditional tiered wedding cake, but instead a big dessert buffet with 2 giant Colin the Caterpillar cakes, dressed as a bride and groom, taking centre stage!
Who was your photographer?
Our photographer was Clare Robinson Photography and she was a dream come true! Good photographs were a priority for me and we spent a long time looking for the perfect photographer. When I saw Clare's work I knew I loved the photos and then when we met her she was so warm and friendly that we knew we had to book her! On the day she was amazing, putting everyone at ease, really picking up on when we wanted a break and rounding everyone up and many of our guests commented on how good her manner was. We got our previews back within a matter of days and all of our photos only weeks after that and we were in LOVE with them! She managed to capture so many amazing moments and I can never thank her enough for what a good job she did! We also had a Videographer, Jayson from Moments in White and we are so glad we did as looking back at our highlight video, guest messages, speeches and all the other magical moments has been wonderful. He also fit into our day so well and captured everything that made it personal to us.
Tell us what menu you choose for the wedding breakfast ?
To start we had either the Goats Cheese Tart or the Moroccan Lamb which were both superb. Our mains were Moroccan Vegetable Tagine or Fillet of Chicken with Confit Duck and for desert, profiteroles. We had vegan and gluten free guests and there was no bother at all in providing them with alternative menu selections. We were really impressed at the quality of the food and this is another area of the day that lots of our guests praised.
What entertainment in the evening did you choose ?
We had a photobooth provided by SnapCandy Photobooths and our DJ was from GC Events.
Just a few more questions....
What were the most memorable moments?
For me, the most memorable events were walking down the aisle, although it seemed like such a surreal experience, the speeches because they were all so wonderful and as I also made a speech I got to thank everyone that I loved for everything they had done for us, and the evening party. During the last song of the night Carlos' friends put us both up on their shoulders to dance and the whole dancefloor was filled with the people we love having a brilliant time so we couldn't have asked for anything more!
Can you sum up your day in one sentence?
Having all of our friends and family in such a beautiful setting and with such personal touches throughout the day made our wedding day the most magical day from start to finish and we wish we could do it all over again!
What is your best piece of advice to pass onto other couples who are planning a wedding at Shottle Hall?
I would advise making use of the whole estate if you can because it's so diverse and you get a bit of everything all in one place! Also, the wedding co-ordinators are fantastic so don't stress about every little detail in advance because they are there to make sure everything goes smoothly. Our wedding co-ordinator Sarah definitely did!
Best wishes, Megan and Carlos xxx