A wedding fayre venue viewing leads to an August Wedding for Stacie and Edward - 8th of August 2019
When & where did you first meet?
We met at Belper School in 2003, although it took us a few years to actually speak to each other as Ed was extremely shy! Eventually, towards the end of our school days, Ed finally plucked up the courage to ask me to be his girlfriend in 2007.
Tell us about the proposal. How long were you engaged for?
After dropping subtle hints for a LONG time, I felt I needed to be a little bit more direct with Ed on the marriage situation. So I asked him directly...was he planning on proposing anytime soon?
(We had been together almost 10 years at this point! But he isn't a man to rush into these things...)
So for my birthday that year, he surprised me by taking me to CW Sellors in Ashbourne to go and pick my diamond. He then took it upon himself to design me a bespoke engagement ring that with their help, he could make just perfect.
Ed got rather nervous about the proposal because I kept guessing all of his ideas about how he was going to propose. So in the end, on 4th February 2017, he hid the ring box in our rabbits' hutch - ready to jump down on one knee upon its discovery. The only problem was... I didn't discover the ring box and instead threw a pile of hay on top of it! Ed thought fast on his feet and ended up sliding across the kitchen tiles on one knee, retrieving the box and asking me to marry him.
We were engaged for just over two years, getting married on 8th August 2019. We wanted to make sure we had our dream day and felt this was enough time to plan and save for it.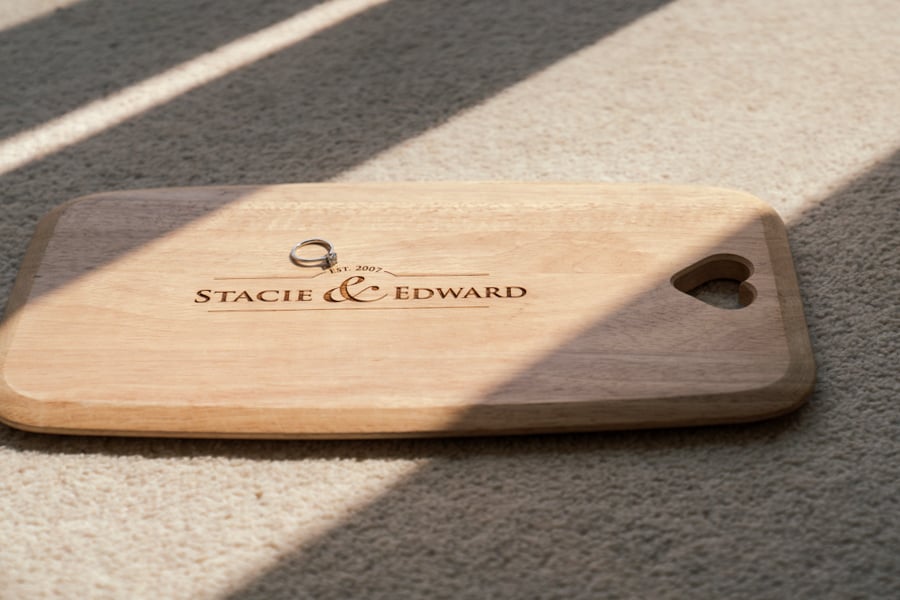 Why was Shottle Hall the perfect venue for your big day?
We fell in love with Shottle Hall from the second we saw it dressed in all its glory during a wedding fayre. Every time we visited we got such welcoming and happy vibes from the venue and all of the Shottle Hall staff, that we knew we had to celebrate our special day there!
We loved that the location was so close to where we had grown up with our families and we were so happy that this gorgeous venue could give us the local celebration that we had dreamed of. Plus, the backdrop of the stunning rolling fields and beautiful gardens promised to provide us with breathtaking photographs.
Please tell us a little bit about….
Your ceremony
We got married at St. Peter's Church in Belper as we both had connections to this church growing up.
I remember performing there in my primary school nativities and Ed remembers his primary school harvest festivals. We both were thrilled to see the Golden Eagle Lectern again.
We later found out that Ed's grandparents had also previously been married there too, which made it even more special to us.
We travelled from the Church to Shottle Hall in style, thanks to Cupid Carriages and their beautiful champagne coloured Badsworth and Bramwith vehicles. It was lovely to be able to take in the scenery and have a special moment to ourselves, before the celebrations got in full swing.
Your dress
I was anxious at first about trying on wedding dresses because I wasn't confident with my body, at the time, and knew I wanted to look different by the big day.
I had been to a few wedding dress shops and came out feeling embarrassed and not comfortable in any of the dresses I had tried. Until...I went to La Belle Boutique in Sutton in Ashfield - they instantly put me at ease and made me feel like the princess that I knew I could be!
I had been looking through wedding magazines and a certain designer had kept catching my eye - Essense of Australia - and La Belle Boutique were a stockist of these then. I tried on a few dresses in the 'fit and flare' style that suited me best and then came across...THE ONE!
There was no pressure to commit to buying there and then, but after driving home at a snail's pace because I was thinking about THE dress, I knew I had found it!
Who was your Florist ?
Louise from The Greenery. She was excellent from the minute we saw her and so helpful leading up to the big day. It was great to meet with her a few times to discuss our ideas and then to see them in 'real life' on our big day was truly wonderful.
Louise's knowledge of just what flower combinations would compliment our colour scheme and the venue was superb! We opted for amnesia roses, sweet avalanche and avalanche roses, bombastic spray roses, pink astilbe, white Veronica, white hydrangeas, soft pink lisianthus, pink astrantia and eucalyptus foliage.
Centrepieces, did you make your own or use a venue dresser ?
The centre pieces were Louise's (our florist), but she teamed up fantastically with Jo from Iced and Spliced to combine the flowers, sequins and cake pops for our gorgeous table combinations.
We chose two different table centrepieces as we liked the contrast of the high frames and the low rose bowls to add some depth to the room. We then added some photo frames of 'Our First...' for the personal touch.
Any other venue styling you want to mention ?
Hollie at Scarlett Designs helped to create our beautiful table plan. I wanted an element of the wedding invites at the day, as they were just stunning and I thought it would tie everything in together. Hollie listened to my ideas and brought them to life. She also made the menu cards - which turned out very useful to the guests for the wedding breakfast!
Molly at Molly Rose Crafts made all of the signs (welcome, order of the day, hashtag, photo booth, cards, etc). The order of the day sign was invaluable! It was so reassuring to know that the guests had a way of finding out when and where they were next needed and it really helped with the smooth running of the day.
VM Bespoke made all of the laser cut place names, cake topper and some signs. The place names were a great keepsake for the guests.
Who made your wedding cake ? What flavour did you have ?
Adele from April Delights made our sensational five tier wedding cake! We met her at a number of different wedding fayres and she was so approachable and really had an understanding of cake design, but also flavour. It was refreshing to find someone who could make the cake look incredible, but also taste just as nice as it looked - and she definitely managed to do just that!
We met with her to taste the different cakes on offer and to design our own, unique wedding cake. During the consultation, Adele drew a sketch of what our cake would look like, which was so helpful and reassuring.
Top tier was toffee and cream (our idea was to save this for after the honeymoon so we could have it to eat when we got our photos and videos back).
Second tier was lemon delight.
Third tier was toffee and cream.
Fourth tier was red velvet.
Fifth tier was vanilla, jam and buttercream.
Our cake topper was made by Nicola at Forever Fairies. She was just brilliant and managed to recreate all of the intricate details of our outfits, and pets, perfectly!
Who was your photographer and videographer ?
Chris Smith of Chris Smith Photography was our photographer and he was actually astounding. He has such an eye for the perfect picture but doesn't take half an hour to capture it. He was super professional throughout the entire process, really approachable for the guests, but also not in your face with the camera which means his natural shots are immense!
His scenic photos are what first drew us to him and his ability to make even a little puddle look like something out of a fairytale, just emphasise his skills.
https://chrissmithphotos.co.uk/weddings/
Angela of Wedding Videos by Angela captured our day on video and she worked seamlessly with Chris to achieve what I know is going to be a magical snapshot of our wonderful day.
Tell us what menu you choose for the wedding breakfast ?
Starter: Chicken Liver Parfait and Wild Mushrooms (v)
Main: Roast Turkey Breast and Tomato and Stilton Tart (v)
Dessert: Salted Caramel Cheesecake and Shottle Eton Mess (gf)
Everyone was very complimentary as it was all so delicious.
What entertainment in the evening did you choose ?
We had Dammit Jack provide the entertainment for the entire day in their Platinum Package.
It was wonderful to arrive to the venue for our Drinks Reception and Cheese Cart, to be greeted by the guys playing outside serenading us with beautiful songs.
They were fabulous throughout the entire day (and leading up to the big day, they were so helpful and eager to get everything just right)! All of the guests were blown away by their talent and the atmosphere that they created was just wonderful.
To be able to have a unique first dance song that is so special to Ed and myself, sung to us acoustically, was a moment that we will treasure so dearly in our hearts forever - thank you Dammit Jack!
We also had Sharon and Hamish from The Vintage Cheese Cart Company who provided a beautiful selection of cheese and crackers for our arrival drinks reception, but again for our evening food. This accompanied the fantastic Shottle Hall Hog Roast perfectly!
In addition to this, we had Little Las Vegas Casino Hire providing a roulette and black jack table to entertain everyone (especially my six year old niece)! And...Chris Smith Photography provided an amazing photo booth that captured some brilliant moments from our evening.
Just a few more questions....
What were the most memorable moments ?
The ceremony was intimate and emotional and we feel truly blessed and honoured to have shared it with the people closest to us.
When the Best Man poured an entire scoop of millions sweets into my mouth...just before the cutting of the cake (and of course Chris just happened to be there to capture it all!!)
The love that was felt in the Hall when Dammit Jack played a very special song to us (Valerie) and having everyone up on the dance floor singing along and busting some moves!
Can you sum up your day in one sentence ?
Everything we had ever dreamed of and so much more...it was just magical!
What is your best piece of advice to pass onto other couples who are planning a wedding at Shottle Hall?
Visit the wedding fayres and see the venues at their best! Even when we knew that Shottle Hall was our perfect venue, we still went to other wedding events to meet suppliers and we got an idea for how we wanted our day to look and feel. It's great to see potential suppliers/providers in action and you can check that what you have imagined, they can make happen.
If you have an idea then share it with your wedding coordinator and they will be able to make it a reality. Sarah was amazing at helping me fit in all of my many ideas...and she even helped to make them better, using her wealth of experience.
Thank you to Sarah, everyone at Shottle Hall and to all of our suppliers for helping us to have the best day ever! We are truly grateful to you all for giving us the most perfect and memorable day.