Rosalind and Meyrick share their beautiful Autumnal real wedding story below. They married at All Saints Church, Mickleover on Monday 11th October 2021 with reception and evening function here at Shottle Hall.
When & where did you first meet?
Meyrick and I first met at a speed dating event in Derby three years ago. I had never been speed dating before, and Meyrick was the very first person I saw at the venue as I walked in. I distinctly remember thinking that if he was part of the speed dating event, it was worthwhile me fighting my nerves to attend. We instantly connected when we spoke, laughing together and sharing recommendations for films and local events.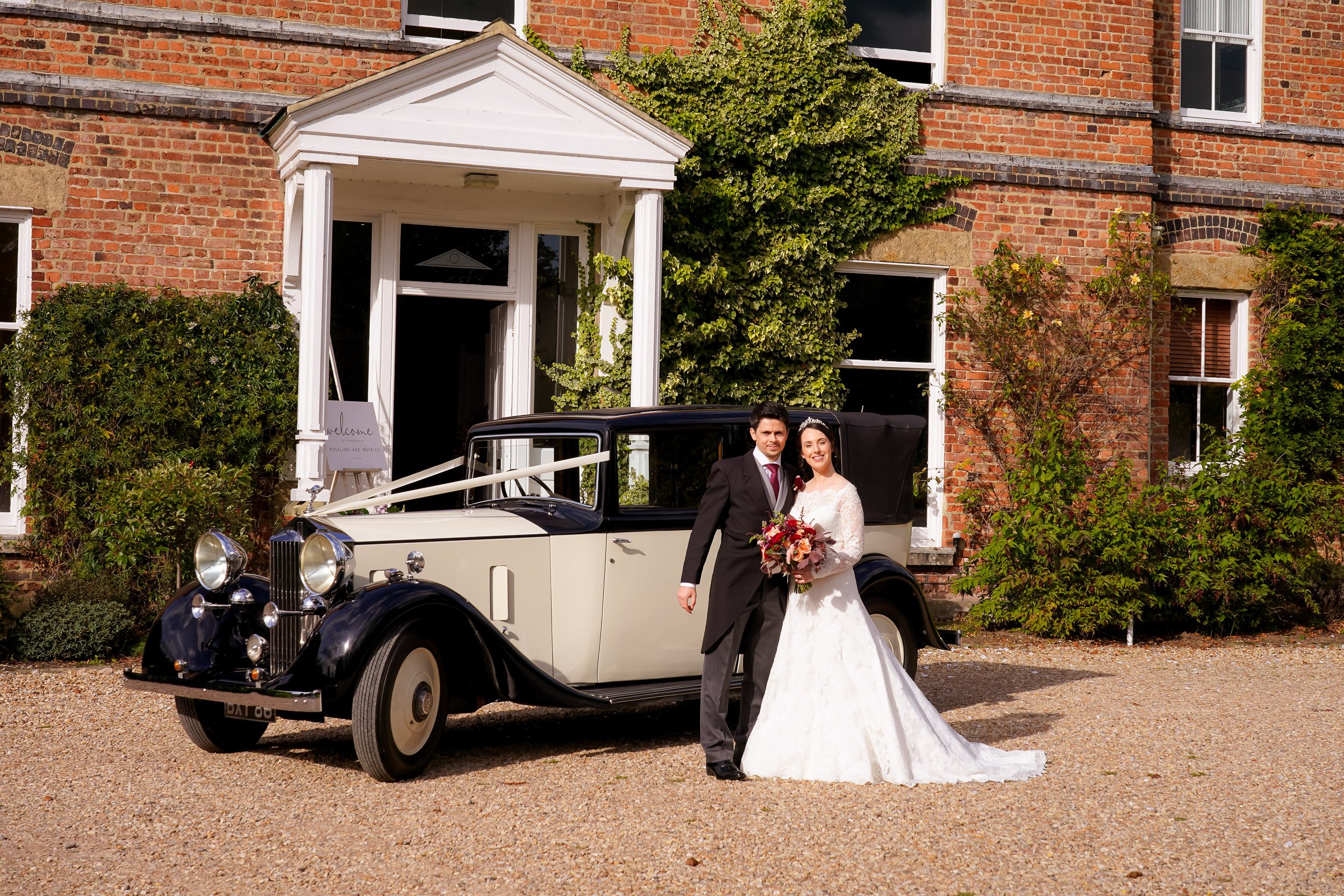 Tell us about the proposal. How long were you engaged for?
Meyrick proposed in November 2020 during lockdown restrictions, exactly two years after our first date. We both really like cinema, and Meyrick told me he had arranged a quiet movie night for us. I went on my regular lockdown afternoon walk; when I returned home, I was surprised to see that he had transformed the living room into a vintage theatre. Settled on the sofa with popcorn and a glass of champagne, I expected one of our favourite films to appear on the projection screen in front of us. Instead, treasured photographs from our relationship floated across the screen. Meyrick explained what each of the images meant to him, which he had arranged into a timeline of our relationship. Before the final image, he told me his next favourite moment was currently being written… he then clicked the projector and a screen with the words 'what next?' appeared…he then proposed to me!

Why was Shottle Hall the perfect venue for your big day?
Shottle Hall was the first and only venue Meyrick and I visited. We both knew immediately it would be the setting for the wedding day we had both dreamed of. With a love of walking in the Derbyshire countryside, we were captivated by the spectacular rolling hills surrounding Shottle Hall. We were also enchanted by the Hall's beautiful architecture. We liked the idea of holding the wedding breakfast and evening celebrations in the Hall itself, with full access to the amazing parkland
throughout the day too with the Estate Package. The team at Shottle Hall were so friendly and spent time making sure we felt comfortable and had the best wedding day. Nothing was too much trouble, and we knew we were in excellent hands with our brilliant Wedding Coordinator Amy and the whole team!
Please tell us a little bit about….
Your ceremony
Meyrick and I married at All Saints Church in Mickleover, Derby. I had grown up attending the Church alongside three generations of my family, and that is where Meyrick was introduced to my family for the first time. So it has become a very
special place for us both. We had a beautiful wedding service. Our Vicar has known us from the beginning of our relationship, which made it feel very personal. I remember feeling so excited as I walked with my Dad into the church, under the stunning floral arch our amazing florist, Denise from Funky Florists, arranged outside the church doors. Both Meyrick and I were overwhelmingly happy, just smiling at each other and our family and friends throughout the ceremony. My parents kindly arranged for myself and Meyrick to travel from the church to Shottle Hall in a Vintage Rolls Royce Landaulette from Wedding Cars of Derby. This was a perfect moment to share memories of the wedding service and our excitement about the reception at Shottle Hall.
Your dress
I have always loved the idea of having a wedding dress with lace sleeves and a long train. I chose a Justin Alexander gown from Beau Belles in Borrowash. I had picked out several long sleeved lace dresses to try on during my fitting, but none of them felt like the right dress. I then vividly recall the moment Lisa from Beau Belles showed me the Justin Alexander dress. As soon as I tried it on, my Mum and I both started crying. It really felt like the dress I was always meant to wear. I usually find shopping for clothes a little bit daunting, but all the team at Beau Belles were brilliant, and made me feel special.
Who was your Florist?
Meyrick and I were incredibly lucky to work with Funky Florists. Denise is the most amazing florist. All the combinations and floral arrangements were stunning, from the buttonholes and the bouquets to the floral arches and pedestal designs. I was
genuinely in awe of how Denise took the ideas about colours from my reference photographs and the bridesmaids dresses and came up with the most creative and beautiful flowers and designs. Denise was so kind, and was always there to talk through ideas and suggest brilliant concepts. We are getting the flowers professionally preserved and cannot wait to see them in our home for the rest of our lives.


Centrepieces, did you make your own or use a venue dresser?
Our florist, Denise from Funky Florists, made us beautiful centrepieces: an arrangement of flowers in fishbowls with mirrored plates underneath. The flowers reflected the colours and design from my wedding bouquet. We wanted the centrepieces to create a focal point without detracting from the wonderful architecture in the Orangery. We also aimed for the centrepieces to complement the dusky pink chiffon table runners and table numbers styled by our wonderful venue dresser Gemma White Weddings and Events.

Any other venue styling you want to mention?
Gemma White Weddings and Events also styled our chairs with dusky pink chiffon covers tied with a brooch. Gemma also kindly provided us with a pretty white wedding post box for our wedding cards and a welcome sign and easel.


Who made your wedding cake? What flavour did you have?
Our wedding cake was made by The Melbourne Cake Company. We decided to have a four-tier cake with a lace design and pearl button detailing. Lisa very cleverly referenced the lace design of my wedding dress on the cake, with Funky Florists
making amazing brooches of fresh flowers which were placed on the top and side of the cake.
Meyrick and I could not decide between some truly delicious flavours, so we decided to have a different flavour on each tier: chocolate sponge with Belgian chocolate Swiss meringue buttercream; lemon sponge with homemade lemon curd and Swiss
meringue buttercream; and vanilla sponge with vanilla Swiss meringue buttercream and raspberry conserve. Meyrick loves chocolate orange, so I surprised him by making the top tier chocolate sponge with orange drizzle, with Belgian chocolate
ganache and orange filling. We kept half of the top tier, which is safely stored in our freezer as a wonderful memory!
Who was your photographer?
We worked with the incredible Matt at Field Photographic. We really appreciated his fun and relaxed style, which put us at ease as neither of us feel particularly at home n front of a camera normally! Matt's approach of shooting documentary-style
wedding photographs with a good mix of more formal, official shots was perfect for us. He knew exactly which shots would produce lovely photographs; like when he took a photograph of us practising our wedding dance in Shottle Hall's grounds
against the most amazing sunset. We are delighted to have very special photographs of our wedding day, which mean a lot to myself and Meyrick.

@fieldphotographicmatt


Tell us what menu you chose for the wedding breakfast?
The food during our wedding was delicious. We received so many compliments about the taste, quality, and presentation of the food from our guests! The starters included a choice of either the Goats Cheese Filo Pastry or Smoked Fishcake. For the main course, guests could choose the Fillet of Salmon, Chicken with Confit Duck, or Butternut Squash Laksa. The dessert options included Tart Au Citron or Dark Chocolate Torte. Some of our guests had special dietary requirements and allergies; we are very grateful to the Shottle Hall Team for how accommodating they were in arranging stunning dishes for our guests with dietary needs.

What entertainment in the evening did you choose?
Louise Spencer, from Nottinghamshire Harpist, joined us to play the most wonderful harp music during our wedding breakfast into the early evening. I previously played the harp when I was a teenager, and Louise performing for us was a really touching
wedding present from my sister.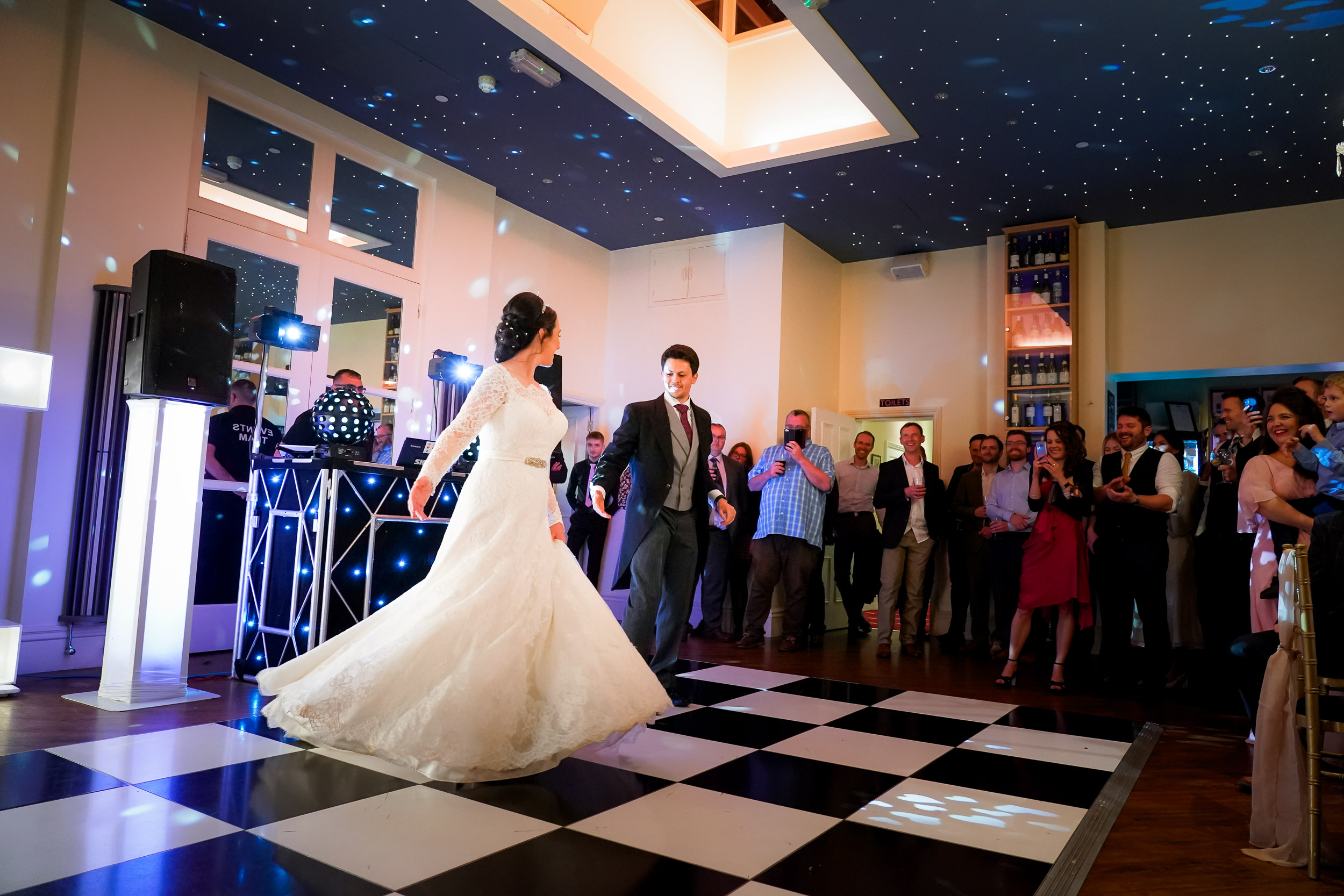 Our wedding DJ was GC Events. Meyrick and I were asked for a list of our favourite songs ahead of the wedding, which made the evening celebrations feel really personal to us. GC Events also provided love letters, uplighting, and a brilliant photobooth. Our guests said they loved getting instant photograph printouts from the booth, to place into a dedicated book with personal messages to myself and Meyrick next to them.
Just a few more questions....

What were the most memorable moments?
Seeing Meyrick for the first time as I walked down the aisle, and how happy he looked at the front of the church. Meyrick had been standing on tiptoes trying to see me enter the church through a gap in the crowd and only caught me after I turned down the aisle; it was lovely to see the emotion on his face when he turned to see me. Listening to the wedding speeches, and being so proud of Meyrick for how funny and sweet he is. Having our first dance together, surrounded by our family and friends. We both had the biggest smiles.

Can you sum up your day in one sentence?
Simply the happiest day of both our lives so far: joyful, heartfelt, and treasured.

What is your best piece of advice to pass onto other couples who are planning a
wedding at Shottle Hall?
Find moments during your wedding day to take everything in and be together in the moment, to enjoy your special day and the wonderful venue at Shottle Hall.