When & where did you first meet?
We officially met 8.5 years ago in a local club on a night out, our eyes met crossed across the dance-floor and the rest is history. After dating for a while, we actually came to realise that we had originally crossed paths at his older brother's house party some 7 years prior, when Dave was only 12! It's become an ongoing joke with the family for obvious reasons!
Tell us about the proposal. How long were you engaged for?
Dave surprised me with a trip to Berlin for my 30th birthday, Berlin had been on my bucket list for many years as it was where I was born and I'd always wanted to go back. He took me to a fancy restaurant with all the intentions to propose however, the atmosphere wasn't quite right so he decided to wait for the perfect opportunity. The following evening we found a little restaurant close to the river and had a lovely meal... well I enjoyed it but I couldn't figure out why Dave wasn't very hungry until he got down on one knee and popped the question! We were engaged for just under two years before the big day.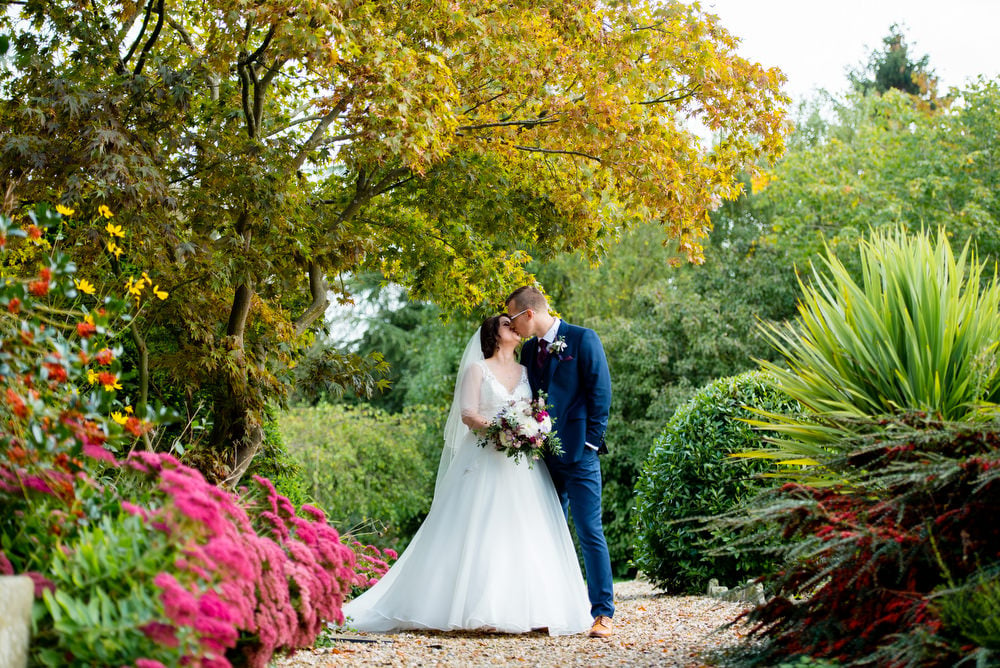 Why was Shottle Hall the perfect venue for your big day?
We had seen half a dozen wedding venues but none of them quite ticked all our boxes. Shottle Hall was the only one we were excited about. We loved the concept of being able to get married and celebrate in one beautiful venue with stunning rolling countryside all around us. The staff were all so friendly and accommodating and bent over backwards to give us the day we dreamed of. Also having the opportunity to have our VIP guests stay with us at the venue and enjoy our first breakfast together as husband and wife made it very memorable.
Please tell us a little bit about….
Your ceremony
We had the ceremony in the Orangery Restaurant as we loved the ornate ceiling and windows all around, our venue stylists decorated the aisle with white petals and we placed photos of our Grandparents on the piano so they could be with us on our special day. I've never been so excited to enter a room in my life... as I walked through the doors with my Mum holding my hand and saw everyone's happy faces I just couldn't stop smiling. We had a very relaxed ceremony, with lots of laughter and smiles and special music playing from the piano speakers. We walked out to Fleetwood Mac, Everywhere which totally summed us up.
Your dress
I chose a Mori Lee dress, it was the 7th one I tried on at Beau Belles in Borrowash. I wanted a big dress that I could feel comfortable but beautiful in, so I didn't want anything fitted. I loved the ornate back, and decorative front, I also chose to add a different belt as I wanted a bit more sparkle 🙂
Who was your Florist?
We chose Jo Beth Floral and they did an amazing job. During our consultation I think it was obvious we didn't have a clue what we wanted other than Cyrsanthemums to honour Dave's Grandad and Heather to honour my Granny. We discussed our colour theme, likes and dislikes and they absolutely hit the nail on the head. Seeing our flowers on the day was absolutely incredible, they were stunning - our family even took home a lot of the table flowers because they adored them! I dried my bouquet and have created a beautiful memory box and some decorative floral frames so we can enjoy them for years to come.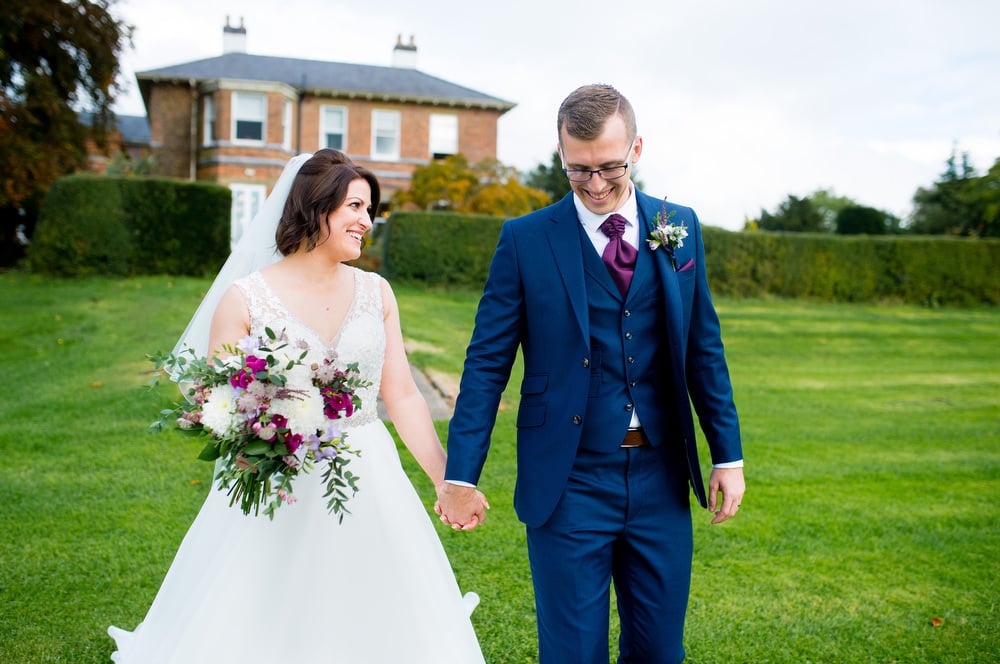 Centrepieces, did you make your own or use a venue dresser?
We used Imagine Events styling, we didn't want anything that would stop our guests from being able to see each other and talk across the tables, so we kept it simple with a few candles, charger plates, flowers, sequin runner and stationary to match our invitations. The girls at Imagine Events are second to none.
http://imagineinvitesandevents.com

Any other venue styling you want to mention?
Imagine Events created our beautiful wedding stationary and were more than happy to use a floral design that my Aunty had painted specially for us.
Who made your wedding cake? What flavour did you have?
Lemon Zest cakes in Chaddesden... so of course we had to have lemon drizzle on two of the three tiers... it's honestly like no other lemon cake I've ever tasted before! Chris and Margaret worked with Jo Beth Floral to decorate with our gorgeous flowers. We froze the top tier and every now and again get a piece out to enjoy together.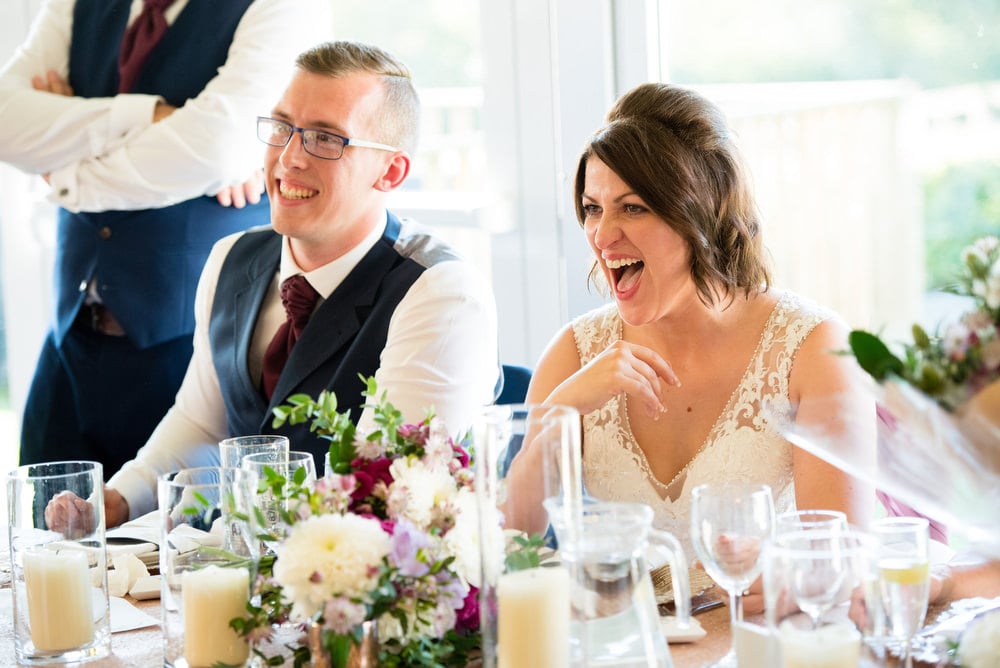 Who was your photographer?
The brilliantly talented Geoff Kirby, he made us feel so relaxed and was so down to earth. He captured our day beautifully - every moment we remembered he caught on camera and so many more we hadn't even realised had happened! He was able to tailor his approach to our wants and needs, we are quite a chilled couple and I think he sensed that and matched us.
Geoff has shoot many wedding at Shottle Hall
Tell us what menu you choose for the wedding breakfast ?
We chose a Roasted Tomato and Red Pepper soup with Focaccia croutons, Shottle Sausage and Mash and Dark Chocolate Brownie with banana ice cream followed by a Hog Roast in the evening... it was all delicious. We received so many compliments about the food... one guest even said she was so over the moon to see 'normal' but delicious food at a Wedding!
What entertainment in the evening did you choose ?
We chose our super talented friend DJ SamNathan. We sent him our ceremony music choices a few weeks before and he burnt us a CD for us to have playing during the ceremony. He asked us for a playlist of music we enjoy so we sent him about 20 songs so he could get a feel for our taste in music. He kept our guests on their feet dancing all night long we can't recommend him highly enough.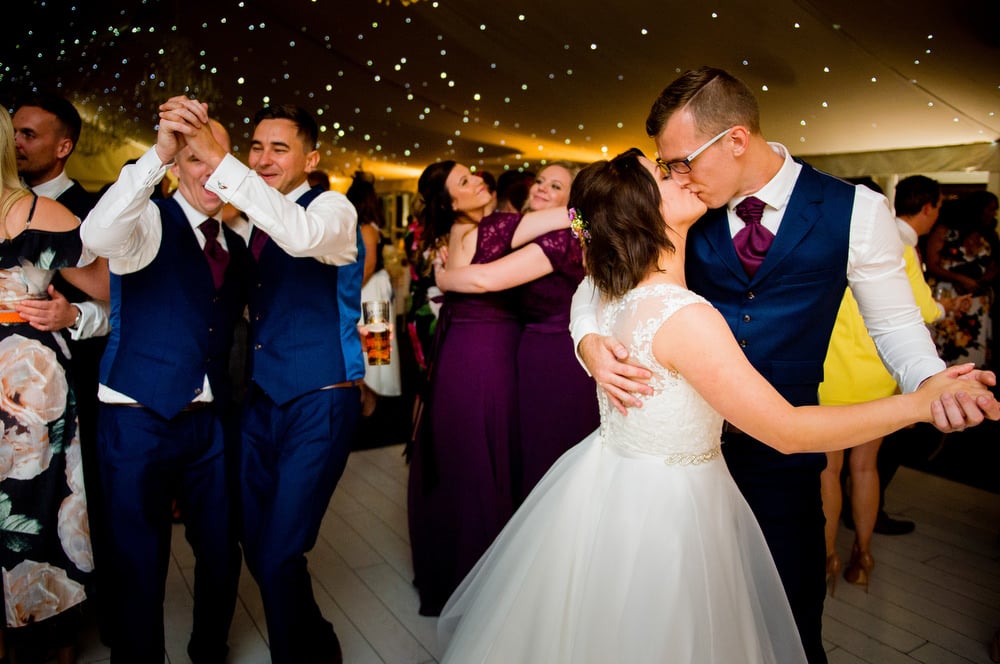 Just a few more questions....
What were the most memorable moments?
Seeing Dave's chin trembling as I walked towards him down the aisle made me melt.
We managed to get a moment alone after the photos and before the reception, so we stood under the trees listening to the birds singing and talked about everything that we experienced during the ceremony so we could solidify it in our memories.
The best man speech was incredible, Kev and Gary had filmed a skit (helped by our witness Nico) where they 'forgot' to bring the speech and went off on a whirlwind adventure searching for it! They finally entered the room on a kid's scooter and a Go Pro on their head, it was hilarious.
We really enjoyed seeing all of our young family members playing together in their smart outfits, some of them had never met before and loved playing together outside The Coach House Marquee where we had our Wedding Breakfast.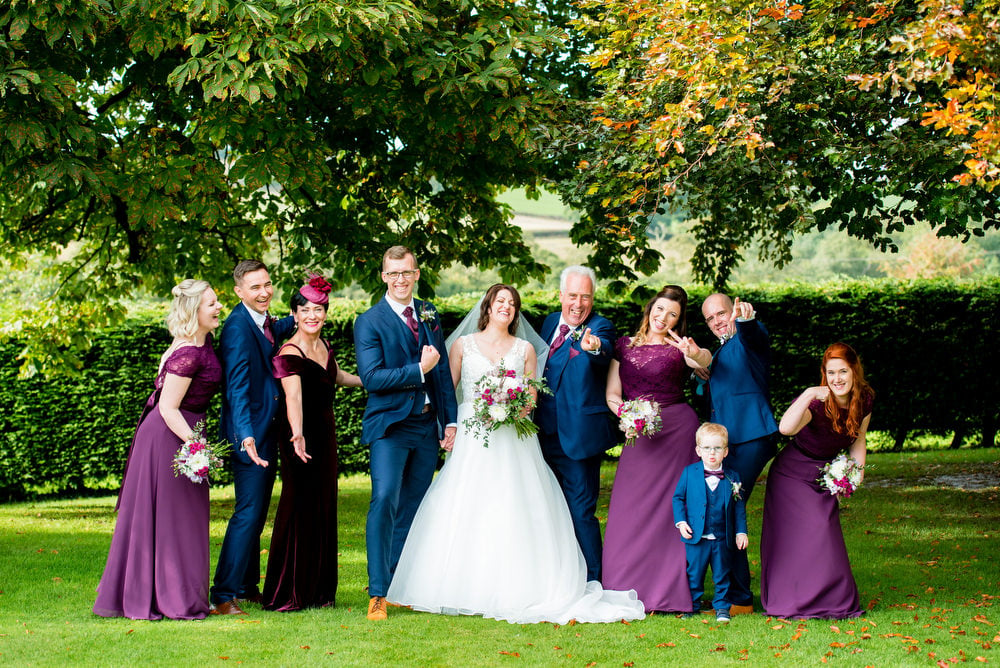 Can you sum up your day in one sentence?
The happiest day of our lives spent with the people we love the most in a beautiful venue.
What is your best piece of advice to pass onto other couples who are planning a wedding at Shottle Hall?
If you can, book the The Estate - being able to use every inch of space and have it all to yourselves is priceless.
Sian & Dave Burton