With the Wedding season now in full swing, it is not just the Bride & Grooms that have to consider their attire for the special day. Being a guests at a Wedding is not without it's own set of considerations to avoid making a fashion faux pas.
Here Emma Salt one of Shottle Hall's Wedding coordinators tells of her own personal wedding outfit dilemmas & top tips.
I'm sure a lot of you will have now had your invitations delivered for this summer's weddings and, if you're anything like me, with this comes the stress of what to wear to them.
I have 5 weddings to go to over the next two months and I'm already starting to get palpations over my outfits! Can I wear the same dress to more than one of them? Will anyone else be wearing the same dress? Will I be able to eat a 3 course meal in that tight number? Are those shoes going to still let me be dancing the night away at midnight? These are just a number of the questions running through my head on a daily basis at the moment as I try to choose the perfect wedding outfit!

All this worry is probably really unnecessary but I don't think my job helps in calming me down. Every wedding I coordinate here at Shottle Hall I find myself analysing all of the outfits, picking my favourites and studying the different styles and colours. This did mean that when the time came for me to organise my own wedding outfits I had a good idea of what I wanted and also what I didn't. And so the search began, I started trawling the internet for my perfect dress (or should I say a number of perfect dresses).
Two of the weddings I've been invited to the whole day so the outfits I chose for these needed to be respectable enough to wear walking into church but stylish enough to contend with all of the evening guests who have just come for the party – the last thing you want is to look like Nanny McPhee stood next to the Pussycat Dolls in all of your tagged photos on Facebook!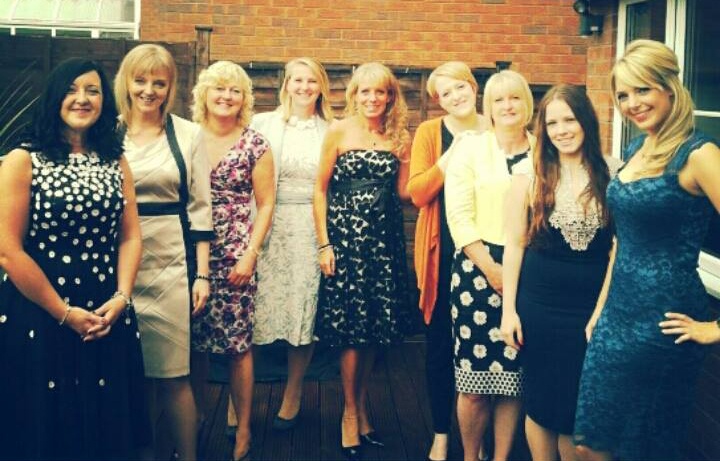 After weeks of painstakingly looking I finally found the one; a knee-length blue lace number with a sweetheart neckline from Lipsy. Teamed up with a pair of black peep toes I hope I've got the balance of respectable and stylish just right.
For the second wedding, it is the height of Summer so I wanted something a little different in a vibrant colour to hopefully match the beautiful Summer's day! The final choice a made for this is a yellow capped-sleeved dress from Zara with a low back. I will also add some contrasting accessories maybe in a bright pink to personalise the outfit.
With both of these dresses being from popular high street stores there is always the worry that someone else will be wearing the same dress! To avoid this being too embarrassing, I think choosing plainer outfits and accessorising is they key to making your outfit more individual. If you add that statement necklace, skinny belt or bold bags and shoes in contrasting colours you automatically make the outfit your own.
For the evening receptions that I have been invited to my outfits choices are more party style, a ruffled coral dress and a black peplum jump suit with colourful accessories to make it more summery. For the fifth and final wedding I really can't justify another outfit so I will wear one of the previous outfits, with different accessories, and ensure that similar guests won't be attending both. I really want to avoid the awkward conversation of 'Oh Emma, you look nice, I saw you wearing that at so and so's Wedding the other week!'
Reading this you are probably thinking I'm a little bit crazy and overthink things far too much. At the end of the day all the perfect wedding outfit needs to be is; smart, comfortable & appropriate for the day. I do however have three golden rules that I will abide to whether I am a day or evening guest, whether it is a summer or winter wedding, whether I have personally been invited or whether I am just a plus one.
My Three Golden Rules
1.Never wear white! Although nowadays not every bride chooses to wear the traditional white dress it should only be herself who has that option. Cream & ivory are also risky choices for your outfit too.
2.If there is an obvious colour scheme on the invitation avoid an outfit in that colour too as chances are that this colour will be used throughout the day. Bridesmaid dresses will also probably take on this colour scheme to compliment the theme too and the worst thing (other than trying to look like the bride) is trying to look like you're a member of the bridal party.
3. Accessorise your outfit to make it individual and to avoid having exactly the same on as the other lady across the room.
I hope that my personal wedding outfit journey has given you some ideas and inspiration to plan your own perfect Wedding outfit this Summer!