Ask the experts: Wedding Photography
Your wedding will fly by in a flash – so how does your photographer ensure every element of your special day is captured? David Golding, from Golding Photography, talks us through Georgina and Mitchell Welsh's wedding and explains how he caught the whole day on camera.


Our day began shortly after Georgina's. We were there to take photographs of the girls getting ready in the morning. Then, about an hour before the ceremony, I dashed over to St Werburgh's Church, in Blackwell, to take photos of the boys.
Obviously we took pictures during the ceremony, discreetly of course, but afterwards Mitchell and Georgina didn't hang around – we were straight off to Shottle Hall.

The first shot we always take is the couple with their wedding car in front of the venue. If the venue is not so eye-catching we might stop somewhere en route to take some pictures with the car. But because Shottle Hall is so picturesque, and the sweeping driveway lends itself to this shot, we didn't need to stop.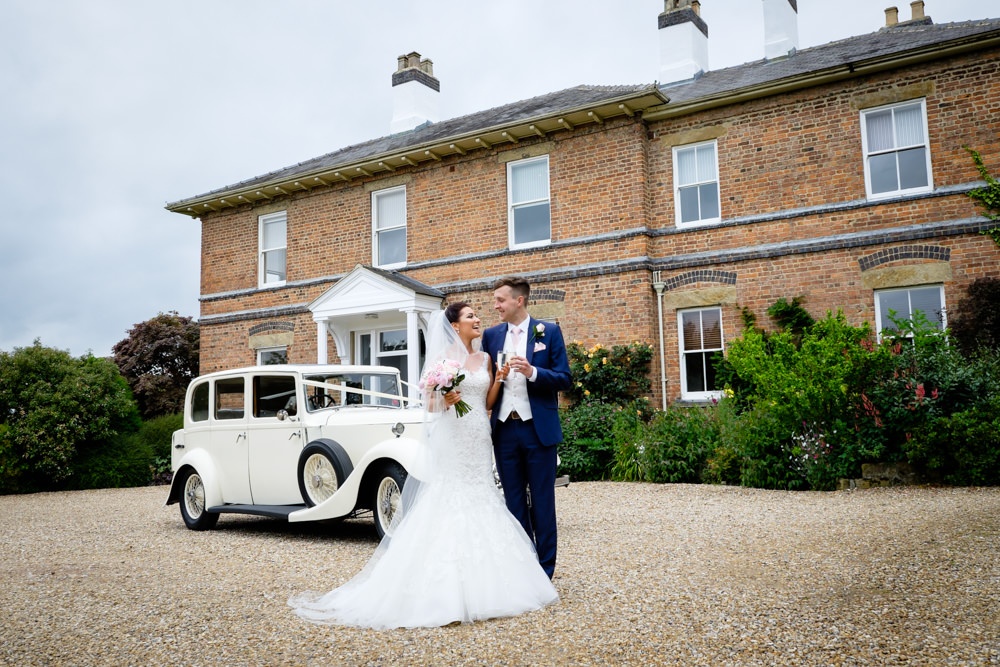 When the guests start arriving they tuck into drinks and canapés which allows us to get some great reportage pictures. These natural, un-posed pictures are what everyone wants these days and so while Mitchell and Georgina were being congratulated by their guests we have about 20 minutes to capture their laughs and hugs.
Our next job is to do the family groups. We try to encourage couples not to have too many group shots – in fact we provide them with a suggested list of around 10. This is simply because standing around is tedious for guests. We generally get these done quickly in 20 minutes or so, so everyone can relax and enjoy the day.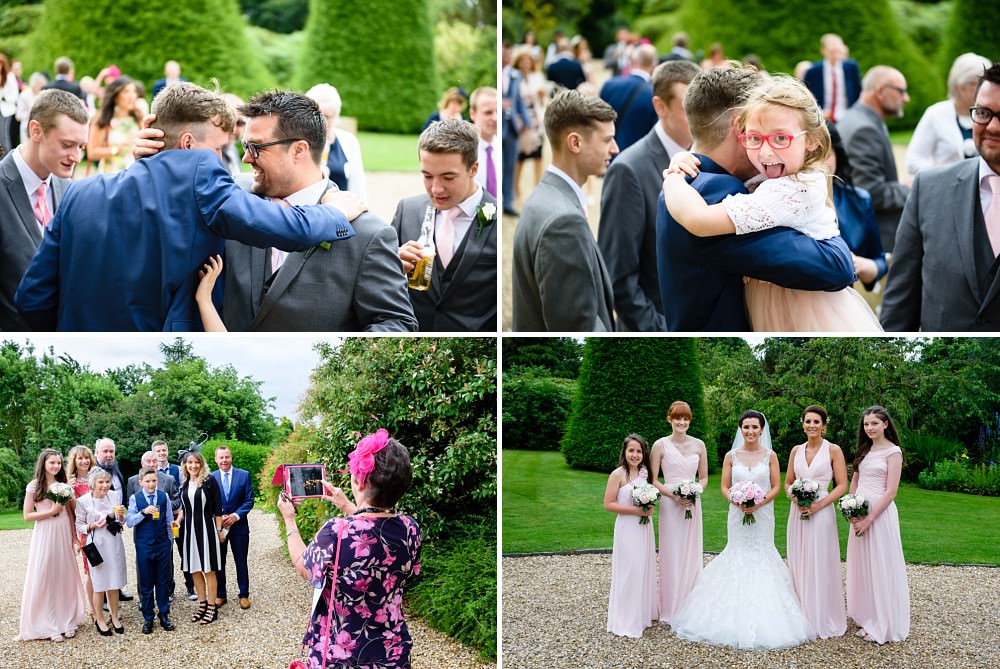 At some point before the wedding breakfast we will take the couple to one side for some romantic portraits. On Mitchell and Georgina's day we were against the clock, but we still managed some wonderful pictures in the courtyard. We love those blue doors! We also pulled in some shots in Shottle's library – the quality of the light in there makes for beautiful photographs.
Last thing before dinner we nipped into the Orangery to take some detail pictures. We know our couples spend weeks and months planning their favours, flowers and finishing touches, so it's important to capture these finer details before the guests start enjoying them. We also invited Mitchell and Georgina to come into the room for some shots and staged the cake cutting shot – simply because the guests become a bit like the paparazzi when we do it later.
I always work with a second shooter, usually Lois, who has shot more than 100 weddings with me. This means that we can either split up to cover two different parts of the day simultaneously, or we can capture the same event from two different angles, which means that one of us is always in just the right position.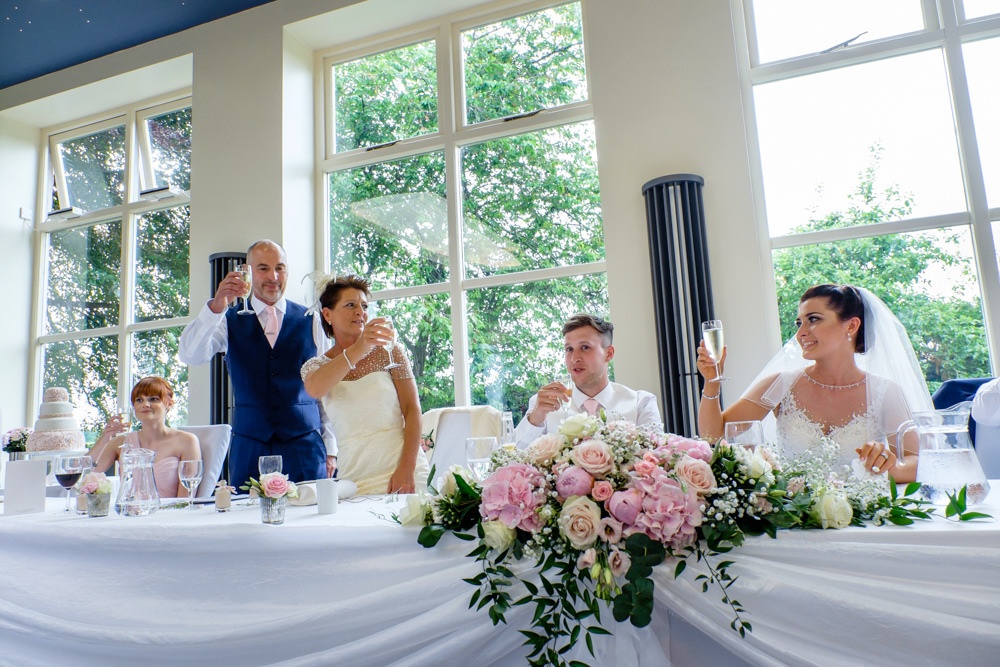 When the guests come into the dining room they are usually laughing and smiling, so again we take some super candid pictures. We make a special point to photograph the VIPs – grandparents, parents – to get some really great pictures of them as we know these will be treasured.
At this point we leave the wedding party to enjoy their meal and we go and have a quick break. After a sandwich we will check out a suitable location for a special photograph. This will be a picture we hope the couple will end up having a large, framed print of for their wall at home. At Mitchell and Georgina's wedding it started to rain, which was unexpected, but just as we were heading outside we spotted the most beautiful and dramatic sunset. The outside pavilion had been decorated with flowers and the sky was blazing behind it. We used off camera flash and the picture worked beautifully.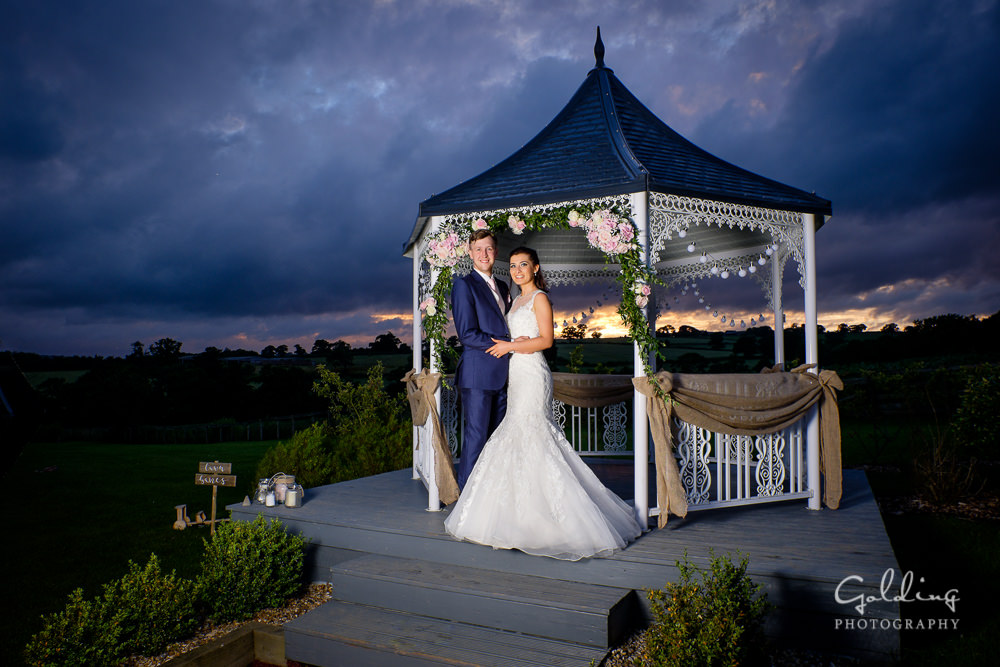 By now the evening celebration is beginning to start and the numbers at this wedding doubled from 70 in the day to around 150 in the evening. Our objective at this stage is to grab plenty of pictures of people enjoying themselves. Georgina and Mitchell had a ceilidh band, a casino, sweetie tables and lawn games – so there were plenty of areas where people were congregating with smiles on their faces.
We set up some lights near the dance floor to take photographs during the first dance. We suggest couples choose the track after the first dance too – something that they know will get their guests on their feet – which means we can take lots of pictures of people dancing.
We usually stay for about 30 minutes after the first dance, but Mitchell and Georgina had fireworks so we stayed to photograph those too. Fireworks end the day beautifully and, of course, always look great in photographs.
By now we are usually worn out and have well over a thousand images in the can. We make our weary way home, before the task of sorting through the images begins. We get the pictures processed and delivered within three to four weeks.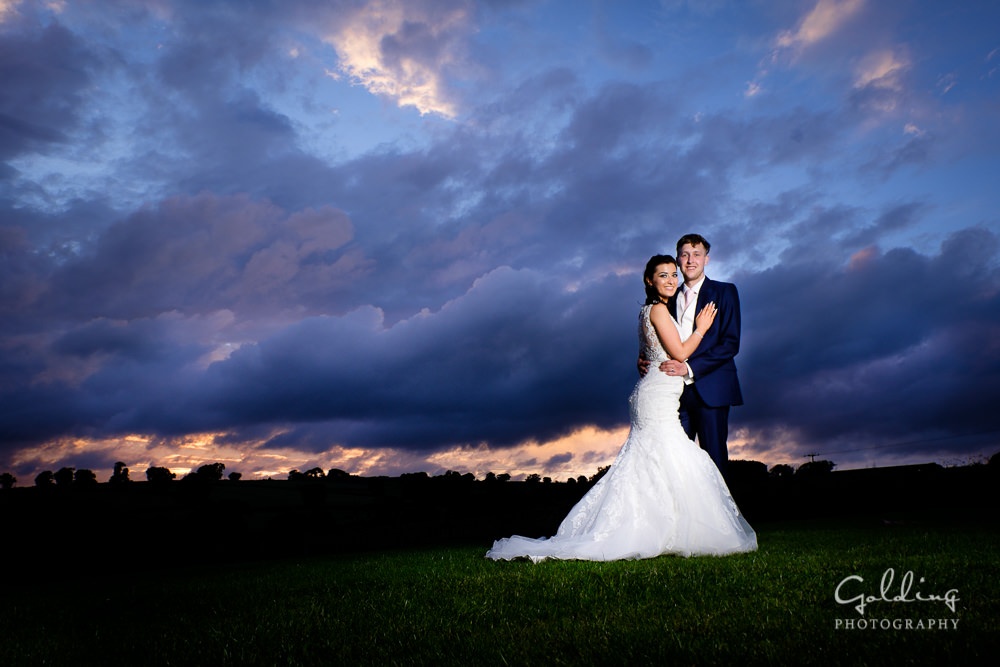 Couples are amazed that we caught aspects of their big day that they might have missed themselves. Job done!
Golding Photography are one of our recommended wedding suppliers.