Do you dither when choosing a bunch of flowers, let alone briefing someone about your big-day blooms? If you don't know your dahlias from your delphiniums, help is at hand with this guest blog. Here, florist and bride-to-be Louise Endsor, from The Greenery, in Duffield, offers some advice.
Your wedding flowers will be one of the most photographed details of your wedding (besides you, of course!), so it's important to pick centrepieces and bouquets that truly fit your wedding style.
The season is the first and most important consideration: locally grown, seasonal flowers are always the best value and quality. There is absolutely no use having your heart set on lilies of the valley for a wedding in October, as this delicate flower is only available for a few weeks in May and June.
And while it is possible to fly flowers in from abroad, when they are out of season here, they are never as strong, fresh or as good value as flowers bought in their natural season. We rarely use them at The Greenery; because they have been kept in a deep freeze when they hit room temperature they generally wilt. But, if the flowers you want aren't available, we will often be able to suggest similar alternatives.
The first decision to make is usually what the bride will carry and this often becomes the starting point for all the other arrangements. Couples on a limited budget should concentrate on the bride and bridesmaids – as they will be in the photographs forever.
The theme of a wedding is important: gerbera bouquets wouldn't work with a vintage or "shabby chic" theme - they work for modern, contemporary weddings. Gypsophelia, peonies, roses and stocks are far more suited to vintage-style weddings, particularly in muted colours.
It is becoming increasingly popular for brides to chose flowers with a special meaning – just as the Duchess of Cambridge did by including Sweet William in her bouquet. Stephanotis means happiness in marriage and sweet peas symbolise departure - a bride is leaving one life behind to begin a new one with her husband. The most common wedding flower is still the rose, associated with love and passion.
Not everyone realises that the varieties of roses available change every year, and often brides will ask for a particular rose that their mum or even grandmother might have had. But just as they stop growing certain varieties of roses, they introduce new ones too.
The bouquet is the ultimate wedding accessory and should compliment, and not overpower, the dress. We often suggest that the bigger the dress, the bigger the bouquet should be; a simple and elegant column dress looks great with few stems of cala lilies, whereas a full, heavily-detailed dress suits a bigger bouquet with mixed flowers. If a dress has elaborate beading around the waist or bodice we wouldn't want to cover it up with an enormous flower arrangement.
As for colour, white to match your dress with contrasting green leaves can look stunning and is very en trend at the moment. But brides should also decide how they want their bouquet to look in their wedding photos; all-white or ivory bouquets are stunning, but without additional colours they won't stand out boldly against a white or ivory gown.
A lot of brides want to personalise their bouquets and involve family members too; for example, they might have a broach passed down from a grandmother, which we could incorporate. We did a bouquet recently where the bride had her late grandparents' names printed onto a length of ribbon, which we then looped into the bouquet. This gesture wouldn't have been noticed by guests, but it meant that when she looked down she could see them.
Of course, wedding flowers don't stop at the bouquet – these days we decorate the church, the venue, windows, doors, bars and even the toilets in one recent case! We do try to recycle wherever possible, and so the flowers used in the church are usually then transported to the venue, or if the ceremony is in a hotel we move them from the ceremony room to the breakfast room. Similarly, we tend to put the bridemaids' flowers on the top table too.
Anything goes with table arrangements and depending on the theme we have a huge range of vases, jars, lanterns, candlesticks, teapots and even cups and saucers which we can use. Of course, many brides like to collect their own, which is absolutely fine too.
When it comes to deciding on flowers my number one tip would be to create a scrapbook and do some research. Most brides purchase a few wedding magazines – cut out the pictures with flowers you really like on them.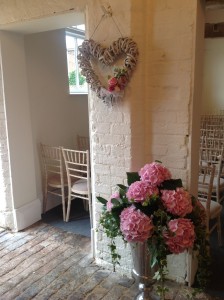 If you know you are having a pink theme, google pink wedding flowers and print out any images you really like. It helps a florist to get inside your head if you have something visual as a starting point.
It's important to pick a florist you feel comfortable with and who understands you and your vision for the big day. Ask to see photographs of their work and ask them for inspiration and ideas. With a vast variety of flowers and a never-ending choice of what to do with them it can be a daunting task, but a bride without a bouquet is like a wedding cake without icing.
I know how difficult it can be to pick your wedding flowers – I'm getting married this year myself. And since my fiancé is a flower wholesaler, the pressure to have fabulous flowers has never been greater!