When Stewart Clare proposed to girlfriend Laura Nayler he chose to pop the question at one of her favourite locations – Chatsworth House.
So, when it came to finding a wedding venue, Shottle Hall was a natural choice for the pair, not least because it is on the Chatsworth estate.
The couple met when Laura was just 18 years old, and Stewart was 16, when they both had part-time jobs at Morley Hayes.
Laura, who is a solicitor, said: "Then Stewart began working as a golf pro in the north west and I went off to do my training as well, so we went our separate ways.
"Five years later we got back together and had a long distant relationship for many years, as I was in Derby and he was in Widnes, near Liverpool, and then Hertfordshire.
"We're both from Derbyshire originally though and passionate about the countryside. We loved Shottle's rural location and the fact that it was on the Chatsworth estate was an added bonus too."
Proposal: In 2009 Stewart proposed to me at Chatsworth House, as it is one of my favourite places. We went on a Sunday lunchtime at Stewart's suggestion, and because I love it up there and we visit a lot I didn't think too much of it. He went down on one knee in the grounds and because it was a wet July afternoon he got a very soggy knee! Normally I am quite on the ball with these things and I can usually sense something is going on, but in this case I had no inclination at all – I was totally surprised which was lovely. Stewart had already got my ring and it is beautiful and exactly what I would have chosen. It is a round solitaire diamond but in a square setting, with a white gold band.
Shottle Hall: We loved the idea of being in the middle of the countryside with just us and our friends and family around us. We loved that you could hire the entire hall out for the day and the fact that it had links to Chatsworth estate too was an added bonus. We loved the rural setting and the interior is beautiful too – as soon as we looked round we just felt that it was very 'us' and we didn't look around anywhere else. We love being outdoors and walking a lot and Shottle's position is beautiful. When I worked as a waitress at weddings, quite often there would be three brides on the same day and I knew that wasn't what I wanted. We wanted somewhere that could be ours exclusively and that was another reason that drew us to Shottle Hall.
Wedding date: We got married on March 25th, 2012. We picked March for the spring flowers and because it's a season we both really love. We were both spring babies, Stewart was born in March and I'm April, and it's a nice time of year with the start of good things to look forward. We were so lucky because the weather was fabulous and the daffodils were out – so we got everything we wanted.
Dress: My dress came from Mimi Toko, in Duffield. I'm quite decisive and once I'd been in there I didn't bother going anywhere else! I've driven past the shop quite a lot and always wanted to get my wedding dress from there and when I actually went in and looked at all the beautiful dresses I knew I'd find what I wanted. The dress I chose wasn't my first choice, but when I went to try on my first choice the lady suggested the one I actually ended up buying. It was very simple with a flowery detail on the left side and a low back, which I really liked, with little tiny buttons. It was just very understated but still with a bit of sparkle on there. I felt it was very 'me'. It felt wonderful wearing it – every time I went for a dress fitting I just wanted to keep it on, so it was great to be able to do that at last. The bridesmaid dresses were from there too and I also got my veil, tiara and shoes there too – the full works. Even the men's ties came from there and they matched the bridesmaid's dresses.
Hair and make-up: Libby from Mark Scott came over to Shottle Hall to do my hair before the wedding. And I had a lady called Ingrid from Edleweiss Beauty Salon, in Duffield, to do my make up. Libby has been doing my hair for years and Ingrid was recommended to me.
Suits: Suits were hired from Brigdens, they were very straightforward: grey suits, with grey waistcoats, and a white shirt and a pale pink tie matching the bridesmaid's dresses.
Flowers: I had my flowers from The Greenery, in Duffield. My bouquet was hand-tied sweet avalanche roses, which were the closest pink to my bridesmaid's dresses, with hyacinths which smelt amazing. The bridesmaid's bouquets were smaller versions of mine and the men had sweet avalanche roses in their buttonholes.
Wedding rings: They were from Goldsmiths in Derby which was where my engagement ring was from. We both had plain bands and I think Stewart is just about getting used to wearing his now.Ceremony: We had about 63 guests at the ceremony, just close family and friends and it was beautiful. We didn't do anything elaborate because we just felt the way the venue is decorated and the gorgeous views from the windows meant we didn't need to. We had two readings: the first was a poem written by my dad and read out by my brother which was lovely and very emotional. My dad is very artistic and he is brilliant at creative writing and it was his way of putting a personal touch on the day. My best friend Katy did the second reading which was called The Bridge Across Forever, which I'd discovered in one of the many magazines you read around these times! It was quite an emotional ceremony with laughter and tears, especially from Stewart who was more tearful than me in the end, which I didn't expect. He was very emotional, particularly when we left the service and heard the song we'd chosen. It was called Hoppipolla and starts very slowly and just builds to a real celebration and it was lovely.
Reception: After the ceremony we had drinks outside and some photographs taken in and around Shottle. We had an acoustic guitarist called Ben who played outside while everyone enjoyed a glass of fizz. Our wedding breakfast was gorgeous, we had tomato and red pepper soup, roast chicken and finished with apple flan and custard because Stewart is a custard monster. It was really beautiful and we've been to other people's weddings elsewhere and really felt that our food was much nicer!
Bridesmaids: Katy Greenwood, who I've known since I was 11 when we met at senior school and we have been best friends ever since. And Rachel Whatley who is married to one of the best men, James. Because James is one of Stewart's best friends I've got to know Rachel really well. They have two little boys and we are Godparents to them too.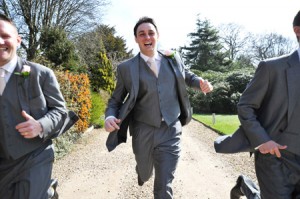 Best men: Stewart couldn't decide between his two best friends and so he had them both. He has known James Whatley since nursery school, so they have been friends forever. And Nairn Riddick is from Scotland, and he lived with Stewart from 16 onwards when Stewart moved up north for college. Both James and Nairn did speeches which was lovely because James could talk about Stewart as a child and Nairn could talk about him in the post 16 years, so it worked well.
Favours: I got the favours from a website called Vintage Amethyst, they were small candle holders in a heart shape which we put in little bags with matching ribbon tied around them.
Wedding cake: My mum made it for me – she is renowned for her fruit cake recipe, so she did the cake and iced and decorated with lace, pink ribbon and sparkly beading around the edge. Then we put real flowers on it from The Greenery. It was quite simple, but looked very pretty, and tasted fabulous.
Evening: We had about 90 people in the evening. Ben played two live sets on his acoustic guitar and he was just brilliant. We first heard Ben at a Shottle Hall Christmas fair where he was playing live and we just fell in love with his voice, so booked him pretty much there and then. We had Snow Patrol's Chasing Cars for our first dance because it's one of our favourite songs: it was on an album we both listened to a lot when we were travelling up and down the motorway visiting each other and so it had special meaning from those days. We didn't do a special routine, we just moved from side to side and hoped for the best.
Photography: Merv from Field Photographic. We met him at a Wedding Fair and his personality is perfect, he really puts you at ease and he is good fun too. I think it's really important to feel comfortable with your photographer and we really were - he's just fantastic. We are thrilled with the pictures
We especially Iove the informal ones - and they are lovely to look back on and bring the day back to life.
Memorable moment: When my dad came up to collect me from the room, he walked in and just froze, got quite emotional and rushed out again! He was overwhelmed by the emotions and seeing his little girl all dressed up. I just wasn't expecting such a reaction from him, but it was very touching. His speech was great too and because he comes across as quite shy people were surprised by how funny and entertaining his speech was.
Honeymoon: We went to the Maldives for 10 days. It was paradise we couldn't believe what we were seeing – we arrived by sea plane and we were gobsmacked by how breathtakingly beautiful it was. It was a very small island and absolutely stunning and we never wanted to leave. We didn't dive, but went snorkelling which was great fun, seeing all the amazing fish and corals.