Our new columnist and Shottle Hall wedding coordinator Sarah Davis explains why she's head over heels with Valentine's Day.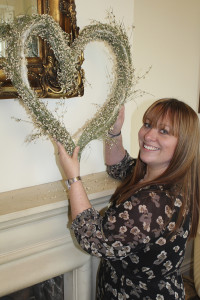 It's the most romantic month of the year, with our first wedding of the year on February 14th and our Valentine's dinner the night after – Shottle Hall is simply bursting with love.
Of course, the house itself was built for romance. Rumour has it that the 6th Duke of Devonshire built the hall so he could conduct secret liaisons with his lovers. And, 150 years later, dozens of couples declare their eternal love for each other, standing under its roof.
With our roaring fireplaces, starlit ceiling, soft comfortable sofas and discreet corners Shottle Hall has an undeniably romantic ambience.
Even though I am newly single, I'm still looking forward to embracing Valentine's Day with loving arms. My mum and stepdad married on Valentine's Day and this year they celebrate their 26th wedding anniversary, a testament to everlasting love.. or maybe just endurance.
But it's not always easy working in weddings when you feel more like Bridget Jones than Kate Middleton – especially on Valentine's Day. I love my job and everything about it, although on a first date I might say that I am an event planner, in case mentioning weddings has a potential boyfriend bolting for the door.
So what does Valentine's Day mean to you?
Years ago February 14th was a coy, giggly date on the calendar - a day of hope, perhaps mystery and occasionally a little disappointment.
It was a day when there was just a possibility that an envelope might drop through the letterbox containing a bright, red outline of a heart and an intriguing scrawled question mark.
We've all spent a school lunchtime, or office coffee break, as a lucky recipient trying to hazard the identity of a lovelorn sender by decrypting the handwriting on the envelope.
We live in a different society now – less innocent and much more electronic. You are just as likely to receive a text or an email as you are a card with two bears embracing.
But even if you are not going all out this Valentine's day, there is still reason to be head over heels with love itself. I believe in the simplest form of love; the kind of love that can easily be shown on a random Thursday in any random month for the best reason there is. Just because.
If I have learned anything from spending my days surrounded by loving couples, ready to commit to spending the rest of their days with each other, it is this: love is not a specific day circled on a calendar. It could as easily come on August 25th as it could on February 14th.
It can be just as readily shown with a single flower picked from the garden, or by doing the dishes.
But let's not be silly about this. If anyone really wants to send me a card/flowers/jewellery at any time of the year, I can be found at Shottle Hall most days…
Let me know your Valentine Day plans and feel free to ask any questions in the comments below :)
* Next month: Sarah casts her expert eye over seasonal weddings