Nicole & Rory held their wedding day celebrations here at Shottle Hall on the 19th of February, 2017 a year on from the actual day of their wedding - keep reading to find out more about their special day.
Where & when did you first meet?
We met studying abroad in 2012 in Konstanz, Germany, a beautiful lakeside town near the German-Swiss border. After our friendship grew into something more and an amazing year abroad in Germany, we decided to try long distance. We dated apart for a year when Rory went back to the UK and I returned to the US. We were then lucky enough to both get into Master's programs at universities in Washington, DC, where we both now live and work.
Tell us about the proposal. How long were you engaged?
Rory proposed when we were camping during the summer near Chincoteague Island in Virginia, USA. We were looking out over the water of the bay at night and after we saw a shooting star he got down on one knee in the mud. It was a total surprise and made the whole weekend so special- definitely the best beach trip ever. That Christmas we visited Derby and booked our date at Shottle for February 19, 2017. We then got legally married in the Washington, DC courthouse with a few of our close US family and friends on February 19, 2016. Our celebration at Shottle was on our one year wedding anniversary, and this time around we were surrounded by so many of the people we love.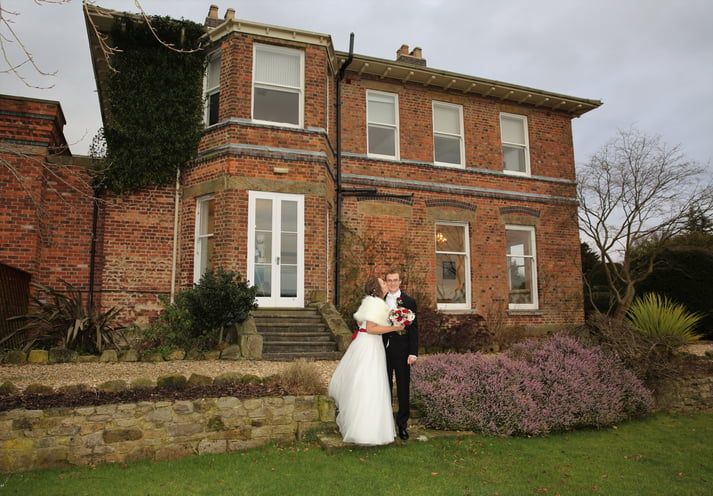 Why was Shottle Hall the perfect venue for your big day?
We chose Shottle because it was close to Rory's family in Derby but provided a very traditional English country-side experience for our guests flying in from all over. We knew if people were coming all the way from the US then we needed a place that was beautiful and special but also conveniently located near to Derby. We also loved the idea of the guest rooms, which we offered to our out of town guests. Everyone from near and far loved the venue and was so impressed by it and the location!
Please tell us a little bit about…
Your Ceremony
Because we were already legally married, we asked our close friend to officiate the ceremony. My aunt and Rory's family friend both read poems, I Carry Your Heart With Me by E.E. Cummings and The Master Speed by Robert Frost. Instead of signing the registry, we lit a unity candle. It's an American tradition which involves our parents each lighting a candle which we then used to light our own new candle. It was a beautiful way to symbolize the joining together of our two families into one.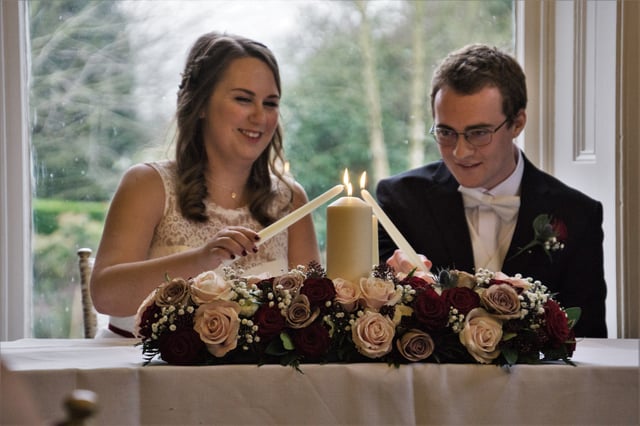 The dress
My dress was from David's Bridal (a US-based store) which I then got expertly altered by Nazemi Bridal in Washington, DC.
Centrepieces, did you do your own or use a venue dresser?
We made our own using clear vases and these clear balls which disappear in water, which had the effect of making the pearls and candles in our vases look like they were floating. We also left "couple's ad libs" at every table for each guest to fill out during dinner, which served as a conversation starter!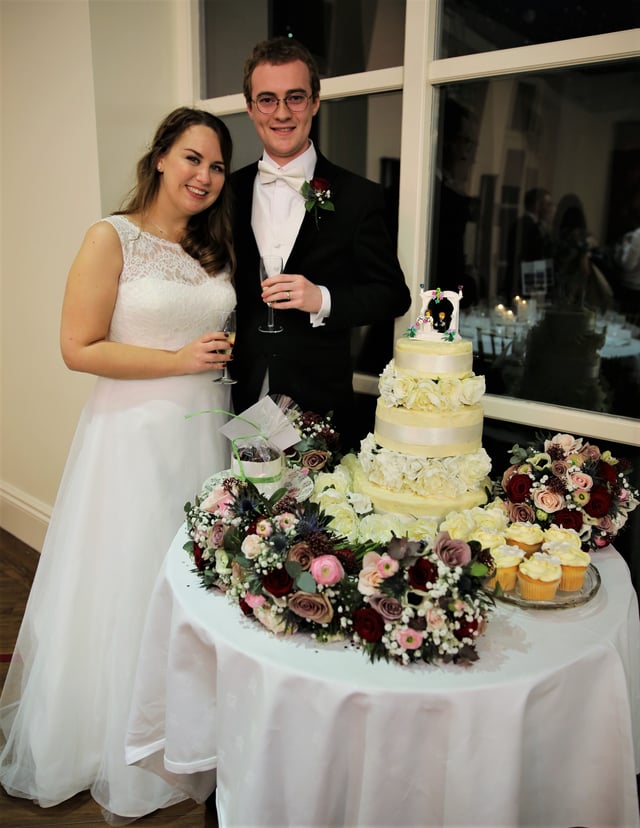 Who made your Wedding Cake? What flavour did you have?
A family friend did our cake as her wedding gift to us. It was three tiers of chocolate, vanilla sponge, and a mix. Having a homemade cake was very special and I think made it even more delicious. We also had a few gluten free cupcakes from Cake Decor in Derby and a small vegan cake from Vegan Cake Direct in Allestree to accommodate the dietary needs of some of our guests.
Who was your photographer?
Rory's family friend teaches photography at the University of Derby, so we were lucky enough for Chas Andrews-Roberts to both attend our wedding and take our wedding photos.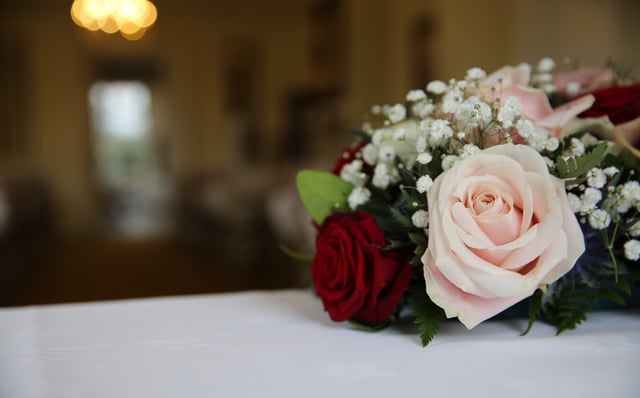 Who was your florist and what flowers did you choose?
Lou from The Greenery did our amazing flowers. Because everything had to be done remotely from the US, Lou had just a few photos and a fabric sample to work with. I wanted a romantic wintry feel to the flowers and she did an amazing job of realizing my vision! The bouquets and table decorations were exactly what I wanted.
Did you have chair covers or any other decorations?
We had beautiful lace chair decorations by Gem's Sweet Treats. A family friend added the hearts and flower decorations.
What made your day extra special?
First, our lovely wedding coordinator Georgia made sure the day ran smoothly and on schedule without us feeling rushed. She kept everything together! She also helped set up all the small details for the wedding, like our polaroid guest book. Secondly, the most amazing part was having our friends and family from so many parts of the world in attendance. We had guests from as close by as Derby and Nottingham to as far away as Denmark and even Texas. For us, having so many people we love in one place was the best part of our wedding.
What entertainment did you have throughout the day & night?
Paul with Spirits High Entertainment was our fantastic DJ. He did a great job of blending American and British pop music with dance tunes, country music, and classic wedding jams.
What were the most memorable moments?
Getting pelted by my dad with confetti (a time honoured tradition in my family) and then by Rory's aunt.
The Americans showed the Brits and other confused guests how to "Wobble."
Our friends we met studying abroad, who live in Copenhagen (a Dane and a Kiwi), made it to the wedding with literally a few minutes to spare after missing their flight the day before! We were so honoured that they went to such lengths to be there for our special day.
Would you do anything differently?
Stress out less before the wedding! In the end, everyone will just be excited to be there and have fun!
Sum up your day in one sentence
Full of family, friends, and lots of love.
Best piece of advice to pass onto other couples
Be grateful for such an amazing opportunity to have so many people who love you in one place together and try not to stress out too much! The biggest thing we tried to do was start enjoying the day after the ceremony, knowing everything was as perfect as it would ever be.