Almost all brides try to lose a few pounds ahead of their big day but Lucy Gretton was more dedicated to her diet than most.
The 26-year-old of Swadlincote was thrilled when she found her dream wedding dress, but the shine wore off when she was told she would need a size 24.
But instead of turning to a glass of wine and a chocolate bar for comfort – she ordered a size 14 gown and slimmed down to fit in it.
In fact, Lucy shed four stone in just 11 weeks, taking her weight from 16st 4lb to a slimline 12st 1lb.
After following the Cambridge Plan, a meal replacement programme, Lucy was able to fit into her size 14 dress – a strapless ivory gown by Mark Lesley – and walk down the aisle to proud fiancé Lee Pottinger (27) with her head held high.
Lucy said: "Your wedding has to be perfect and I didn't want to get to the day before and regret not making the effort to lose weight.
"It was the most perfect day of my life and I felt a million dollars. Lee said he had never seen me looking so beautiful and that's exactly how I felt."
Venue: "We had both the ceremony and reception at Shottle Hall, in Belper. I looked round so many places – I really wanted a country house venue - but as soon as I saw The Orangery at Shottle I knew it was the one for me. I loved the chandelier and the twinkly lights in the ceiling. I wanted the wedding breakfast to be around 3.30-4pm when it would be dark outside, with lots of candlelight and sparkly lights outside and it was the perfect setting for me.
"It was also lovely because we had the whole venue to ourselves – there is a little bar at the front of the house for those who wanted a breather and the lounge was perfect for grandmas and older aunties who didn't like the loud noise while the disco was on.
"I didn't want to travel on the morning of the wedding either as I knew it would stress me out, so I was able to stay at Shottle Hall the night before and get ready there.
Then everyone stayed on the night of the wedding too, which meant the morning after we could all have breakfast together, which was just lovely."
Season: "We got married in November and chose that specific week because it was the anniversary of Lee and I meeting eight years ago. It was also the same week that my parents got married and my mum's birthday too! We were planning on getting married on Friday 9th November 2012 originally, but we decided to bring it forward a year because I couldn't wait that long. Lee's grandma was worried that she wouldn't be around either if we left it too long! We knew we wanted to get married on a Friday at the beginning of November and when we realised that would make it 11.11.11 we couldn't resist. We booked Shottle Hall two years in advance, which was why the date was still available – Lee will have no excuses for forgetting our anniversary now!"
Suits: "These were hired from Greenwoods in Burton. We had Prince Edward-style three-quarter length black frock coats and pinstripe trousers, teamed with ivory waistcoats. Lee wore an ivory cravat and the ushers and best man wore hunter green cravats, which was the other colour in our theme."
Dress: "I found the dress of my dreams in Ailsa, in Green Lane, Derby. The lady measured me and said I needed either a size 22 or 24 wedding dress and I just said 'absolutely not – no way will I walk down the aisle in a size 24 wedding dress'.
I ended up ordering the dress in a size 14 – and that's what I got down to eventually. I had to sign a declaration to agree that if I didn't lose the weight I would just have to buy another dress and not hold them responsible. It cost £855, which is a lot of money to spend on a dress, never mind having to buy two! I went from 16st 4lb to 12st 1lb and lost the majority of my weight in 11 weeks by following the Cambridge Plan.
"As soon as I saw the dress I fell in love with it, I just thought 'I need to have it, I'll do whatever it takes'.

Initially I saw a picture of a model wearing my dress and then I tried it on and it wouldn't meet at the back – the corset was inches and inches apart.

When I'd lost the weight and tried it on I felt like the model in the picture, which had really been my goal."
Ceremony: "We got married at 1pm, which is quite early but because of the time of year we got married it was important to do it early. When my mum and dad got married on November 8 she said it was dark by the time they got the photographs done and you couldn't see any of the scenery. I really didn't want that – it was important for my pictures to be done in daylight.
Walking down the aisle was the most nervous I have ever felt in my life, but then I got to Lee at the other end and he gave me his cheeky wink, the way he always does, and then I felt totally at ease.
"It was a very emotional service, my sister did a reading and everyone cried! It was a piece called He's Not Perfect and it basically talks about how he won't buy you flowers every day, he isn't perfect – but he's perfect for you. Everyone was literally bawling and there wasn't a dry eye in the house!"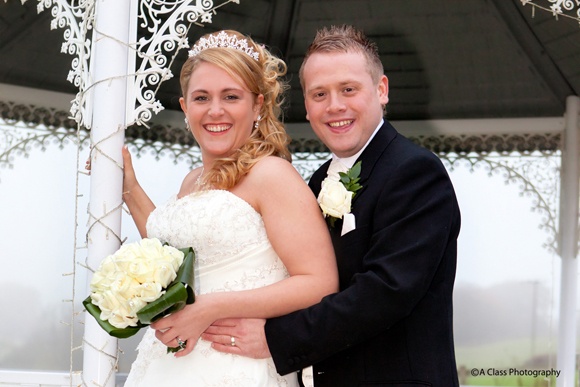 Rings: "My engagement ring is an emerald-cut emerald with four diamonds in a white gold band. My wedding band is white gold with 17 (because it's my lucky number) diamonds set in it. And it's got a section cut out of it, so that my engagement ring sits into it. I had it designed especially by Michael Hall in Cheapside, Derby. Lee has a palladium ring from the same place."
Best man: "Lee Fearn, who is married to my Lee's sister Kirsty. They have been together for about 14 years and so he feels like a brother to Lee because he has grown up with him around. He did a brilliant speech; we'd just finished the wedding breakfast when this big projector was wheeled in and I thought 'oh no, what's going on'. But Lee had done this lovely This is Your Life film about Lee and ended up saying "he loves his bike, he loves his football, he loves his niece and nephew, but most of all he loves Lucy" and I was in bits. It was brilliant."
Bridesmaids: "My sister Laura Gretton, my sister-in-law Kirsty Fearn, and my two friends Vicky Ellington and Keri Hall. I also had my niece Georgia Fearn (14 months) and Liam Fearn (three). Georgia had just started to walk that week and so she actually walked down the aisle which was amazing. It made everyone go 'ahhhh' bless her!"
Flowers: "Lee's cousin is a florist in Reading and so she did them for us as a wedding present. The bridesmaids had long rose stems to hold across their arms and I had white and cream avalanche roses. I really wanted diamante stems in the middle to make it sparkle and I was thrilled with the result. The men had roses for buttonholes."
Favours: "Because we got married on November 11th we decided to make a donation to the British Legion instead of having favours. So we left a poppy and a postcard on everyone's table setting, explaining that we had made a donation on behalf of each guest instead. We did have a sweetie station for people to help themselves too as well."
Reception: "We had 60 guests for the reception. We had Winter Pimms, which wasn't on the menu, but Shottle were really good about organising it for us. It's warm Pimms with brandy and spices and quite a few people commented on how nice it was because it was so cold. The wedding breakfast was delish – we had soup, chicken and profiteroles. We had been invited to a taster evening but we didn't feel the need to go because we had eaten at Shottle Hall before, so we knew the food was going to be great! We just picked what we wanted off the set menus and they did the rest."
Table decorations: "I did the table plan myself and my bridesmaid Vicky's aunty did my placecards, she does it as a hobby and is really good at it! I had Justine at Redshine Design in Mickleover to do my centrepieces. I knew exactly what I wanted, but everywhere I looked was so expensive. Justine was really reasonable and did me mirrored, cubed vases, stood on mirrors which were filled with bear grass and white roses (made from foam can you believe!) with little tealights all round."
Cake: "It was from Cakes Etc in Long Eaton and I wanted something that looked similar to our engagement cake, so I had a full tier of fruit cake at the top and then two tiers of little square cakes which were Belgian chocolate and absolutely to die for."
Evening do: "We had 115 people for the evening with a disco from Wayne Burton who runs Soundwerx. Our first dance was to Bryan Adams' Everything I Do, which was the track I had initially planned to walk down the aisle to. On Lee's stag do his friends signed him up for karaoke and by complete coincidence they chose this song. When I saw it online I found out he had absolutely murdered it! I decided I couldn't walk down the aisle to it, because I didn't want Lee's version to be the first thing people thought about as I walked down the aisle! He really, really killed it, but he thought he'd done a really good version! "
Honeymoon: "We went to Zanzibar off the east coast of Africa for 10 nights which was phenomenal. I spent hours researching where to go and had a shortlist of places including Bali, Mauritius and the Seychelles. I wanted paradise and it really was amazing. We got off the plane and it was a really, really poor country – cows, goats, monkeys in the street – nothing like we'd ever seen before and a real experience. And then when we got to the resort it was pure luxury, just fantastic."
Special moment: "There were just so many special moments it's hard to pick. From the night before with my sister and friends, to seeing Lee arrive in a Hummer with all his boys. The speeches were all amazing too, but I think one of the last bits of the day particularly stands out. We decided to read our guest book when we got into bed and I absolutely balled my eyes out at how truly kind and lovely everyone was - we felt totally overwhelmed at how lucky we are to have the friends and family we have."