When Abbie and Stuart booked Shottle Hall for their wedding it was two years before their big day. So, they were delighted to discover that our wedding marquee had been replaced with a brand new permanent structure – and they were among the first couples to use it.
WHO: Abbie Cunningham (28) who works for Derbyshire Fire and Rescue Service and Stuart Smith (32), an Apprentice Trainer for Toyota and Lexus.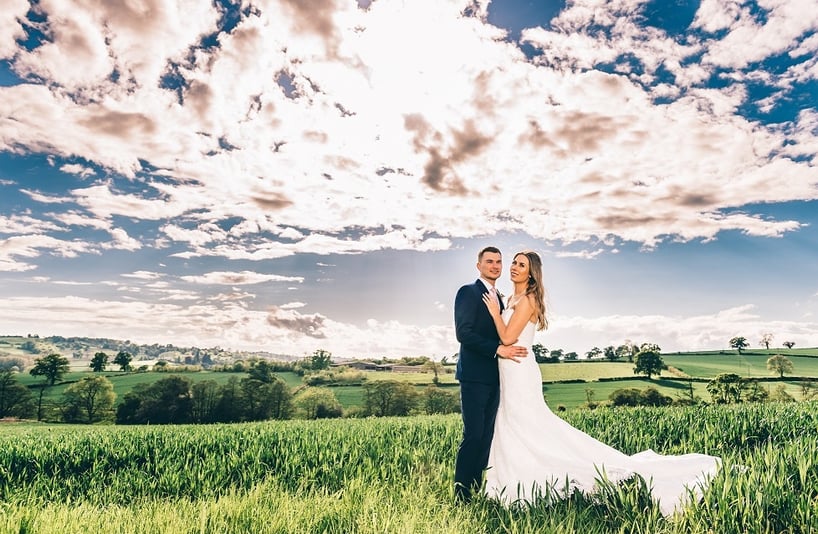 WHEN: May 20th 2017
FIRST MET: We met in a Chinese restaurant in Ilkeston after a night out. My friend and I were in there having a meal and Stuart came in to get a takeaway. We got chatting and the rest is history!
PROPOSAL: We went to New York for Stuart's 30th birthday. He had planned to propose on Central Park's boating lake but it was a really cold April and they hadn't opened it that year. So, he proposed on Brooklyn Bridge at night, with the whole of Manhattan lit up in the background. I wasn't expecting it at all and it was a magical setting.
WHY SHOTTLE HALL: We visited a few venues but as soon as we walked into the marquee at Shottle Hall we knew it would be perfect. I really wanted an outdoor ceremony but Stuart wasn't so keen because we aren't very lucky with the weather. So, the marquee was perfect – we could get married outside if the weather was nice, or we had the coach house if it wasn't so good. But the marquee has wonderfully big windows, which allows the light to flood in and provides a backdrop of rolling hills and countryside – it's just stunning and that's what decided it for us.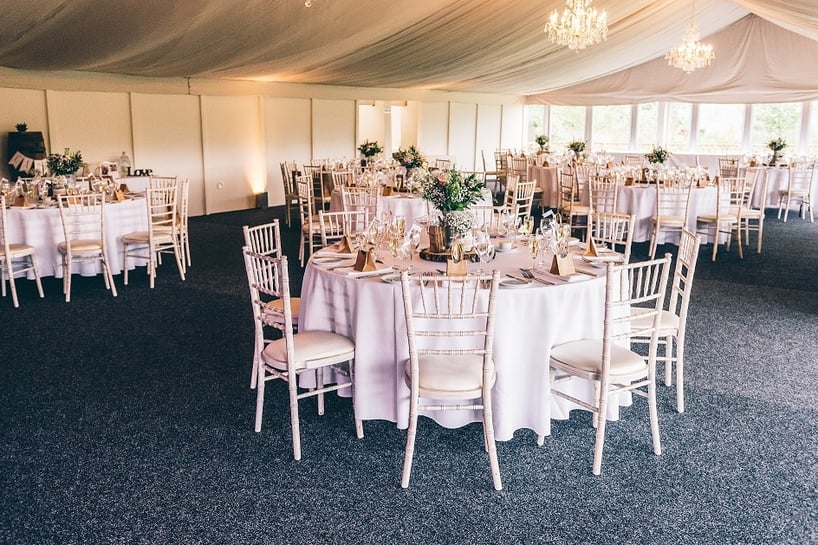 PACKAGE: We went for the full estate package because we wanted the bedrooms too. It meant that we could get married in the coach house, then we moved over to the house for drinks, then we went back to the marquee for the wedding breakfast and evening do. It felt like Shottle was ours for the day – we had the free run of the place and it meant that there was something for every member of the group, with quiet spaces for the people who didn't want to listen to the band.
CEREMONY: This was in the coach house and Sarah our wedding coordinator made sure everything went beautifully to plan. There were quite a few laughs, I couldn't get Stuart's ring on his finger! And one of my bridesmaids started crying and it set everyone off.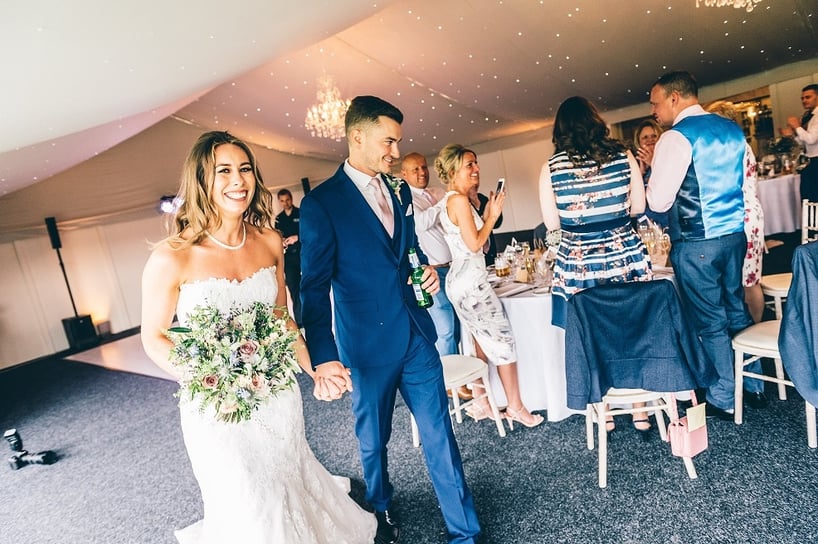 MARQUEE: We had the wedding breakfast and evening do in the marquee which was brand new and stunning. It's such a nice space with proper doors and windows, so there were no drafts because it can be quite chilly in May. Behind the top table was the most spectacular view and loads of people have commented on that, it has to be one of the best views in Derbyshire. There were little fairy lights all over the ceiling, underneath the netting, which twinkle like the stars. Although we had a DJ and a band in the evening and everyone was in the Marquee we still had plenty of space, it was a great atmosphere without feeling too crowded. We also absolutely loved the new bar with all the two pence pieces – it's a real talking point.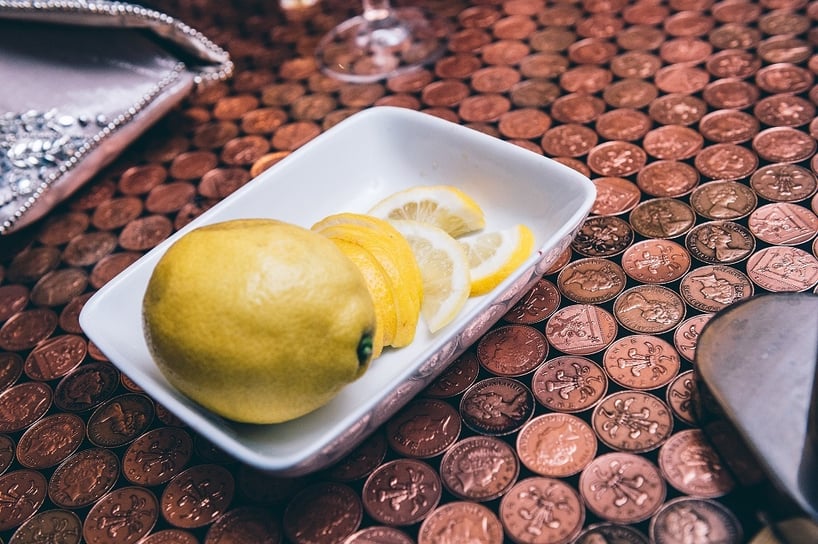 DRESSES: I went to three wedding dress shops before going into Rococo in Melbourne where I found a beautiful lace fitted Pronovias dress. I tried on six dresses, but when you know – you know. When I put the veil on everyone started crying so I knew I'd found my dress. I added a belt to it too for a bit of sparkle. I felt amazing in it and it had five different layers, it was so beautiful. Mind you, it's quite muddy now!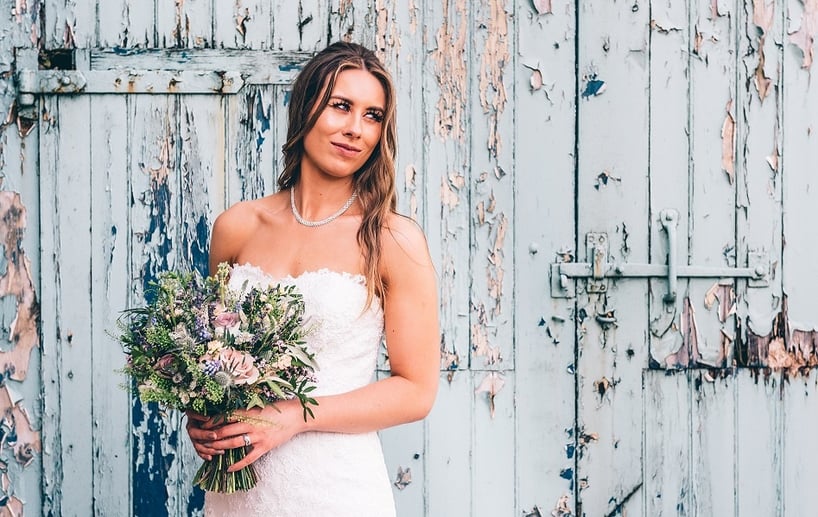 BRIDESMAIDS: I had three bridesmaids – two friends from primary school and my cousin. Their dresses were actually from Dorothy Perkins and I found them when a friend wore one to races. All three bridesmaids were quite different shapes and I was worried about finding something suitable for all of them. But these dresses ticked all the boxes and they were in the sale.
CENTREPIECES: I had spent about a year on Pinterest – I had a board full of pictures but I wasn't entirely sure what I wanted. Luckily, I went to Avant Garden, in Belper, and they knew straight away what I wanted – Laura just instantly got it. We hired quite a few bits from her including crates which I used for my table plan, a beer barrel for cards and she put fairy lights around the beams in the coach house. We had milk churns on the top table that we put our bouquets in and jars of gyp down the aisle.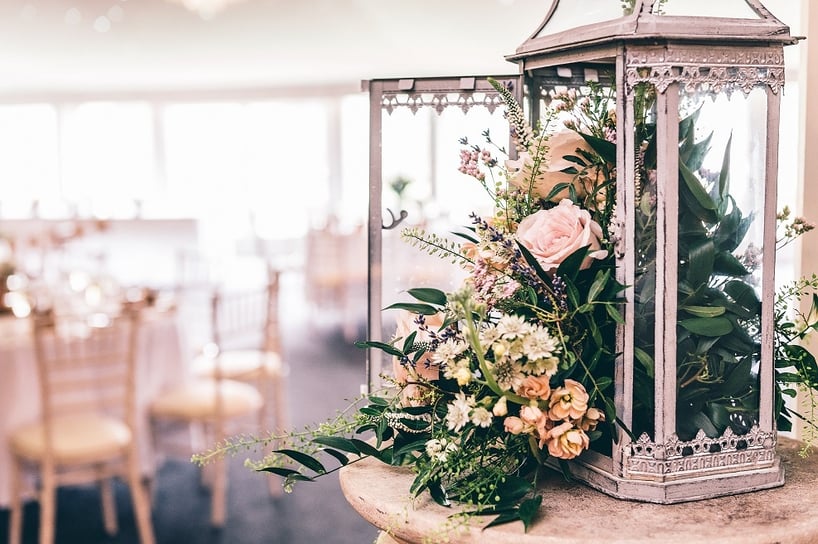 FLOWERS: I told Avant Garden that I wanted a bouquet that looked as if I had run through a wild meadow and picked a bunch of flowers. And that's exactly what she did – and I loved it.
CAKE: My friend made my cake and favours – which were bags of homemade fudge – as my wedding gift. Stuart and I are both big chocolate lovers so it was a three-tier naked chocolate sponge with vanilla buttercream and white chocolate ganache. Shottle provided berries and cream to serve with it as a dessert.
ENTERTAINMENT: We had Spirit's High all day, so he provided the music during the ceremony and while we were eating. We also had a live band in the evening called Brotherhood. During the first dance – to U2's With or Without You - Stuart gave me an envelope which had tickets to see U2 at Twickenham. I'd suggested he got me tickets for my birthday but he'd said we couldn't afford to go with paying for the wedding. So, I was absolutely thrilled.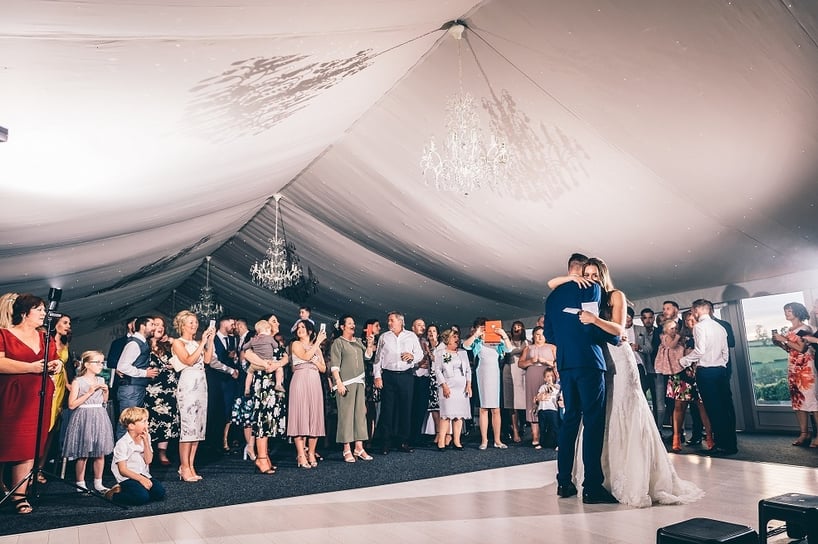 PHOTOGRAPHY: We used Mark Averill Photography and we were really pleased with our photographs – they are fantastic. Mark was a joy to work with and he captured the day so perfectly.
BEST MOMENT: My dad arranged for our dog to join us for a bit as Shottle allows dogs. That made me cry! And just seeing everyone up on the dance floor and having such a good time.
ANY ADVICE: Definitely enlist the help of your family and friends. People are always asking if there is anything they can do to help – and they are only too happy to get involved. It becomes a team effort then and it's really nice to experience it together.