Laura and Craig Goodwin wanted a vintage feel to their wedding day and so Shottle Hall's marquee provided the perfect reception venue.
Not many people would pop into work on the morning of their own wedding day – but that's exactly what Laura Jones did.
For Laura (25) is a hair stylist at Jarah Hair and Day Spa, in Derby and when it came to her bridal hair and make up she knew exactly who to trust.
So before her wedding to fiancé Craig Goodwin (35) Laura, her mum and her bridesmaids all nipped into work to be transformed.
Laura and Craig, who live in Long Eaton, met through friends five years ago. Craig proposed on holiday in Goa, where the pair bought Laura's solitaire diamond engagement ring.
Two years later the happy couple celebrated their marriage in Shottle Hall's marquee. Laura takes up the story.
Ceremony
"We got married at St Barnabas Cathedral in Nottingham. Because Craig was born in Nottingham he was keen to get married there. Although it's a cathedral it's quite small inside, so it was very a personal ceremony. There were no tears though, just lots of smiles. We sang Craig's Grandad's favourite hymn and my sister and Craig's Auntie did readings too, so the family played a part."
Shottle Hall
"My family are from Belper, so that's one reason we picked Shottle Hall for our reception. I first fell in love with it a couple of years ago when some friends got married there. We were originally thinking of having a marquee in my mum and dad's back garden, but when we heard that Shottle had a marquee I couldn't resist, especially as it's such a beautiful one. It made everything much easier going there – we didn't have to worry about doing so much ourselves, the lovely team at Shottle did everything for us."
Dress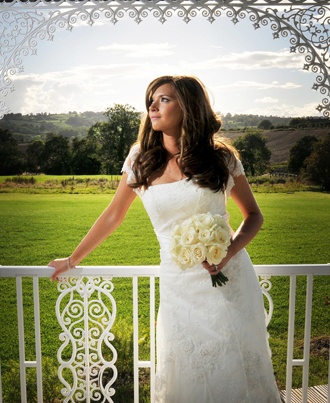 "My dress was from Mimi Toko, in Duffield. It was quite vintage style and strapless with three different layers of lace. It was very floaty and fitted at the waist with a rounded train. I also had a lacy bolero over my shoulders, which I took off at the night do. I did try on lots of Hollywood glamour-style dresses, but because we were having a marquee I wanted to look a bit more relaxed and the vintage feel of this dress felt perfect."
Suits
"Craig and the best man both wore grey lounge suits with a grey waistcoat and an ivory cravat. These were hired from Scotneys of Leicester."
Rings
"We went to a wedding fair at Shottle Hall and discovered a company called Smooch. They basically come to your home, in the evening or at weekends, whenever is convenient to you, and you can try on loads of different styles, or they will make something for you. I chose a white gold plain band and Craig went for a platinum band."
Hair and make-up
"I work for Jarah Hair and Day Spa, in Derby so I went into work. Becky upstairs did my make-up and Jane did my hair for me. I wanted my hair down and to look natural, so I just wore a Jenny Packham hairband. They also did the hair and make-up for all the bridesmaids and my mum too."
Best man
"Craig's best friend Matthew White was best man – they have been friends since school. Matthew's little boy, George, was given the job of bringing the rings up to us during the service. He is only six and had a little suit on like his dad, he was our mini best man!"
Bridesmaids
"I had my two sisters Ellie (31) and Vicky (29) and Craig's niece Lucia who is five. They wore ivory dresses from Coast and Lucia has a gorgeous little ivory dress from Monsoon. I knew if I chose a colour for the bridesmaids I'd have to keep to that colour theme and there wasn't a colour that grabbed me really. So I decided to keep everything cream and neutral."
Flowers
"One of my clients, a lady called Anne Johal, did my flowers. I had a hand-tied bouquet of cream avalanche roses. It was tied with a piece of lace to match my dress. She did the marquee arrangements for me too, which were in mirrored square vases which looked brilliant with lots of little tea lights. Lucia was given a wand to carry made with a single rose and ribbon."
Reception
"Everyone had drinks on the decking while we had our photographs done and it was such a beautiful day it was lovely that everyone could be outside and enjoy the views. We had around 120 people during the day. Our meal was beautiful with pate to start, chicken for our main course and Eton mess for pudding, which was very popular."
Favours
"I spent about 12 months collecting all different kinds of individual tea light holders to decorate the tables with. I hand-tied a card to each one with people's name on them, and on the back of each card I wrote a little message inviting them to take them home. I was collecting them for ages, from places like Fraiche, and they looked really pretty and in keeping with the vintage feel."
Cake
"My friend made the cake for me. It's not her job, it's a hobby but she's getting more and more popular, because she's so good. We had an ivory three-tiered cake which was fruit cake on the bottom tier and then two chocolate cakes. There were lots of little flowers stuck all over them and I think she sprayed it with something to make it look pearly. It was a real work of art."
Evening
"We had around 40 extra people in the evening and had a disco and some live music from someone Craig had known for a while. His name was Roy de' Wired and we basically booked him before we'd even booked the wedding after hearing him play in Nottingham. He sadly passed away a couple of months after our wedding. He had been poorly for some time, but never let on."
Photographer
"We met Field Photographic at a wedding fair at Shottle and we just got chatting to them. They took some lovely photographs and we have a gorgeous album to treasure."
Memorable moment
"To get from Nottingham to Shottle Hall we travelled in a VW Camper van. In fact we had two camper vans and a pink VW beetle for the bridesmaids. Because it was quite a long journey and we were in convoy, loads of people were waving and it was really lovely, we felt like celebrities. It was also a very special moment because Craig and I were on our own together for a while. We had a bottle of champagne and I think it was one of the nicest parts of the day."
Honeymoon
"We went to Bali for two weeks which was idyllic. Because we got married in September we were limited as to where we could actually go because it's monsoon and hurricane season in a lot of places."