Adam Browne & Gael Barradell never could have imagined that they would have ended up as man & wife when they first met a couple of years ago.
Geal tells us about the first time the met at Ozzy Road Church in Derby. "We were pretty uninterested in each other for quite a while - when we met, I had very long, very bright pillar box red hair, multiple facial piercings, and an overly confident attitude – definitely toned it down a bit since my student days! Adam was a bit overwhelmed and I think looking at each other we both felt that we weren't each other's 'type'."

As the time went by and the couple got to know each other the love between them blossomed "He grew more and more beautiful to me as I got to know him, and after a laborious stretch of time sending hints and timid flirting, I asked him out for coffee. The rest is history."

Gael shares with us here the highlights of the proposal, the Wedding day itself on June 14th 2014 and some fantastic advice for future bride & grooms
Tell us about the proposal
I got a text on the evening before saying, "Can you be ready at 8:30am? Bring a warm coat, some good shoes because it might be a bit wet underfoot, and maybe a hat/scarf? We'll get packed lunch on the way." I hadn't a flipping clue what we were doing!

We ended up in North Wales – Adam had planned to take me up Snowdon but all the train tickets had sold out, and we were NOT climbing the mountain. Plan quickly changed to visiting the local castle in Caernarfon, which was beautiful, and we had a great time there. Then as it got later in the day we found a deserted beach on the coastline. We reached these big rock boulder things and he very quickly said, "You should sit on one of those big rocks and I'll take a lovely picture of you." Turns out this was a 'before' shot (so glad he didn't do an after one, I WAS A WRECK.)


After he'd taken the picture he asked me if I wanted some water and knelt down in front of me, getting it out of his rucksack, but instead he went to the front pocket... "There was something else I wanted to ask you too," he pulled out a dark green ring box and opened it up, "Will you marry me?"

Even though his plans didn't work out, given the choice, I'd probably of picked the beach. It's a special place we can return to much more easily than the top of Snowdon! And anyway, with me and Adam, we never expected each other or saw it coming. We both had slightly different ideas about what we'd end up with, but God knew better than us what we both needed.
Why was Shottle Hall the perfect venue for your big day?
We wanted something that was relaxed and pretty; nothing too stuffy or pretentious. We also had a lot of evening guests, so the Coach House Marquee was perfect on all accounts.
The idea was to create a space that was outdoorsy, but still sheltered and just about formal enough to host the wedding breakfast. The marquee worked well for this because we could open it all up and flow into the gardens – perfect for the warm weather and taking advantage of the beautiful surroundings.
Great as well for brides who like to create from scratch, as it's a blank canvas you can put your mark on.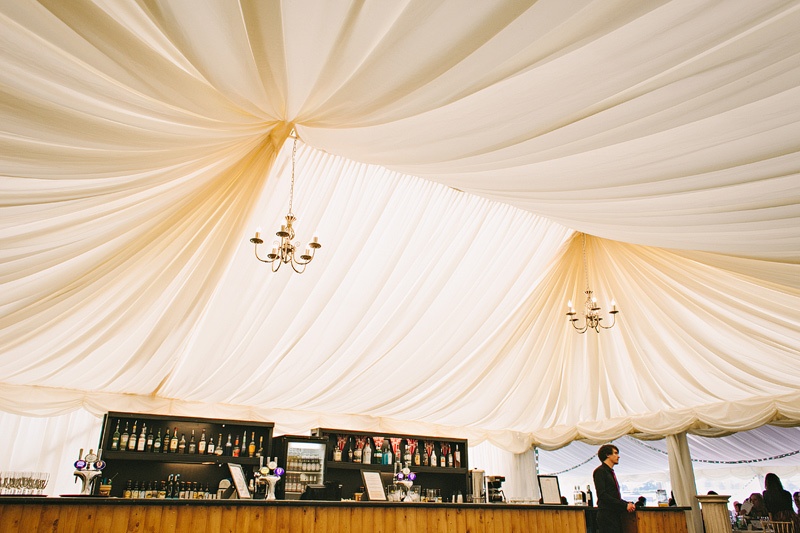 Gael shares with us some of the lovely touches that made up their perfect day .......

The dress: My dress was from Rococo Weddings in Melbourne. I've driven past that shop countless times since I was a little girl and always said one day I would buy my dress there, so it was really special.

The dress was a princess cut satin gown in the Ocumo design from the Pronovias collection.
It's not what I thought I'd go for but from the moment I tried it on I never wanted to take it off!

The Bestman, Bridesmaids & Ushers: Adam had two best men; his brother, Nathan, and lifelong best friend, Matt. They both had different roles in the ceremony and reception, because both are very dear to us.

He had three ushers who go way back; Steve, Chris, and Luke. They've been close to him since their youth group days, growing up and supporting each other. And man, do they look great in a suit!
For my bridesmaids, it was a family affair really. My sister, Rowan, was the maid of honour – she's the most loyal, hilarious, wonderful person I know. Then two cousins and a niece were bridesmaids, and another cousin and niece were my two tiny, gorgeous flower girls.

Your ceremony: The ceremony was at St Peter's Church, Littleover. Adam grew up there and his parents still worship there now. It meant a lot to have a church that links to us personally, and have Adam's old youth worker marrying us.

Photographer: We had Bonbon Photography photograph our wedding day, and seriously, this was probably the best decision we made about the entire day!

Kim and Chantelle and THE most wonderful, chilled, organised, creative people. They are SO passionate about what they do.

From little things like making sure we had snacks and a drink when we went off for our shoot, to big things like organising our rabble of guests, they were awesome.
We could not recommend them highly enough – they literally glued the day together. Far more than just photographers.

Decorations and favours: My mum and sister made a whole load of paper chains which we put all over the place, which were our main decorations. We didn't want to go OTT, just give hints of colour and let the gorgeous backdrop speak for itself.
Our favours were little match boxes that complemented our humour. They read 'Gael & Adam – The Perfect Match'. Cheesy!

Cake
My beloved grandma made our cake. I think that was the first decision we made! She made my mum's wedding cake and my Aunty's too, she makes the best cakes.
I'm not a fan of fruitcake at all. For me, you're murdering both the fruit, and the cake.
So we opted for our favourite flavours – chocolate cake with a chocolate orange ganache.
She covered the tiers in white icing with piped detail and then smothered it with these beautiful paper roses as a nod to my middle name.

Flowers
Our flowers were designed by The Blossom Tree in Melbourne. I browsed the web and decided that Kerry's blog was stunning. Also handy as it was across the road from my dress shop! So trips to Melbourne are now very precious!

She is an artist in her own right – my bouquet was the prettiest thing. She took on board everything we told her and ran with our theme. Very very talented lady.

Your theme
We didn't have a theme so much as we just wanted the day to reflect us, hence the little silly favours, and the table names being different cheeses. Our top table was actually Stilton, as we love the stuff. Anyone who knows us well knows that cheese is a common love of ours!

The only thing I really got on board with was our theme colour. We went for soft nudes and peaches, mints and cool greys. Adam wasn't fussed about colours, I don't know many men who are, but I really wanted muted tones and pastels – I think those hues and colours are pretty, but they don't steal the show. They let everything else around them sing

Evening Reception
The evening reception was when the party got underway! We wanted music, dancing, family fun, and more food!

We opted for the evening hog roast, which was served at 9pm when everyone was getting peckish again, and so we were able to feed our lovely evening guests as well.
Shottle really came into their own here – again, timings were perfect, and the service was impeccable.
We had a bouncy castle too, which is a great idea if you have a lot of kids at your wedding (we did!). Keeps them quiet for hours!
Honeymoon
I've never been abroad in my life, in fact, my first ever passport has my married name on it! We got it backdated so I could use it the day after we were married. Adam's travelled so much of the world, so I just followed his lead. In all honesty I was petrified, and we didn't do things by half!
We had two weeks away; the first ten days we spent in the Maldives in a water bungalow on an island resort, and then we stopped off in Dubai for four days on the way back. So much for easing into the travelling world!
We rode camels and went dune bashing, swam with baby sharks, ate incredible food.
Take me back!


Best piece of advice to pass onto other couples
Enjoy every. Single. Moment. It's such a cliché, but it goes so fast. Take moments to run away from your guests and have a breather. Take stock of everything going on around you. Every couple I know wishes they could live it all again. Unfortunately, if your wedding is anything like ours, the bank does not allow for this!!
So just make the most of it and smile until your cheeks are aching and dance until your feet are sore.
It's the one day where everyone around you is there to celebrate the both of you.