Would you trust your Husband-to-be to book your wedding venue ?
Here at Shottle Hall we were all very excited when Simon told us of his plans to surprise his fiancé Kimberley! How exciting we all thought in the office and eagerly awaited to hear all his plans - Fingers crossed Kimberley would agree.. Shhhhhh don't tell the bride.
Carrying on reading below for all the wedding details and hear their wedding story told by Kimberly.
When & where did you first meet ?
We met July 2010, Simon was already working at JJB Sports in Derby and I just joined. We eventually got together in November 2010.
Tell us about the proposal. How long were you engaged for ?
It was our 4 year anniversary together and Simon took me to an Italian restaurant in Belper (Nonnos), now bear in mind Simon always said he would never propose in a public place, but he caught me totally off guard! We had a beautiful candle lit dinner in a corner of the restaurant and in between main and desert Simon got down on one knee and proposed. I was so taken back I burst into tears and eventually said yes! We were engaged for almost 4 years before we finally got married.
Why was Shottle Hall the perfect venue for your big day ?
Well...I actually didn't have any involvement for the venue!! When we had tried to look at other places for our wedding (including getting married abroad) we were unfortunately having issues...too expensive, too far, family members couldn't make dates etc, etc. So Simon took matters into his own hands in February 2018, I didn't have any idea, but in Simon's words:
"When I was searching for venues, what immediately caught my eye about Shottle Hall was the marquee, it just looked absolutely stunning! And when I made my through the rest of the pictures, the whole place just spoke for itself and I instantly fell in love with it".
One morning Simon came home from a 12 hour night shift and as usual our cocker spaniel Aurora greeted him at the door, I was upstairs and then all of a sudden Aurora ran up to me and she had a note in her collar so I open it and Simon has wrote in calligraphy 'Mummy, Daddy wanted me to ask you if you will marry him on September 16th at Shottle Hall'....I froze, I couldn't believe it! But as soon as I saw where Simon had provisionally booked our wedding...I also fell in love and obviously said YES!
Let the planning commence!
Please tell us a little bit about…. Your ceremony
We had 55 guests and had our ceremony in the lounge area. Our colour theme was white and peach, we had flowers on the aisle seats and roses in vases on the table where we register. We had one flower girl drop petals in front of me down the aisle. The room didn't need much decoration as it was already beautiful but we did decorate our chairs with peach sashes.
Your dress
As we only had 7 months to plan our whole wedding, sorting a dress was one of the first things I started to do. We went to multiple boutiques around the Derby area but I ended up getting my dress from WED2B in Nottingham. It was a stunning princess style strapless dress with a beaded bodice and a corset back. The moment I put the dress on I felt so beautiful and that was the first moment I really felt like a bride. To make the dress even more special my mum and dad paid for it as my wedding present. Looking back at the pictures now, I am over the moon with my dress and how I looked in the day. I literally felt like a princess.
Who was your Florist ?
We had white and peach roses from Simply Flowers in Stapleford. They also did the flowers from the ceremony room. Roses are my favourite so they based everything around them.
Centrepieces, did you make your own or use a venue dresser ?
We made our own!! We got most of our items from the range and with the help of our florist, fresh roses finished it off. Any other venue styling you want to mention? We had our table plan, name cards, tables names and menus made by a lady called Nicky. After searching everywhere for something we both loved that would match in with our white and peach theme we found Nicky at a wedding fair and we loved her work. Nicky's company is called 'With love wedding stationary'
Who made your wedding cake ? What flavour did you have ?
Bakezilla from Stapleford (Becs) We had a three tier semi-naked rustic looking wedding cake. Bottom tier was lemon, middle tier was Oreo butter cream and top tier was traditional Victoria sponge with a Mr & Mrs penguin cake topper. The cake was incredible and all of our guests commented on it saying it was the best cake they've ever had!
Who was your photographer ?
Austen Blakemore! Was the most incredible photographer we could have asked for. Just by watching him work you can see the passion he has for his job. His energy and creativity throughout the day was amazing and we would recommend him to absolutely anyone. His assistant Derk was also just as passionate. Austen's work is just beautiful and he won't stop until he has the perfect picture.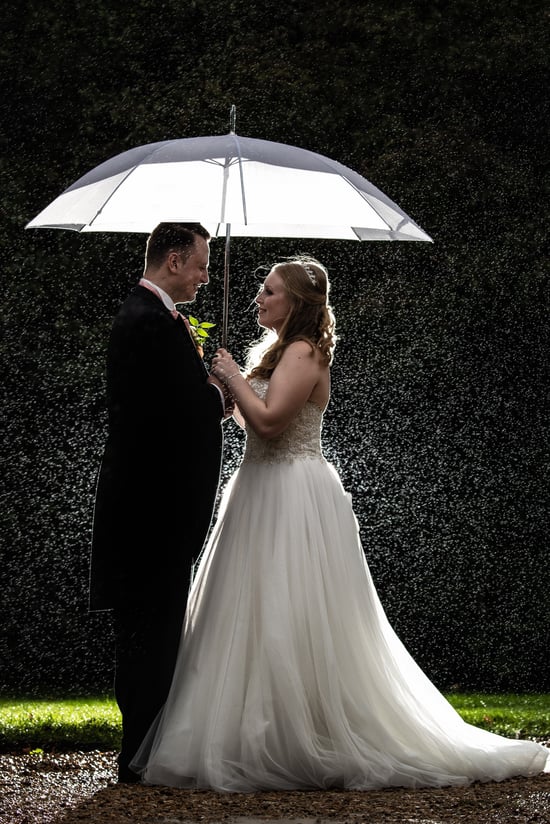 Tell us what menu you choose for the wedding breakfast ?
Starter: Moroccan Lamb
Main: Roast Chicken
Dessert: Shottle Eton Mess
Everything was absolutely beautiful and the service was immaculate. We had our wedding breakfast in the Orangery. Such a beautiful room with the painted ceiling and huge chandelier hanging down.
What entertainment in the evening did you choose ?
We had a DJ. Amazing set up he had for the marquee and around the dance floor. The DJ also worked around the LOVE letters we had at the back of the dance floor to ensure they were the main focus. Karl at Jakal Sounds Disco was our DJ.
What were the most memorable moments ?
For Simon it was seeing me for the first time in my dress, our first kiss as husband and wife and at the evening reception his mum (Jackie) doing the famous dirty dancing lift on a chair in the marquee.
For Me I have 2 moments I will cherish forever, the moment my dad saw me in my dress and got ready to walk me down the aisle and the moment I turned the corner and started to walk down the aisle towards my husband to be, the look on his face was a picture. The emotion of that moment will stick with me forever.
Together one of our favourite moments was walking into the marquee at night and seeing the LOVE letters lit up and the twinkling lights in the ceiling. It literally took our breath away.
Can you sum up your day in one sentence ?
Just perfect!
What is your best piece of advice to pass onto other couples who are planning a wedding at Shottle Hall ?
Don't stress about how the little things look such as centrepieces, you don't really notice them on the day as the venue shines for itself. We all have a tight budget when planning a wedding but if there is one thing that you want to look into properly and spend the money on is a good photographer, they are the memories you will keep forever. We were lucky and managed to find the perfect photographer for the style we wanted.
Hope these answers help anyone considering Shottle Hall as a Wedding Venue.
Love, Kim and Simon (Mr and Mrs Stocchino)