Bride & Groom: Amy and Andy
Wedding Date: 3rd August 2019
Where & when did you first meet?
As we're very classy people we met when mutual friends gathered for 'pound a pint night' in Yates bar, Sutton Coldfield back in August 2013, a couple of days after I'd moved from Derby to Birmingham. Andy challenged himself to stack up empty pint glasses which fell and smashed into my tights. He bought me a Jägerbomb to make up for it and the rest is history.
Tell us about the proposal. How long were you engaged?
We got engaged the day before my birthday on 31st March 2018, so we were engaged for 16 months. Andy took me on a surprise birthday weekend to the Lake District where we stayed in a beautiful Airbnb overlooking Lake Windermere. All he had told me was that I would need appropriate outdoor clothing and shoes for an activity which ended up being climbing Fleetwith Pike Via Ferrata at Honister Pass. This essentially meant scaling the side of a mountain, crossing an infinity bridge and climbing to the summit. Once we reached the summit Andy said 'We've been the A Team for over five years, how do you feel about joining Team Dennis?'. At this I covered my face and wailed (feeling slightly overwhelmed) saw him down on one knee with a stunning ring, checked he'd asked my Dad's permission and said the most certain yes of my life.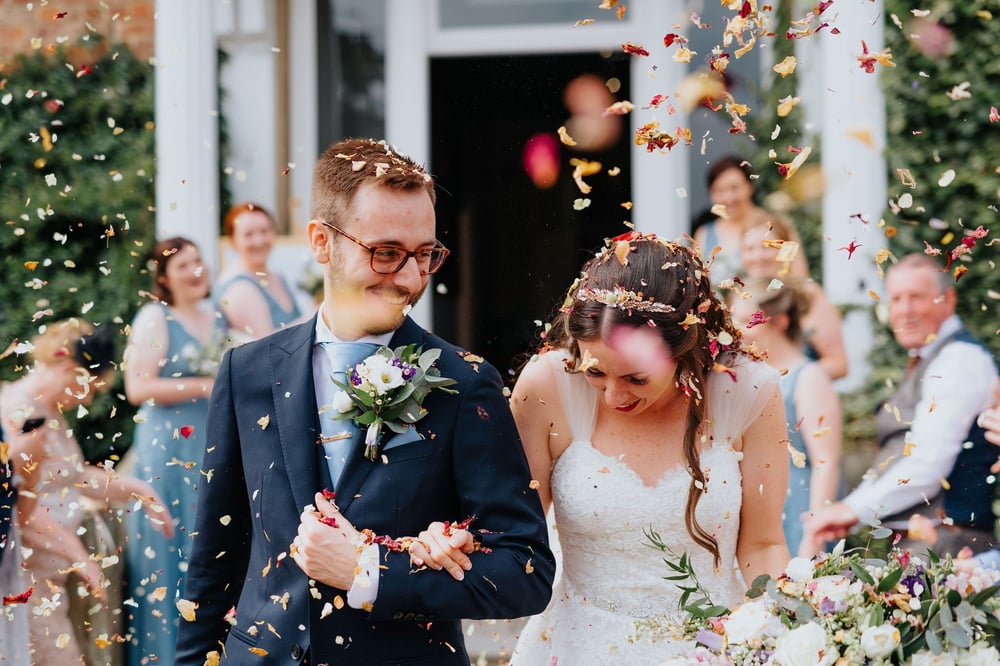 Why was Shottle Hall the perfect venue for your big day?
We are both lucky enough to be from big families that we love and needed a venue that could cater for everyone plus our wonderful friends. The estate package meant that we could have the grandeur of the beautiful hall to welcome everyone plus a luxurious place for our immediate family to stay overnight, whilst the marquee provided the space for the meal and massive party that we were so excited about in the evening.
Please tell us a little bit about…
Your Ceremony
The ceremony was at St Mary's Catholic Church where my (Amy's) family have always been worshippers. Several generations of Amy's family have been married here and it's a very special place. After we booked the date we realised that it was 94 years to the day that Amy's great grandparents also got married in this church.
The first time Andy came to Derby to meet Amy's family we walked past the Church and Amy told him that was where Amy was going to get married, luckily this didn't put him off and he made sure it was him that Amy married in this special place.
The dress
The dress was something I'd been dreaming about since childhood. I tried on lots of shapes and styles before narrowing it down to a princess style (After all the dream is to be a princess for the day). I got my dress from Wed2B where you buy off the rack which meant I needed it to be altered. We also choose to add detachable sleeves for the day and a small belt detail as well as a bustle to hitch up the huge train in the evening. I felt absolutely amazing and wish I could wear it every day.
Centrepieces, did you do your own or use a venue dresser?
We bought our own gold, rectangular centrepieces online and my cousin Jordan created the beautiful floral arrangements that were on them. We wanted centrepieces that would be tall and colourful to fill the marquee but also ones that our guests could see through so that they could have a good chat with everyone on their tables at dinner.
Who was your photographer?
Our amazing photographer was Harry Ward and his partner Annie. They made us feel at ease all day and were patient as we tried to coordinate the 200+ guests into photographs. They have sent us some sneak peak photographs whilst we wait for the rest and they have absolutely blown us away. They are also producing a video of the day which we're really excited to see as the day, although truly wonderful, felt like a blur so we can't wait to re-live it.
https://www.instagram.com/harryward.photography/
Did you have chair covers or any other decorations?
We chose not to have chair covers as the chairs at the venue were already beautiful and we prefer simple beauty without going too over the top. We had lots of personal decorations around the venue. We're very lucky to have had such positive examples of marriage in our families so we created a display for the Dennis and Grattidge families of our parents, grandparents, great-grandparents and great-great grandparents on their wedding days.
We did some DIY on a table-top greenhouse to make it into a personalised 'Mr & Mrs Dennis' card-holder. We also had scrapbooks of our lives pre and post engagement for people to look at.
Who made your Wedding Cake? What flavour did you have?
My aunty Sharon made our amazing cake. It was four tiered, blue and gold (in homage to the memory of Andy's Ukrainian Grandad) with gold leaf, marbling and ribbons.
The top two tiers were white chocolate and raspberry, followed by salted caramel and Victoria sponge with blackcurrant jam. Sharon did the most incredible job and we're so grateful.
Who was your florist and what flowers did you choose?
My cousin Jordan was our florist (it was a big family event). The flowers were better than we'd imagined. We had lots of foliage and cream roses (My middle name is Rose and my closer family call me Rosie so roses had to feature heavily). We included lots of hydrangea which Andy's Dad had kindly cut down from our big hydrangea bush at our home in Birmingham. There were stocks, Lizzie's, bells, gypsophila, delphiniums, wax flower and lots of other stunning flowers in creams, whites, pinks, pale purples and blues.
Jordan bought and choose the flowers and the day before the wedding she coordinated lots of my family and friends to create the beautiful centrepieces whilst she made the incredible bouquets, corsages and buttonholes. She was amazing.
What entertainment did you have throughout the day & night?
For entertainment we had my colleagues Miriam, Chloe and Keri who led the hymns in church and Miriam performed an awesome medley whilst we signed the register.
At Shottle Hall we had Emma Buckley and her band who were awesome. I went to Guides with Emma and had heard her shared music on social media which is brilliant, it was Andy who suggested that we ask her to play at the wedding.
She did an acoustic set during the reception drinks and then a couple of electric sets in the evening. The dance floor was full all night which was exactly what we wanted.
She also made sure that our playlists for in between her sets were set up and that the ' A Team' theme tune was ready to play at our entrance to the wedding breakfast which was a great touch.
What made your day extra special?
We felt so lucky that we were able to have a big wedding. Our parents helped financially and Andy had been saving up pre-engagement and it meant that we could have lots of people there. It was really important to us that we could share the day with the many loved ones that we're lucky enough to have in our lives.
We only had children at the service in church, the reception (other than new borns) was adult only because we have so many children in the family that we couldn't accommodate them all. This meant that the adults could really let their hair down and enjoy themselves and they definitely did that!
We were a bit behind schedule to get to Shottle Hall, but the staff at Shottle Hall did a great job keeping us relaxed and dealt with any issues or adjustments which were required – they were all fantastic!
What were the most memorable moments?
The mass was the most important bit for us. Standing at the front would normally be intimidating but knowing that everyone was there to celebrate us meant that we just felt amazing in that moment.
We also loved having a photobooth and seeing it packed all night was awesome, it's always been one of our favourite things to do at other people's weddings so we wanted to make sure we had one at ours. The 'A Team' themed masks were a big hit.
Would you do anything differently?
I'm a teacher and moved schools a few weeks before the wedding which made things a bit hectic in the run up. I would in hindsight have started the DIY jobs at an earlier stage and started delegating jobs a bit earlier.
It's natural to want to do things yourself but having help from family in the weeks before the wedding was so needed and they were great. I'd get them more involved sooner.
Andy would have also taken a couple of days off as he was working up until the day before.
Sum up your day in one sentence
Jägerbombs have got a lot to answer for!
Best piece of advice to pass onto other couples
Make sure you get time together on the day. We listened to advice from friends and family and made sure that when we circulated tables at dinner to talk to people we did so together. Don't feel like you have to spend lots of time with people, they understand that lots of people want to see you and are happy with a quick conversation.
Enjoy having photos taken of just the two of you, we cherished that bit of time when we could just focus on being together and loving each other, the photographer was there to capture it but we soon forgot about that and just enjoyed the time alone.