There's just something right about being amongst nature that helps you to re-energise and refocus and I feel so at peace with myself when I'm outside, which is a very similar feeling to being in love when you've found the right person.
So for me, love and nature go hand in hand and you'll see hints of this in And Then There Was You.
AND THEN THERE WAS YOU
By Charlotte Emily Anne Lunn
I.
When laying here
Sheets smelling of your skin
I think how long it would
Take to get to you
The trains aren't running
The streets have gone to sleep
I plan the route
Eight hours on my feet
We meet half way
Now, in one place
No longer mourning
Your morning face
A cavern at your lips
Uprooted hair within my
Hands, a sleeping disarray
Love slowly unravels
In this home, here it is to stay
II.
A stillness settles - long
exhalation, yawns
contagious, we grow our
firsts in this garden
Kisses
Limbs
"Will you be mine's?"
They're all saying "It's nice
to meet you for the first time."
Our perfection does not
make us faultless, just our flaws
hold us together in a way other
humans can not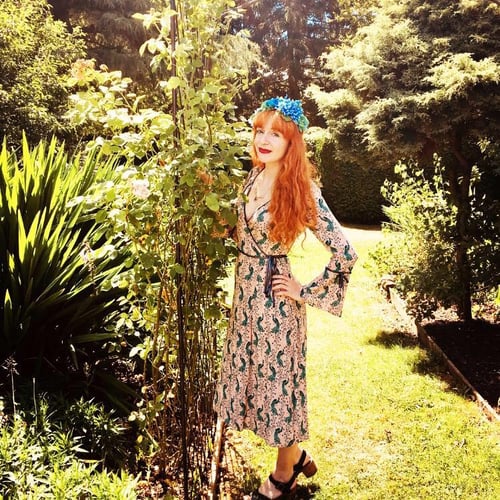 "Alice imagined a library must be a quiet garden of books, where stories grew like flowers."
- 'The Lost Flowers of Alice Hart, Holly Ringland

Sitting in the Shottle Hall lounge after traversing the spectacular library room, filled with that old book smell and dreams, James tells me of the connection between Shottle Hall and Scarthin Books, the independent book shop where I work.
Though I initially grimaced at the idea of sawn in half, no longer loved books, obtained from Scarthin, there's something magical about a book door - the secret door hidden within the bookcases - which resembles ours at the bookshop. Though the door may have been closed at the time, it wasn't the end for these stories but merely the prologue as it is for many who grace these walls.
While I was studying Creative Writing at Derby University, my lecturer used to say that good reading breeds good writing. Being surrounded by so many wonderful tomes at Scarthin feeds this philosophy. Not to mention the couple hundred spilling from my wardrobe with the likes of some of my favourites: Sylvia Plath, Pablo Neruda, Haruki Murakami, The Brothers Grimm, the list could go on. I've always had a strong connection with the natural world as well which tends to influence my poetry.
Setting out to write a poem with a particular intention or theme is never an easy thing to do, especially when it comes to the topic of love. I suppose if you were to ask me about my process I would say I let the poetry wander where it wants to go, much like my mind and feet, however this wasn't the case with this particular poem. When it comes to love poetry there is a tendency for it to be generic or cheesy. I wanted it to be real. As real as the couples that come here to start their journeys.
James' thoughts were as vibrant as the rhododendrons in the Shottle Hall gardens. Amongst all the wedding planning, he wanted people to remember why they were doing it in the first place. This had me thinking about the beginning of relationships, the firsts, which is where the poem began, but it also encompasses the longing, growth, happiness and ultimately the love that sees you through everything.
So this is for you, dear readers. Take a few minutes and pause.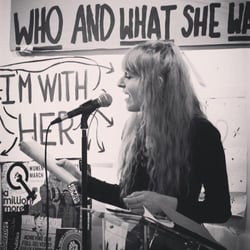 Charlotte performs spoken word readings at various events and assists in writing personalised wedding vows.
www.facebook.co.uk/lottie-poet
www.instagram.com/lottie-poet
Cover Image by Laura Moody