Choosing your first dance song for your wedding can seem to be an impossible task. With so many to choose from how do you know where to start?
Paul Thompson, from Spirits High Entertainment looks at the most requested first dance tracks for 2012.
It was rumoured to be the first track Prince William and his new bride danced to at their wedding and Adele's Make You Feel My Love is the record I have played most this year.
Originally a Bob Dylan classic, Adele's version of the song has become an X Factor favourite and in the process melted the hearts of people all over the world.
It's the story of one person's desire to make that certain someone notice them through their love alone and so far this year it's the track most couples have requested for a first dance.
Joint second place goes to Use Somebody – which I've been asked to play three times, by three different artists! Firstly, the original by Kings of Leon, but also the acoustic versions by Pixie Lott and Laura Johnson.
It shares second place with Your Song - with two couples choosing the Elton John version and one preferring the Ellie Goulding adaptation.
What surprises me most is that almost every couple picks something different – looking back through my playlists this year I've played 49 different tracks for first dances.
The most important thing to consider when choosing the first dance song is "what does the song mean to us?" you can ask friends and family for suggestions, but an Elvis Presley number that your parents danced to all those years ago, might not have any significance to you and your partner.
Go for a song that makes you both smile when it comes on, or the song playing when you first met, or simply one that seems as if it were written just for the two of you.
Mark sure you listen to the words. You may both adore Adele's Someone Like You, but if you listen to the lyrics it's about a break-up. So be warned, even if you both love a song; be sure it relates to you and your feelings for each other. Perfect Day by Lou Reed is a popular choice, but it's actually about drug taking.
If you're stuck for inspiration then go for a classic – this year I've played Frank Sinatra's Fly Me to The Moon, Danny Williams with Moon River and Andy William's Can't Take My Eyes off You.
Indie bands have been really popular this year too, with tracks from The Calling and Foo Fighters asked for more than once and bands like Stereophonics, Semisonic, Florence and the Machine, New Found Glory, Train and Muse requested.
I'm still asked for the traditional first dance records like Amazed by Lonestar and I Don't Wanna Miss a Thing by Aerosmith and chart tracks such as Feel So Close by Calvin Harris and even Dance With Me Tonight by Olly Murs.
Remember, if you don't like the thought of dancing in front of a crowd, we can always request your loved ones join you after a few bars!
And if you really think you might need some Dutch courage before you take to the dance floor – opt for a last dance! By then you'll be so merry anything goes!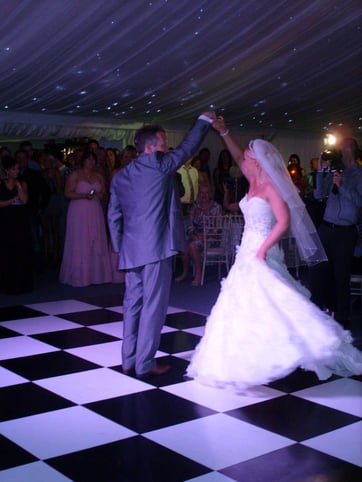 Top 10 tracks
Make You Feel My Love - Adele
Use Somebody – Kings of Leon/Pixie Lott/Laura Johnson
Your Song – Elton John/Ellie Goulding
Chasing Cars - Snow Patrol
Let's Stay Together - Al Green
Can't Help Falling in Love - UB40
You & Me - Lifehouse
Wherever You Will Go - The Calling
Hard to Concentrate - Red Hot Chilli Peppers
It Must be Love - Madness
Have you chosen your first dance song yet?
Did you choose a song not on our list?
Drop us a comment and let us know