Alan and Alice Hornsby married here at Shottle Hall on the 28th May 2017 after a surprise proposal 2 years earlier that involved Tom Jones!
It's not unusual.... carry on reading to find out more.
Where & when did you first meet?
We first met at V Festival in August 2012. Tom Jones was performing at the time.
Tell us about the proposal:
On 1st June 2015 Alan took me to Weston Park, where V Festival is held. He took me there on the pretense that we were having afternoon tea as a surprise for finishing my law exams. We got there a little early and so Alan suggested we go for a walk around the grounds to fill the time. We walked until Alan stopped us in a specific spot. It turned out it was the exact spot where we had met at V Festival in 2012. That is where Alan got down on one knee and proposed. The afternoon tea was a cover story. We then drove to Liverpool to surprise Alan's parents before then driving to Derby to tell my parents. We were engaged for almost 2 years before we got married.
Why was Shottle Hall the perfect venue for your big day?
Shottle had the exclusivity that we wanted, and we wanted to be able to stay the night at the location we were married. We wanted somewhere all to ourselves. It had the beautiful setting that we wanted as well as the luxurious surroundings that were in the main house. It was the perfect setting for us, and reflected our personalities. It just felt right when we saw it for the first time.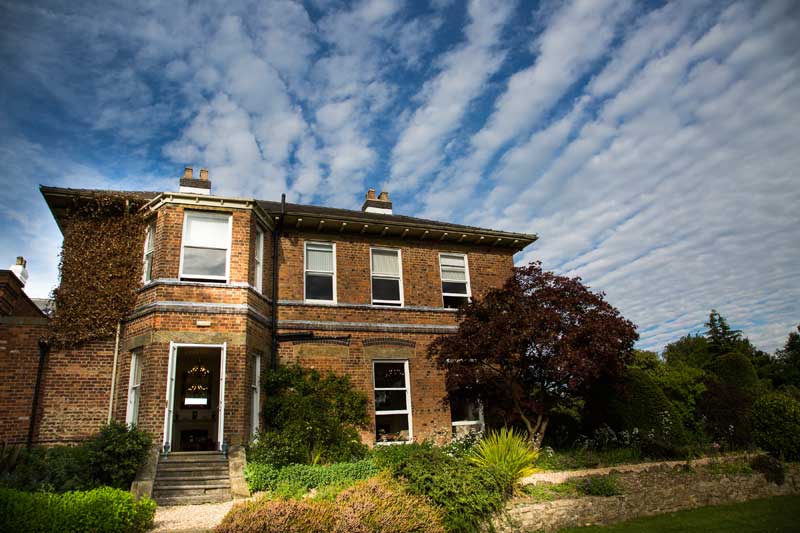 Your Ceremony:
The ceremony was traditional, and we had two readings, read by Rob Watts (Alice's brother and Usher), and Dee Barlow (Alan's Sister). There were a couple of amusing hiccups, such as the registrar asking Alan to read the declaratory words a second time by mistake, and our Best Man Steve dropping the rings. It eased the pressure on Alan – Alan was very emotional! It was a beautiful ceremony.
The dress:
The dress was an Enzoani gown from Mimi Toko in Duffield. It was beautiful and showed off my personality. It was big, bold and had some bling. It had the wow factor and was certainly a statement dress.
Design:
The centerpieces were done by the very talented Denise Harvey of Funky Florists. We wanted something modern and colourful, but simple and elegant and we knew Denise could achieve this for us.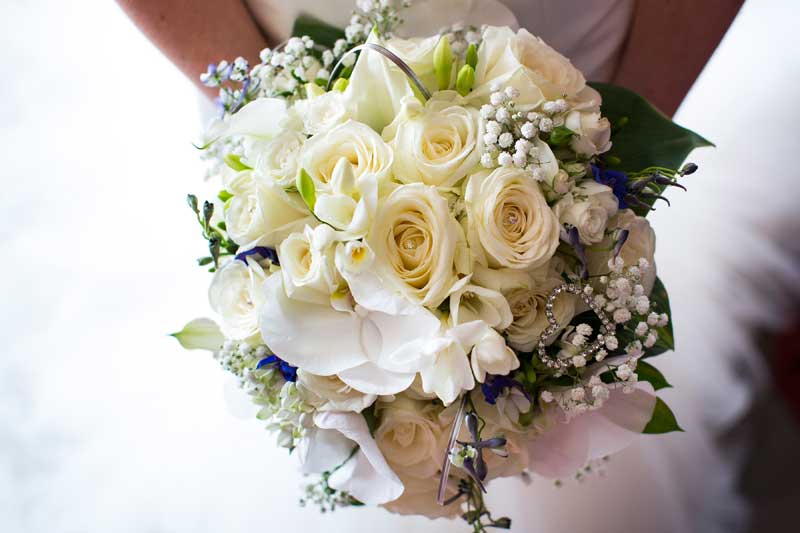 Gemma White did our chair sashes, table runners, she also provided our wedding favours, a sweet cart, wish tree and post box.
My mum, Julie Watts, did some small flowers in round vases to decorate the bar area etc.. and she also did a couple of flower pots for the outside of the main entrance.
Michelle Dutton of Two Hearts made our table plan, table names, and place names.
Who was your photographer?
We used Simon Bunney (Bunney Photography). Simon's colleague Chris Seddon was the second photographer.
Who was your florist and what flowers did you choose?
Denise of Funky Florists also did our flowers. We had a mix of creams, blues and lemons. These included roses and cala lilies, the roses made up the button holes.
Denise did a fantastic flower arrangement for the entrance to Shottle Hall.
Who made your Wedding Cake?
Kim of Kimboscakes made our wedding cake. She is amazing and we recommend her to anyone. We had three tiers of three different flavours – chocolate, carrot and lemon.
Cutting of the cake in the Brand New Wedding Marquee
What entertainment did you have throughout the day & night?
During the drinks reception we had George the Caricaturist to do guests caricatures.
For the night time we had Antony Magic, magician to entertain our guests in the early part of the evening. The Deltatones provided our live music and DJ service.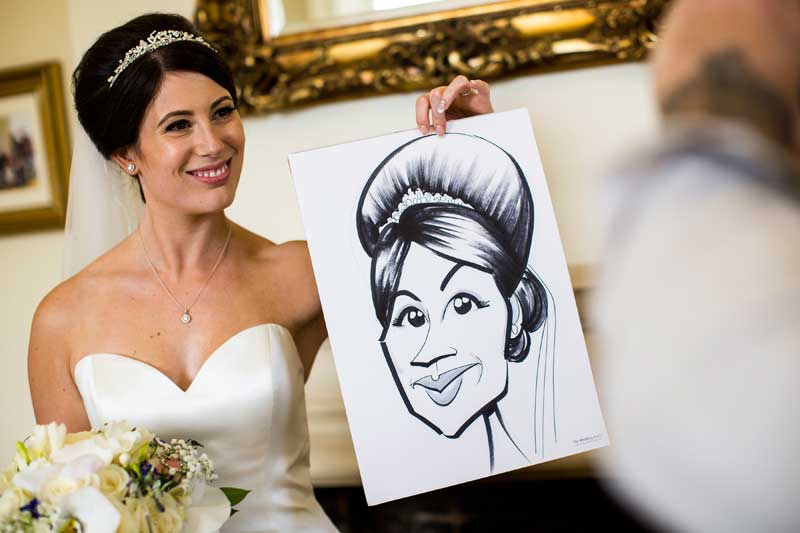 What made your day extra special?
Having our whole family, both Alan's and mine, all in one place together, knowing we had Shottle Hall all to ourselves. All of our friends were there, and everyone got enjoyed themselves. The table decorations and flowers were particularly special, as they were perfect. The table plan was also a fantastic part of the day as it captured how we first met.
What were the most memorable moments?
Seeing Alan for the first time as I walked down the aisle, Alan being very emotional, the ceremony itself, which despite the hilarity was perfect, my Dad's speech was special too because he was terrified about doing it. Our first dance and cutting the cake. Some of the photographs we had taken under the trees and in the grounds. We felt like we were in our own little romantic bubble. Also, breakfast the following morning with our immediate family members.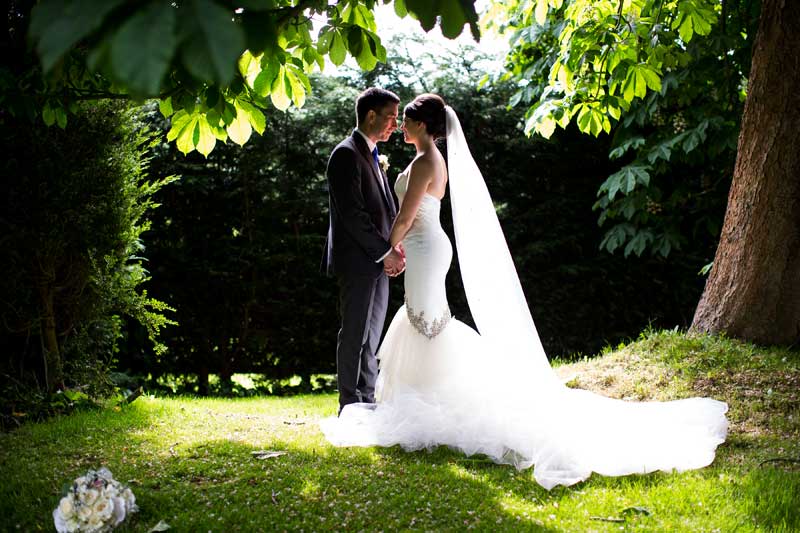 Would you do anything differently?
We would perhaps have done canapes during the drinks reception, and I would have remembered to throw my throwing bouquet that Denise made specially – I completely forgot about it.
Sum up your day in one sentence:
The most perfect day of our lives.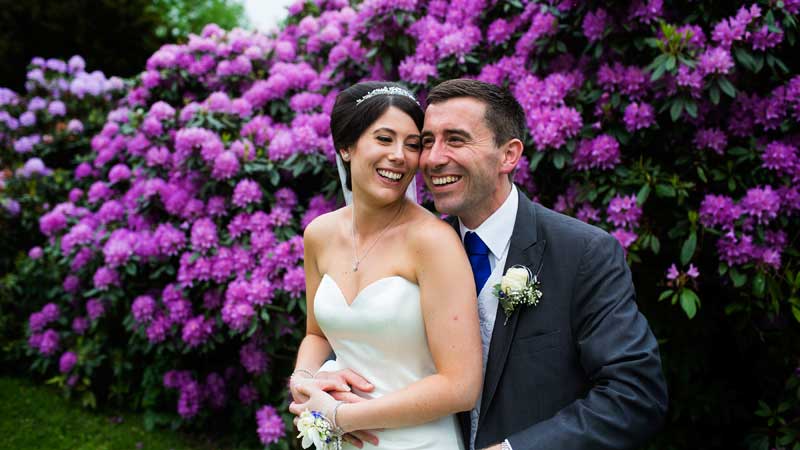 Best piece of advice to pass onto other couples:
Get married at Shottle Hall. You will be so looked after and the staff work as a machine to make the day go so perfectly. Georgia, our master of ceremonies and wedding co-ordinator was a star. She was fantastic. She is a credit to Shottle Hall.