Halloween 2012. I wasn't feeling going out, but my girls made me and Jason just happened to be the doorman that night, and I just happened to be dressed as "Road Kill."
Bride & Groom: Sophie & Jason
Wedding Date: 30th August 2019
Tell us about the proposal. How long were you engaged for?
Our 5th anniversary we'd arranged a weekend away to Rome. We were just going to go for a meal near the hotel, so I put on my Michael Kors heels. He made me trek all the way around the cobble streets to get to the Trevi Fountain (even though we had already been in the day.) On the way I ended up having to buy a fluffy pair of flip flops with pom poms on the end - he purposed at 11.55pm on the very last night, in front of the Trevi fountain in my new fluffy flip flops.
Why was Shottle Hall the perfect venue for your big day?
Since the first day I started as a Wedding Coordinator at Shottle Hall, I knew this would be the venue if I'd ever get married.
I even wrote a blog post about my dream wedding! https://blog.shottlehall.co.uk/my-dream-wedding
I love Shottle's style - the traditional mixed with the new... and that chandelier is to die for! I also loved the freedom I knew I would have. Having worked at other venues since, Shottle really do cater for everyone individually and refuse to keep people in the box.
Please tell us a little bit about….
Your ceremony.
My ceremony was a bit of a blur.. For me personally I couldn't believe it was me getting ready and it was me walking to see the registrars. I had been on that journey with so many of brides, it just didn't sink in this was for me.
The ceremony set up was the most important to me.. The cherry trees symbolised Jason's oriental roots and the chandelier, gold urns and painted cherubs on the start-lit ceiling symbolised Rome, the place where we got engaged.
I could have had any of the rooms to get married in, but the orangery was always my favourite. With its natural setting, space and it's glamorous finishings such as the beautiful white piano.
After the ceremony the guests were met by rose pink Prosecco topped with candy floss and 5 rounds of canapés.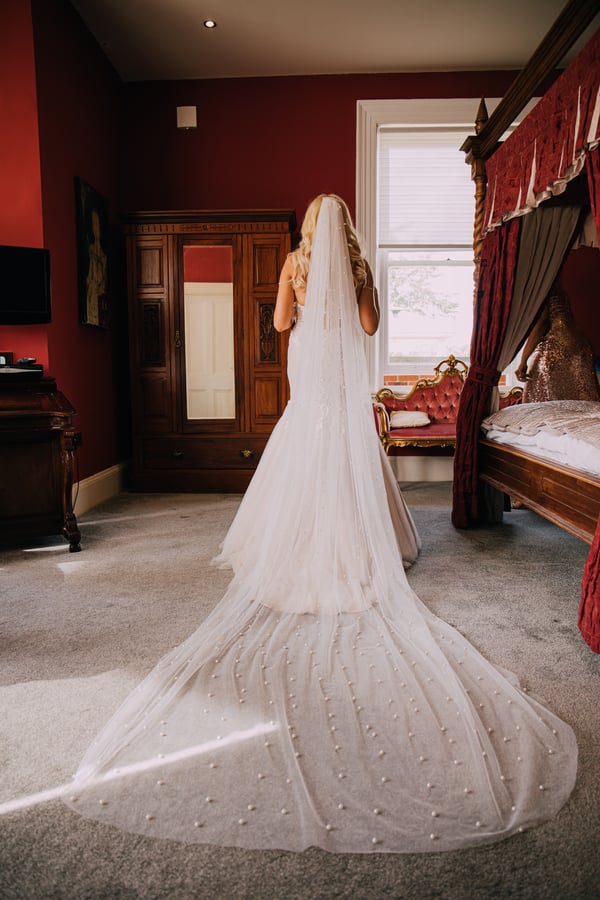 Your dress.
I actually saw my dress at a wedding fayre a year before I got engaged. Luckily I knew the ladies at the lovey Lori G and as soon as I heard this blush beauty was the last one they had in of this design, I ran straight round and got her. She was the first dress I properly tried on and I only ever tried on a fishtail design- fishtails are my favourite.
She is a Watters Wtoo Marishka in oyster and I paired her with an ivory 3 meter pearl Embellished veil.
I knew I wanted a blush dress since I first started in the wedding industry, I find the details in blush dresses show up much more in the wedding photographs.
Who was your Florist ?
Rowen Tunley Flowers for my Bridal Bouquet - I just sent her a photo and she did her thing! Which is just what I needed because I just didn't have the time for all those meetings.
A lot of my brides had Rowen as their florist, I just knew I needed someone that can take a photo and just go with it.
I did my own bridesmaids bouquets and button holes, as I must admit I often see these die in the 1st hour. So I designed these out of silk flowers which lasted all day and are now in my dining room.
Centrepieces, did you make your own or use a venue dresser?
my amazing venue dressers were 'Just Tickety Boo'. I have worked with these ladies for years and they mainly work with larger props, so I knew these ladies were for me!
my centrepieces were a mix of blush cherry trees and ivory rose ball vases on a white sequin full length table cloth (to match my evening dress)
my original plan was to completely fill the Marquee with Cherry Blossom Trees, to keep an oriental feel to represent Jason but even the ladies at Just Tickety Boo told me to calm down as people do need space to walk, so we compromised on 8 trees finished with hand painted Japanese lanterns.
The arched cherry trees were from wedding event studio.
http://www.weddingeventdesignstudio.co.uk/
Who made your wedding cake? What flavour did you have?
There were too many guests at our wedding, so we decided not to do favours.
My wedding cake design was inspired by the flower wall. I personally haven't planned a wedding with a split flower wall cake before, so I couldn't really order it anywhere. So I decided to make it myself by foam cake layers, 550 mixed colour faux flowers and a saw! I then was saved by the lovely Jo at Iced & Spliced, as I realised I cant actually ice or even bake! So Jo iced the foam layers with a traditional look. Three flavours of coffee, chocolate and lemon was served up on the night and I even had some for breakfast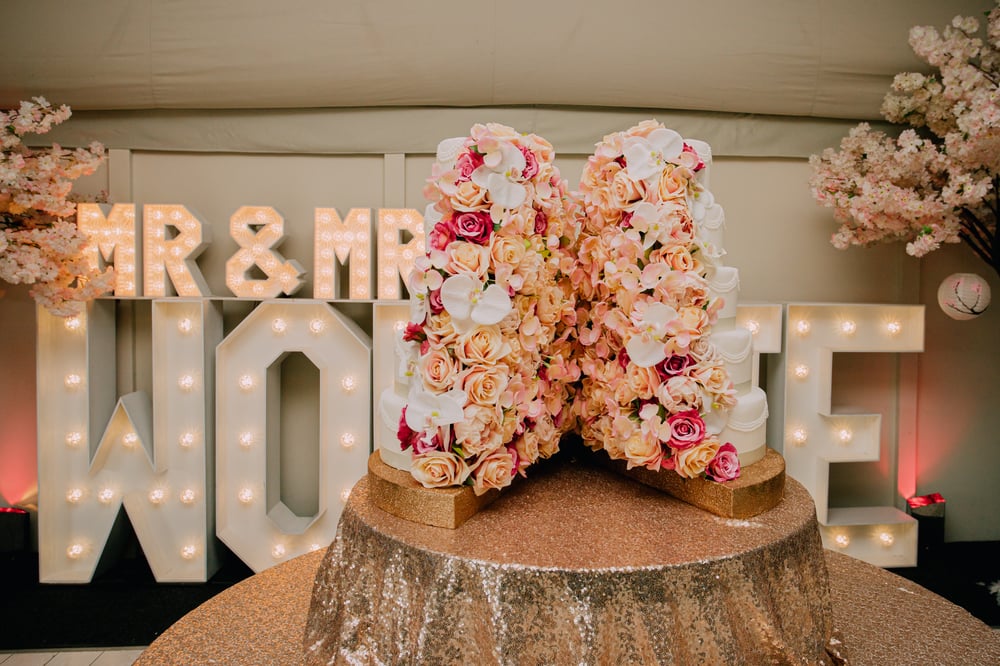 Who was your photographer?
I chose Simon from JAKT to be our wedding photographer I have worked with Simon for years now and I just love his laid back style. I also recommend him for my cousins wedding the year before, so slowly but surely he will be our family photographer before long.
Tell us what menu you choose for the wedding breakfast?
We chose to not have a sit down meal, as we had nearly 200 guests, and I just knew organising a table plan for 200 people would be a nightmare, so we just kept it simple, relaxed and more importantly fun! We love street food and we chose the "around the world buffet" with our own home made food stalls made by Jason and painfully painted by myself, my mum and my friend Charlotte. Each food stall had its own country with its own pizza boxes, Chinese boxes or chop sticks.
What entertainment in the evening did you choose?
We had my favourite wedding DJ Spirits high. He also provided the ceremony music, love letters, post box and garden games.
Sweet-a-fayre provided our desert treat - I personally hasn't seen a chocolate kebab before, so I couldn't turn down the opportunity to have this along side pink candyfloss.
GB Fun casinos - provided two casino tables with personalised money with my face on to pay with.
Snapcandy provided our wedding photo booth. I prefer the plain white booth design and I had this in the bar area of the marquee which worked perfectly.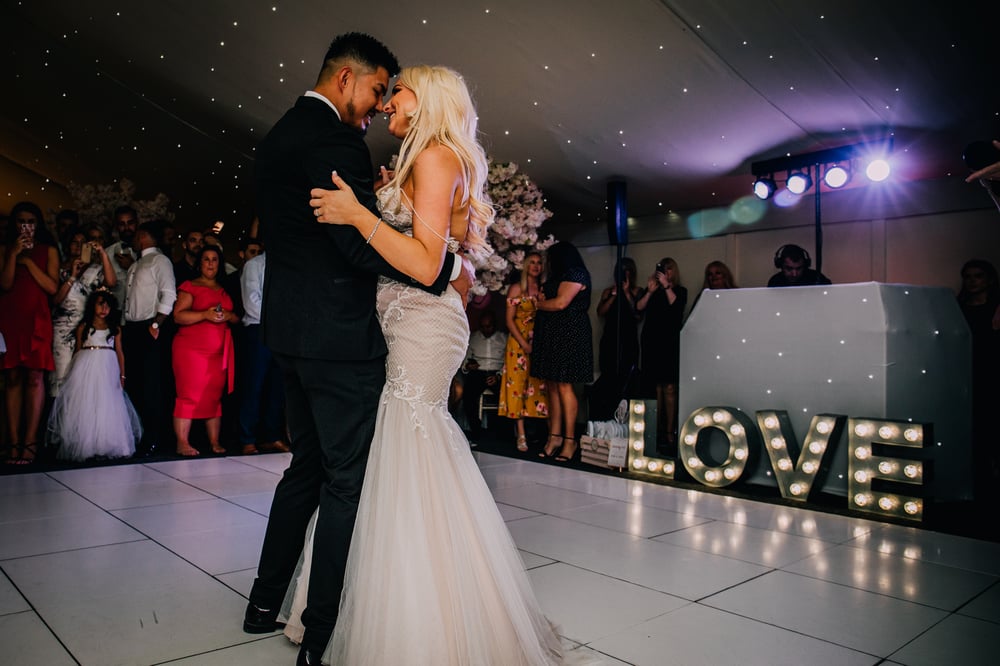 Just a few more questions....
What were the most memorable moments?
The ceremony was fun and full of laughter and personal to us.
The last dance was amazing too. After a few Proseccos, Jason swinging me in the air just to 'New York' (where I'd just celebrated my 30th) finished the night off.. I've never felt happier!
Can you sum up your day in one sentence?
A dream come true.
What is your best piece of advice to pass onto other couples who are planning a wedding at Shottle Hall?
Only have what you both want. Please don't listen to anyone else and don't tell people too much.
Take everything in and enjoy your day... Don't worry about anyone or anything else.
Sophie and Jason Wong