You've kissed a few frogs but eventually, you found your Prince Charming, the least you can do is have your Cinderella wedding and then of course, that happy ever after! At Shottle Hall, we know exactly what you need to do to achieve that fairy-tale wedding; in fact you've probably been imagining it for quite a while. Even if your other half doesn't have a royal title and your name isn't Meghan Markle that doesn't mean you can't turn the wedding of your dreams into a reality.
A Venue Fit For A Princess!
First things first, being the princess that you are means you need to find the right venue to complement your dream Cinderella wedding. It needs to be magical, magnificent and of course, tasteful. You will no doubt imagine a stunning building with intricate architecture and sumptuous banqueting suites and rooms where you can party the night away. Oh and there's no need to worry about the clock striking midnight because you can choose a venue that gives you a late license!
The most important factor in a fairy-tale wedding is to find that ideal atmospheric venue. Royalty tend to arrange their wedding parties in beautifully appointed stately homes, castles and magnificent palaces and while Buckingham Palace isn't available as an option to hire, there's no reason why you can't have something equally as impressive. For true elegance and suites fit for Kings and Queens, Shottle Hall, overlooking scenic Ecclesbourne valley has everything you could wish for. Having entertained plenty of Lords and Ladies at various functions, the wedding co-ordination team understand the importance of creating a memorable wedding, fit for a princess and can deal with most sizes, from a small and intimate wedding for 16 to a large 250-people wedding celebration.
Set in picturesque countryside, this exceptional Derbyshire wedding venue is steeped in romance and boasts everything a princess could possibly want. Four acres of exquisitely manicured gardens and grounds provide the perfect romantic backdrop and the rolling hills of the Peak District National Park in the distance make this venue a truly magical place. The additional 14 acres of parkland provide breathtaking spaces for photographs you'll always treasure and inside there are splendid rooms that are highly decorated and visually appealing. Of course, some princesses would rather hold their wedding in a generously sized marquee. When the weather warms up, the permanent marquee situated in the Shottle Hall ground provides a fabulous space. All these banqueting areas can be decorated. Imagine twinkling candle light, fine cut crystal glass, exquisite floral displays and heavenly tables lovingly dressed in crisp, white, luxury linens. Tables dotted with sparkling cutlery along with glorious wedding favours, Cinderella's sisters would be green with envy!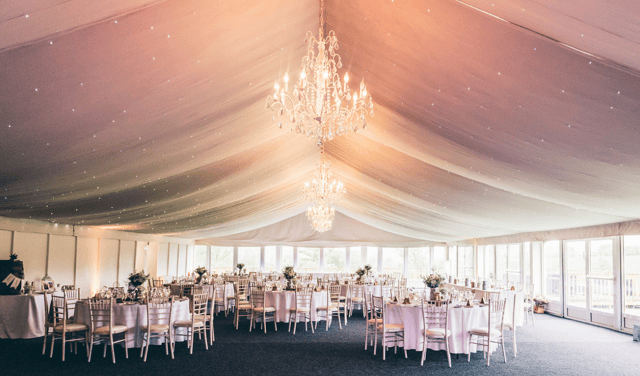 Wedding Flowers
Flowers really make a huge difference when decorating a room and with so many varieties to choose from, you can really make an impact. Whether you prefer to go down the pastel route, with peach, lilac, pale pink and ivory or you prefer strong colour such as deep blood red roses or purple Lisianthus mixed plenty of deep greenery, there's an array of choice. Perhaps you'd rather opt for an all-white wedding with towering orchids and grand hydrangeas. Flowers with candlelight make a stylish combination and you can intertwine arrangements with creamy-white pearls and sparkling crystals among silver-sprayed branches.
"How to choose the right florist for your wedding day"
Entertainment To Get The Party Going
Entertainment is always important and any beautiful Cinderella style wedding needs to be dreamy with plenty of WOW factor. From enchanting string quartets to tuneful violinists, poetic harpists to tear-jerking pianists there's plenty of choice. Walk down the aisle to an operatic ensemble and perhaps have a Frank Sinatra style crooner during the reception drinks. Your main event could feature a band with a repertoire spanning the decades so there's something for everyone. Then turn your wedding into a spectacular party because even Cinderella likes to throw some shapes on the dance floor!
There are a number of notable wedding DJ's who guarantee making your party one to remember. Shottle Hall can advise on all manner of entertainment, including optional extras such as inviting lookalikes to complement your Cinderella wedding. Imagine inviting the royal couple, Prince William and Princess Kate showing up to mingle with your starry-eyed guests! The possibilities are endless.
The Dress
Without doubt, one of the most important things a Cinderella bride wants is the right weding dress. From lace to tulle, silk to satin, hand-sewn pearls, covered buttons and sparkling diamante applique with everything in between, there's something for every girl. Buying the right dress is much like finding the right Prince, you know when it's the perfect fit because it's that instant "this is it" feeling that you've been waiting for. Organise your dress early on, as part of the fun in being a bride is trying on lots of different styles before you opt for the one that fits and flatters your figure. Back in the 1980's Princess Diana looked every inch the Cinderella bride in her Elizabeth Emanuel silk-satin dress complete with off-the shoulder flounces and in 2011, Kate Middleton drew gasps as she stepped out of the royal carriage in an ivory silk bespoke Sarah Burton lace dress complete with 58 organza covered buttons. It's a style still favoured by so many brides today.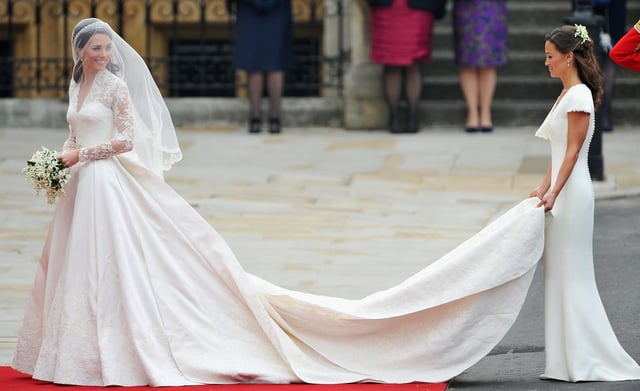 Choose the right accessories to match and don't forget to find slippers that fit because you don't want your new husband hunting down one of your lost Jimmy Choo's at midnight!
Make-Up and Hair
Make up should be light and fresh so your complexion looks dewy and youthful. As a tip, always trial your make-up before the big day, especially if you're using a make-up artist. Don't overdo it with make-up and adopt the less is more mantra because Cinderellas are peaches and cream, not smoky seductresses!
Some brides like to keep their hair natural, preferring to leave it loose but others love an upswept do. If you do wear your hair up, try and keep it soft rather than severe. Pretty Swarovski crystal hair accessories or pearlescent pins are enough to look sophisticated and feminine.
Make an Entrance
If you're not holding your wedding ceremony at Shottle Hall, you'll want to arrive in-style and what better way than with your own horse and carriage? Royals and romance go hand in hand with a horse in carriage so push the boat out because there's something so whimsical about a horse and carriage although with all the good will in the world, even a princess can't control the British weather. A horse and carriage is better suited to spring, summer or autumn but there's still something remarkably magical about a winter wedding particularly when it's in the countryside with snow! Think of the photographs! There are lots of carriage options, even glass especially for real Cinderellas and most have removable areas so they're suitable for all-weather. Of course, modern-day Cinderellas might prefer a sleek limo or something with a vintage twist such as a 1920's or 1930's Rolls Royce.
Planning a Cinderella wedding at Shottle Hall is a dream come true.
Featured Image via BagoGames under Creative Commons / Kate Middleton - Image Source: Getty / Pascal Le Segretain